If you're looking for a new bedroom set with two nightstands, you might run into a problem because most sets only come with one nightstand. This puts you in a difficult situation: should you spend money on a new nightstand? Or devise a creative and practical solution to having only one? Whatever decision you make, the question of "why?" remains.
This article will go over the top three reasons why most bedroom sets only come with a single nightstand.
Why Do Bedroom Sets Only Come With One Night Stand? Top 3 Reasons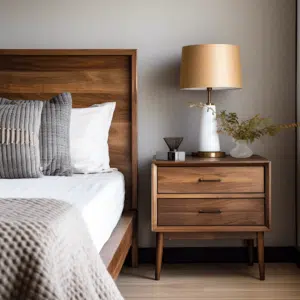 It is a Tradition and Contributes to the Cost
One of the most straightforward explanations for why many bedroom sets have only one nightstand is that it's how things have been done for years. Many manufacturers are producing bedroom sets with only one nightstand because they are merely following tradition, providing a bedroom set that is likely to include a bed frame, mirror, dresser, and other furniture components.
However, tradition isn't the only factor preventing customers from purchasing bedroom sets with double nightstands. It also comes down to monetary considerations.
If you go to your favorite furniture store when they have a discount, you will undoubtedly find some fantastic deals on bedroom sets. They will include a handful of items of furniture that would cost hundreds of dollars more if purchased separately.
With just a single nightstand, a business might provide other matching items at a lesser price to complete the set. This not only entices the customer to buy, but it also allows the salesperson to generate more money for themselves and the company. Simply put, the seller can try to upsell you if the bedroom set does not have a second nightstand for the opposite side.
Limited Space for Two Nightstands
Two nightstands not fitting in a master bedroom may sound strange, but what if the person purchasing the bedroom set lives in a small apartment? The space might feel congested with other furniture in the room, such as a king-sized bed, a small computer desk, and a six-door dresser.
For that reason, many furniture retailers provide sets with only one nightstand so that buyers don't feel that their rooms will be overly cluttered if they buy the complete set.
Aside from having a room that is too small to fit the entire set, some people dislike having too much furniture in their room and prefer a more open arrangement, which an extra nightstand could compromise.
This is especially true in rooms that aren't master suites. Consider a child's room, which may be extremely small. It's not a good idea to try to squeeze two nightstands beside a double bed. Your child will not require two nightstands, and there will be less space for your child's toys to be strewn around.
It Is Not Designer-Friendly
Not everyone is concerned with creating a designer-friendly environment in their bedroom. However, rather than settling for a cookie-cutter style that can become boring and lifeless, you might want to bring your taste and preferences to life in your bedroom.
Unfortunately, purchasing a bedroom set with matching nightstands will lead your bedroom to have a cookie-cutter look. Simply put, it will not bring any design breaks. You already have a bed, mirror, and dresser that are all in the same style and go together well. Adding a second identical nightstand can make a room feel flat and dull.
Some individuals will be unconcerned about this when purchasing a bedroom set. However, they will grow tired of their furniture after some time and regret their purchase. This is where your particular style and personality come into play, so think about it before buying another nightstand of the same design.
Do You Need Two Nightstands?
If you're looking for a new bedroom set and want two nightstands, you might be disappointed to learn that the set you desire is only available with a single nightstand. But are two nightstands necessary? The basic answer is that two nightstands are not required. Below are some tips on how to bypass the extra nightstand:
Consider a desk instead. Many people require desks in their bedrooms, whether they use them for work or video chat with pals, or play games. Why not put a desk next to your bed instead of acquiring a second nightstand? This way, you'll have a location to place your vital belongings as well as nearby storage.
Get a bookshelf. A small bookshelf can easily replace a nightstand. The shelf might not provide additional storage, but it may be a terrific spot to place your favorite books, pictures, statues, and other items to give your sleeping quarters personality.
Get creative. There are a variety of ways to show off your personality. A trunk can be used by someone who prefers a more rugged and punk look, while old suitcases can be stacked by someone who likes everything old-fashioned. Also, as an alternative to a nightstand, you can utilize accent chairs, ladders, and even tree trunks.
Can You Mix and Match Two Nightstands?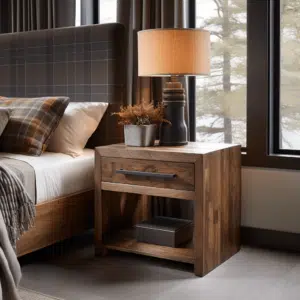 Don't be scared to mix and match if you're dead set on having another nightstand in your room. Mixing and matching furniture pieces can give your bedroom a new lease on life.
If you're mixing two nightstands, make sure you plan to keep some symmetry. Mixing and matching nightstands by material, style, size, shape, and color is a terrific method to keep the symmetry. This means that each nightstand must be the same material, size, color, or shape as the other.
One nightstand could be round, while the other is square, but both are modern. One might be modern, and the other could be mid-century, yet they both have a circular shape and so on. Even while mixing and matching, you may keep some uniformity this way.
Finally, consider purchasing a nightstand in a completely different style than your bed for a high-contrast personalized look. For example, try a traditional nightstand if you have a modern bed or a modern nightstand if you have a rustic bed.