Woodbridge T-0001 vs. T-0019 have become popular via their sales on e-stores like Amazon, with some of its models, like Woodbridge T-0001 One-piece Toilet being the top-selling toilets on Amazon. Toilet Company offers mid-price and luxurious bathrooms with long-lasting single and dual flush systems. "Woodbridge Bath" company supplies and distributes the Woodbridge toilets directly.
Although the brand is relatively new and small in the toilet industry, it offers highly efficient high-end toilet models. However, you might have doubts about the brand, whether they are reliable and of the best quality.
Stay on board as I take you through a detailed comparison of two unique toilet models, namely Woodbridge T-0001 vs. Woodbridge T-0019 from Woodbridge, to understand which of the two best suits your needs.
Woodbridge T0001 vs T0019: A Quick Comparison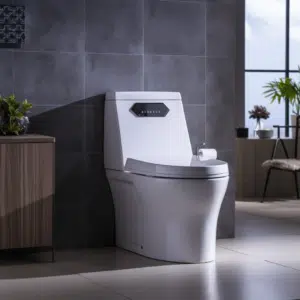 Features
Woodbridge T-0001
Woodbridge T-0019
Toilet StyleDimension

Water Consumption

Bowl shape

Material

Warranty

Certification

-Luxurious Modern Design

-30×16.5×28 inches

-1.6 Gallons per Flush

-Elongated, comfortable Height, Easy to clean shape

-Ceramic

5years limited warranty on porcelain parts against fading/staining of the glaze.

1 year on flushing mechanism and soft closing toilet seat

-US & Canada UPC & CSA certified products.

High-efficiency, Watersense

-luxurious modern Design

-31x19x28 inches

– 1GPF or 1.6 GPF

-Elongated

-Porcelain

-1year limited to be free of defects in material and craft

-Watersense
Woodbridge T-0001: Features and Components
T-0001 Dual Flush Elongated One Piece Toilet has become the most rated dual toilet and seller online. If you are looking for an excellent one-piece toilet, you cannot go wrong with Woodbridge!
Woodbridge T-0001 is an excellent one-piece toilet that comes along with other items when you buy it, such as floor bolts, a waxing ring to set up the bathroom, and an installation guideline booklet.
Having the items makes setting up the toilet correctly to ensure its correct functioning and avoid any issues more manageable.
The installation steps are in the manual to help you understand what to do and how to do it without any difficulties.
T-001 Special Features
Two buttons/Dual Flush Mechanism- They are at the top of the toilet to enable you to flush the toilet. When you use the minor flush button, 1 gallon will flow out of the bathroom, while 1.6 gallons will flow out of the toilet with the prominent flush button. The controls allow you to manage the right amount of water you use by quickly determining how much water flows out of the lavatory.
The T-0001 toilet is effortless to clean due to the skirted trap way, thus preventing the toilets from having groves and corners. Therefore, it is easy to clean the bathroom using a small cloth and wipe it down to ensure it is nice and clean.
It has a sleek design making it look premium.
T-0001 dimensions are small, making it a good choice for those with medium rooms.
It is easy to maintain and one of the silent and most affordable models on the lower end of Woodbridge's product range.
Despite the many outstanding features of this model, its installation process is arduous due to the porcelain curtains, and placing it right on the blots is stressful as the holes are invisible from one side. However, you can solve this issue by placing mirrors on both sides of the hidden spots.
It is too heavy and requires an extra workforce to install to avoid breaking.
For a simple, affordable, and effective toilet, then T-0001 is the ideal choice.
Pros of T-0001
Easy to clean Design

Soft Closing seat

Quick Release Toilet Seat

Comfortable Height Design

Dual flush mechanisms

5year warranty

Waxing Ring And Bolts included

Relatively low price

Universal height

Skirted trapway creating a sleek look
T-0001 Cons
Difficult to install

Noisy flush
Woodbridge T-0019: Features and Components
It is a one-piece elongated Watersense toilet with a sleek and clean design and an excellent aesthetic appeal while being easy to use. It doesn't contain the usual nooks and crannies you see in other toilets.
T-0019 uses a skirted trapway design making the whole cleaning process closely effortless. It has no grooves or corners; thus, you can quickly wipe down the toilet's surface, removing all the stains and gunk.
This toilet uses a dual-flushing system, a siphon-jet flushing system, which involves a jet underneath the bowl that directly faces the trapway.
When you flush, a significant amount of water enters the bowl via the siphon jet, assisting in pushing the waste down the toilet trap with high force creating an even siphon effect. Some water enters the bowl through the rim holes to clean and rinse it.
The best feature of Woodbridge T-0019 is the subtle siphon flushing system which is fully glazed, meaning it is calm with no chances of clogging leaking. Therefore, the person next door won't hear the flush when flushed.
As it is a dual flush system, it gives you two options: 1.6 GPF (for solids) or 1 GPF (liquid) based on your flushing.
T-0019 is larger than the other models, making it suitable for larger bathrooms or if you are taller and want to be more comfortable.
It is compliant with the requirements of EPA's Watersense and also CalGreen.
Woodbridge comes with a preinstalled high-end soft close toilet seat with enduring metal hinges.
It is incredibly durable, lasts for many years, and suffers from wear and tear without any issues.
Pros of T-0019
Lowest water consumption

Durable Design

Dual flush system

Chair-height seating

Compatible with Bidet seats

It is easy to clean in Design

Internationally certified

The installation process is pretty straightforward though slightly difficult for DIYers.
T-0019 Cons
It is heavy

Water supply hose not included

It is more expensive compared to t-0001
Woodbridge T-0001 vs T-0019: Differences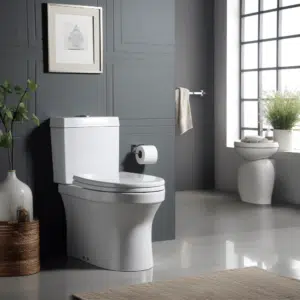 Most people wonder if there is any difference between Woodbridge T-0001 and T-0019. From the above-detailed write-down of the two models, they are a few notable differences, such as
Size- T-0001 is medium, making it suitable for small rooms, while T-0019 is larger, perfect for more oversized bathrooms.
Height- T-0019 has a comfortable size with a 16.5 inches bowl height, increasing to 17.5 inches seat height which is between the 17 and 19 inches required by the Americans with Disabilities Act (ADA). Therefore, it is perfect for tall people and also the elderly.
Price- T-0019 is a little bit more expensive despite the many identical features than the T-0001
Factors to Consider Before Buying a Woodbridge Toilet
Water usage

Size and height

Flushing system

Bowl shape

Budget

One-piece or two-piece toilet

Your bathroom space

Warranty
Due to High-quality manufacturing and surprisingly efficient systems, Woodbridge toilets are unique and deserve a place in the baths of users. The variety of features and long perspective advantages speak for themselves.
You are welcome to use my Woodbridge T-0001 and T-0019 toilet comparison above to simplify your choice.