Kohler Highline toilets Arc vs Curve, When it comes to bathroom faucets, Kohler is one of the most well-known brands in the industry. Kohler products are often ranked among the best and the company boasts a great reputation for offering high-quality products. However, when going over different models, it can be hard to make the best choice between Kohler Highline Arc and Highline Curve.
These are two of the most popular styles of toilets in the market today, and while it's normal to get confused- since they look similar at a glance- both are considered to be high-end luxury toilets.
Kohler Highline Toilet: Overview
Reading on the company's website, the Kohler Highline toilets are a series of the popular "comfort-height" toilets in which the user sits at the same height as in a standard chair.
Like similar comfort-height toilets from other manufacturers, Highline toilets offer greater ease and convenience for users and are intended to be quick and easy to install. They are among America's most popular toilets, readily available off the shelves at big-box retailers such as Home Depot.
Kohler Highline Arc Vs Highline Curve: Overview
First, it's good to note that there are certain basic features and specifications that you should expect from Kohler Highline toilets, which brings about the need to get to the nitty-gritty that set both models apart.
However, what we can say right from start is that Highline Curve is a traditional tub seat toilet that features a curved seat and bowl while the Highline Arc on the other hand is a modern toilet seat with an elongated seat and bowl.
When you look at the product description, you may be confused as they work with the same flushing system and they both operate with 1.28 GPF. Check the dimension and features as outlined below:
| | | |
| --- | --- | --- |
| Features | Highline Curve | Highline Arc |
| Bowl shape | Round | Elongated |
| Bowl Height | 16.5 inches Comfort height | 16.5 Inches Comfort height |
| Rough-in | 12 Inches | 12 Inches |
| Dimensions | 27.75" x 18.19" x 31.25" | 29.5" x 18" x 31.25" |
| Material | Vitreous China | Vitreous China |
| Water Consumption | 1.28 Gallons per Flush | 1.28 Gallons per Flush |
| Flush System | Class 5 | Class 5 |
| Certification | WaterSense | WaterSense |
| Type | Two-piece | Two-Piece |
| Warranty | 5 years Limited | 1 year |
Kohler Highline Arc Comfort
Homeowners can now say goodbye to those old, le-numbing toilet because this toilet has a comfortable height that's so comparable to a standard chair. The toilet measures 15 5/8 inches off the floor with a 12-inch rough-in.
You can take this even higher by adding the thickness of the toilet seat so people of different heights can be comfortable with it. The whole thing is neither too tall nor too short, making it ideal for the elderly and persons with disabilities.
Powerful Flush for Easy Cleaning
The single flush as ensured by the 1.28 gallon per flush is awesome and powerful with its Class Five flushing technology. Moreover, the valve functions with a powerful punch so everything goes down the sewer without hang-ups. In addition to being powerful, the flushing occurs quickly.
Installation
It is easy to get confused with installation because the hardware is not promptly available upon purchase. However, this won't be an issue when you get Kohler Highline Arc; it includes wax ring and floor hardware.
Coming down to the process, the assembling is simple and straightforward. The three-bolt system is awesome since the tank is affixed to the base securely. The whole unit is sturdy and steady and won't rock.
Kohler's instructions merely state that you should not over-tighten the nuts, but this should be emphasized: it is fairly easy to crack the Highline's base if you over-tighten these mounting bolts. You can avoid this by using channel-lock pliers to tighten these bolts, rather than a socket wrench.
However, the Kohler Highline Arc is not without its downsides.
Cons of the Highline Arc
We haven't come across serious issues with this toilet. Provided you clean it regularly, it's likely to continue functioning properly. Even so, here are a few things that might bother you momentarily.
Some users may have an impression that the flush doesn't work well enough. What we discovered is that the chain can be too long but if you are clever, you can move the clip on the chain through six links. It's a simple fix that you can do without much effort.
Kohler Highline Curve
Kohler Highline Curve is a great choice for bathrooms and powder rooms with limited space. This is mostly because of its round seat, which doesn't occupy space as much as the elongated one discussed above.
It is also a 1.28-gallon per flush water toilet that meets the criteria of EPA. Apart from being a space saver, special features make it stand out. These include comfort height, Drylock, slow-close, and flushing performance.
Comfort Height
Despite the traditional design and basic features, it is still considered a good value for money. If you prioritize flushing performance and water conservation, then you will definitely get your money's worth from this classic toilet.
Kohler Highline Curve may not be the most water-saving model out there in the market, but if you are looking for a toilet that can handle all of your shit, then this is probably the one for you.
Just like Highline Arc, this model has a comfort height of 17 inches with a slow-close seat. Being two inches higher than standard toilets, the Kohler Highline Classic offers comfortable seating at the chair level, making it easier to sit down and stand up. Responding to a call has never been less bothersome.
Slow-Close Seat
Users will not have to fret about having to cover the toiler as there's a slow-close seat. This is a pro because it won't create noise that may bother other people, especially at night.
Installation and Drylock
What you will get from a single purchase is a complete bowl, hardware, tank, and wax ring package. The installation can be done right away without going to the store for missing parts.
The stated three-bolt system makes it so easy to install for the expected placement of the toilet. The Drylock tank with its insuliner contributes a lot in this aspect too.
Downsides to Highline Curve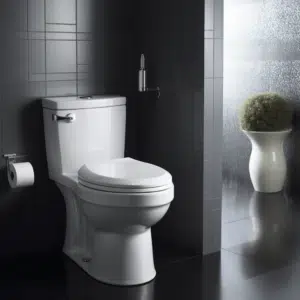 Well, there are no considerations that can be disturbing to the users. Some stated that they were comfortable sitting on a toilet with an elongated seat, but since this one has a round seat, it's hard to please everyone.
Key Differences between Highline Arc and Highline Curve
It's safe to say that several features are shared by these toilets. You might think they are the same, but there's a reason why they are named differently.
First, Highline Arc features an elongated seat, while Highline Curve has a round shape. As such, you can expect more room for sitting from the Arc model.
The shape of the seat also makes Highline Curve a space saver, making it ideal for small bathrooms and powder rooms. Also, this toilet has a Drylock feature on its tank to reduce condensation when the humidity hits hard. Not to forget the slow-close seat that won't make much noise.
From the above rundown, we can conclude that there's not much difference. It's mainly about the shape of the seat. And now the fact that Highline Curve is not only available in white color but biscuit as well.