Andersen 400 vs 100, Are you planning on buying Andersen windows and deciding between the 100 series and the 400 series? Are you a little confused about which ones would be best for your home? Then you're in the right place. We're going to explain some of the differences between the two types of Andersen windows. So you can make an educated decision on which one would be better suited for your needs.
Andersen 400 vs 100: Overview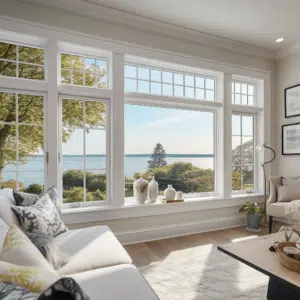 Andersen is a well-known name in the window and door industry. They have been around since 1903, and their products are known for their durability, energy efficiency, and ease of use.
The Andersen 400 Series and the Andersen 100 Series are two of the most popular window series that the company manufactures. Both of these series offer a wide range of options for homeowners who are looking to add a new look to their home.
The Andersen 400 Series is the most well-known in their line of wood windows, and they make a wide range of sizes and colors to accommodate your needs.
The Andersen 100 Series is a less expensive alternative to the 400 Series.
The 400 employs wood frames whereas the 100 uses Fibrex, a composite material comprised of reclaimed wood fibers covered in resin or plastic. The 400's solid wood frames survive longer than those of other companies that employ composite materials but don't offer solid wood frames.
Both models offer many options for customization, such as different interior and exterior colors, window styles and shapes, glass options, and hardware choices.
The cost of these Andersen windows varies between the two lines, but there are other key differences that are important to take note of as well.
We'll help you see how these two windows compare and which one is right for you.
Andersen 400 vs 100: Differences
Having an investment in Andersen 400 or 100 windows certainly helps you save on your cooling bill and heating bill, as well as enhance the overall value of your home. Both series of Andersen windows are energy efficient and durable with a unique design choice, but they differ in some ways.
Energy Efficiency
The Andersen 100 Series is Energy Star-qualified because to its fibrex glass, however its energy efficiency varies on the glass type.
Five glass variants are offered for the 400 series:
For warmer climates or rooms with lots of sun, low-E4 Argon gas-filled glass blocks up to 85% of UV radiation. Heat passes through but UV rays can fade and discolor your furniture.
Double-pane windows prevent half of UV radiation and let in 10% more light. This makes your home warmer in winter and cooler in summer, lowering energy expenditures.s
Triple pane Low-E Argon gas-filled insulated glass offers more insulation in cold climates and lowers heating expenditures in warm climates.
Smartsun technology intelligently adjusts sunlight to exclude light from your window and maintain seclusion at night.
Glass Options
The Andersen 100 and the 400 glass options include Low-E4 glass and Low E4 glass with HeatLock technology. Low-E4 reduces heat loss in your home, while HeatLock helps keep heat inside during extreme temperature fluctuations.
Appearance
The 400 series has a more modern look than the 100s. The 400 series also have more options for glass styles and colors than the 100s do.
The interior of the 100 series windows is matte, which makes them look more like traditional wood windows. The 400 series has a smooth finish that gives it an attractive wood aesthetic.
The 400 series comes with double-hung, casement, and picture window options, while the 100 series offers these styles as well as single-hung, sliding patio door, and custom options.
The wood used on both windows is real wood, but the wood on 400 series windows has a richer finish than 100 series windows. This means that the 400 series have a better-looking finish and will last longer than 100 series windows.
Durability
Both the Andersen 400 and 100 Series windows are designed to last long, with a transferable 20-year warranty on materials and workmanship.
Many homeowners report having their original Andersen windows installed decades ago and still using them today with no issues whatsoever!
Pricing
The Andersen 400 series is priced higher than the 100 series. The reason for this is that it is a high-quality window. However, you will also get excellent features and durability with the Andersen 400 series.
Installation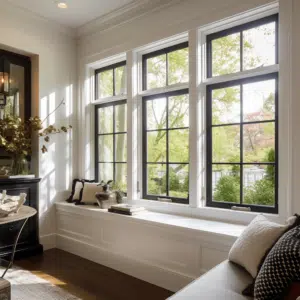 Both can be installed with a variety of options, but most people prefer to have their windows installed by professionals. If you choose to install your own window, Andersen recommends using their installation kit, which includes all the necessary tools and hardware.
Warranty
Both series offer a transferable warranty that covers 20 years on glass and 10 years on all non-glass parts. If you have a problem with your window, you will be covered by the manufacturer's warranty. But if you have trouble with your contractor, you might have to go through a dispute resolution process with your insurance company before getting a replacement.
If you move and sell your home, the new owner could take over the warranty.
Which Series is Better?
It depends on your needs and the construction of your home. The Andersen 400 series are good for most average homes. They have a better performance for energy efficiency, but the 100 series does not lose out in terms of quality and craftsmanship.
If you're planning to buy new windows, either of these two models would be an excellent choice. But if you're on a budget, the 100 series may be a better option for you than the 400 series.