Your home's bathrooms, living rooms, and kitchens have floors, which significantly impacts how those rooms look. Their brightness and cleanliness immediately improve a visitor's mood upon entry. Therefore, choosing a unique tile brand is essential if you want your home to have the best appearance. One of America's most well-known and successful grout dealers is Armstrong Alterna.
In this article, we will describe some of the problems you may face with Armstrong Alterna grout and ways to solve these problems.
Common Armstrong Alterna Grout Problems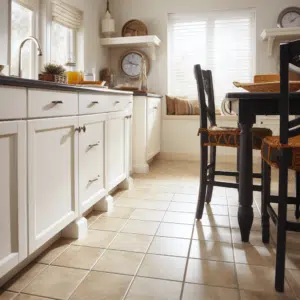 They Form Cracks on the Floor Grouts
Armstrong Alterna tiles have reportedly been known to cause floor grout to crack. This is particularly true if you decide to perform the grouting task yourself.
There are several explanations for such a result. For instance, incorrect installation, a subfloor that moves in case of a wooden house, and tiles not having proper thin-set coverage.
To solve this problem, it is advisable to seek a professional to help you install these tiles.
Installation Requires a Highly Trained Personnel
Installing/grouting Armstrong Alterna tiles requires high skills from trained personnel to get an outcome. This means you will incur the high cost of purchasing the tiles and installation.
Though you may opt to do it yourself to cut short the cost of hiring a trained person by following the guidelines provided by the manufacturer, the rooms' appearance may not be as appealing to visitors as it would have been when done by a professional.
This scenario pushes people to hire a trained person to adjust the tiles, which is a difficult task because Armstrong Alterna tiles are difficult to adjust.
However, anyone interested can grout Armstrong Alterna's tiles with the directions. After practice, fixing tiles will be easy. You can also learn these techniques on YouTube and practice after gaining confidence, comprehension, and courage.
If you want a good work, hire trained people. This avoids the issues of tile replacement. Incorrect installation techniques will also reduce the chance of mishaps.
Adjustment is Difficult After the Placement of the Tiles
Though it is a common problem for most of the tiles available in the market, Armstrong Alterna is more difficult to adjust than other types of tiles after placement.
The tiles self-adhere so hard on the floor, and this adhesion backing on the grouted tiles of Armstrong Alterna makes it challenging to reposition them, unlike any other type of tiles. So, for this reason, it is crucial to fix the tiles correctly and in the right direction at the first installation.
They Take a Long Time to Dry
Armstrong Alterna tiles take a long period to dry after installation. Unlike most other ceramic tiles, Armstrong Alterna tiles take approximately 36 hours to dry, while other ceramic tiles take a maximum of about 24 hours only.
They May Cost You More
The high cost of repairing Armstrong Alterna grouts may drain you, especially if your purchasing capability is low. Therefore, if your financial capacity is limited, you should choose a less expensive brand rather than an expensive one like Armstrong Alterna, as the latter will cost you more than you had initially planned.
So What Should You Do if You Choose to Use Armstrong Alterna?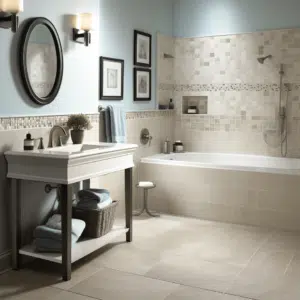 In America, Armstrong Alterna is a reputable brand.
This firm has offered flooring options to American homes for many years, including for bathrooms, showers, kitchens, offices, hospitals, and even grocery shops.
People who live there appear to trust this particular brand of flooring.
However, if you purchase the Armstrong Alterna, installing them yourself will not be a sensible choice if you are trying to save money.
Seek a professional to have the work done in the right way. Your time and energy will be significantly reduced. Additionally, it will be less likely that a poor installation procedure will result in a mess afterward.
Frequently Asked Questions
How is Alterna Grout Cleaned?
Armstrong Alterna tiles get dirty just like any other bathroom accessories. And especially the grouts between the tiles. It is therefore essential to regularly sweep or vacuum these grouts to keep them clean. Long-lasting stains may be produced if you allow the dirt to remain for an extended period.
Are Groutable Vinyl Tiles a Good Idea?
Groutable vinyl tiles are unquestionably something to think about because of some of their characteristics. It has been demonstrated that this is the best long-term option for a home's flooring, whether in the kitchen, living room, or bathroom.
Their appearance is quite similar to ceramic tiles, and the turnaround time is considerably shorter. Compared to ceramic tiles, the installation method of these tiles is significantly more straightforward. You may complete the installation task in a single day.
How Long Should You Wait To Grout Vinyl Tile?
The grout vinyl tile cannot be walked on for at least 24 hours to allow it to dry, much like the other ceramic tiles.
Can You Grout Between Vinyl Floor Tiles?
The straightforward response to this question is no. There is no need to grout luxury vinyl tile flooring. Though there are grout lines in the tiles, they are in the tile itself.
What Causes Your New Grout to Crack?
A common issue that causes the grout to crack is having too much water or polymer ingredient. The liquid in the mixture will, at some point, evaporate as it is designed to, leaving pinholes that will leave your grout vulnerable to cracking.
Final Take
It is essential to state that the issues expressed in this article concerning Armstrong Alterna grout are not related to the company. The quality of the product is usually high.
Therefore, you can choose this product if you have a sizable budget that will enable you to spend a little more on the flooring of your bathroom.
Armstrong Alterna branded goods are excellent choices for your home because they last a long time.