Refrigerator Brands, In your kitchen, the refrigerator is the most often used appliance. It's, without question, the beating heart of any kitchen, therefore selecting the most dependable brand is critical.
On the other hand, buying a new refrigerator is difficult because many brands sell their refrigerators at similar prices and with similar features.
In this post, we'll go through a list of the very worst refrigerator models you should avoid so you can make the best decision possible. But first, let's take a look at how to spot a terrible refrigerator brand.
How can you identify a bad refrigerator brand?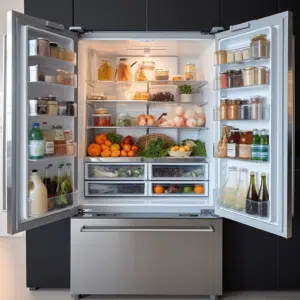 There are subtle red signs in refrigerators. However, many people ignore them for a variety of reasons, including brand loyalty. However, if you want to be a wise shopper, here are some tips on how to spot a terrible refrigerator brand.
Brands that offer short warranties

Brands whose refrigerators doors do not fit right or are misaligned

Brands whose refrigerators construction is of poor quality and use low-cost materials

 Brands whose refrigerators are frequently malfunctioning

Brands whose refrigerators constantly have leaking issues

Brands whose refrigerators replacement parts and accessories are highly-priced

Bad customer service
Refrigerator Brands You Should Avoid
This list is based on the general market performance of the brands and anecdotal information from consumers who have tried them; hence it will provide you with an impartial judgment on the refrigerator brands to avoid. So, without further ado, here are some refrigerator brands to stay away from.
Frigidaire (French door)
Frigidaire is a well-known appliance manufacturer, but their recent refrigerator models, notably the French door series, have garnered much negative feedback. Sure, it's attractive and offers several useful functions, such as rapid freezing and configurable storage. However, there are a few noteworthy disadvantages. These disadvantages include:
Misaligned doors

Frequently malfunctioning ice makers

issues with cooling

poor warranty and customer services

costly maintenance
KitchenAid
This brand of refrigerator is regarded as one of the most durable. However, the performance of several of its counter-depth ref models has proven questionable. As a result, the brand has quickly risen to the top of the list of refrigerators to avoid.
The following are the most common problems associated with KitchenAid refrigerators:
Misaligned freezer doors

Water leakage

After a few months of use, it begins to make a snoring sound

There are problems with the internal water dispenser

The icemaker has issues due to a design defect

After-sale service is atrocious
Whirlpool (Fingerprint Resistant)
This famous appliance company may come as a surprise. However, the Fingerprint Resistant models have ruined their track record when it comes to refrigerators.
The high-end features of newer models, such as dual evaporator systems, automatic defrosting, and door alarms, are noteworthy, but negative feedback outweighs these aesthetic features.
Below are some reasons why you should stay away from this refrigerator:
Alignment concerns with French doors

The drawer handles are not strong enough

an issue with the internal space distribution

The door's shelves are excessively narrow

The ice maker has a leak

Within six months, the refrigerator's motors begin to make a round noise

Customer service is horrible
 Beko
This brand usually is at the forefront of appliance choice for its design and price range, but its main concern is reliability and overall longevity.
Temperature fluctuations are the most common complaint about this brand's refrigerator. This is important since it has an impact on your electric cost. Other common issues that occur using this model include:
When the ice maker is full, it makes a loud noise

Longevity cannot be relied upon

The fridge's interior walls are of poor quality

Customer service is poor
Bosch
Bosch is a prominent appliance company when it comes to innovation. However, it is included in this list for a variety of fundamental reasons.
Water leaking difficulties in less than a year of use is one of the issues cited for their refrigerators. Other concerns mentioned by customers include:
Issues with the ice maker

Some parts are produced at a low cost and of poor quality

Crisper has a difficult time retaining humidity

Because of the poor design of the shelves, there is less interior space
Refrigerator Brands To Go For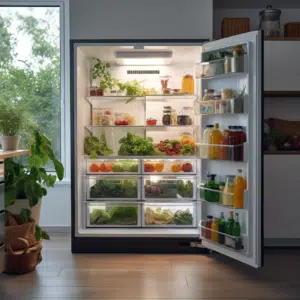 Because purchasing a refrigerator is such a significant investment, you should choose a model that will serve you well for many years.
It is not easy to know which brand will last in today's crowded market. As a result, browsing the internet might be stressful for a person.
We've already discussed the brand names and models to avoid in this guide. Now, take a look at the most dependable refrigerator brands available.
GE (Profile – PFE28KYNFS)
The GE brand has been in the home appliance industry for over 115 years. The company is committed to developing innovative and dependable products that enhance the lifestyles and comfort of individuals around the world.
The GE regular series, GE Café, and GE profile refrigerators are the three different series of the GE refrigerators.
Almost all of the people who have used GE Profile PFE28K have liked it. It's a French door refrigerator with a large capacity of 27.8 cubic feet and a reliable ice maker.
It maintains a constant internal temperature, keeping your food fresh and cool. The interior layout is ideal, with plenty of storage in the doors and crisper drawers.
It's a fingerprint-resistant stainless refrigerator, so smudges are easy to wipe away. This model may be the best option for you if you're looking for dependability.
LG (LRMDS3006S)
LG is one of the world's most dependable refrigerator brands. Some people, however, still consider LG to be a "cheap" brand.
LG, on the other hand, has gained in popularity and serviceability while remaining reasonably priced. Most notably, they provide excellent customer service. They are the owners of their products and acknowledge all legitimate claims made by their customers.
Customers love the LG LRMDS3006S for its unique features packed with cutting-edge technology.
It's a 30-cubic-foot refrigerator with stainless-steel doors and Smart Wi-Fi control functionality.
It also has a lovely interior design with bright LED lighting. This model is the most effective at maintaining a constant interior temperature.
Even though this model is on our list of recommended refrigerators, a few issues require your attention. You can, however, quickly fix them at home.