Bootzcast and Americast Bathtubs, Whether you love occasional deep soak or regular treats to bubble baths, a comfy and well-built bathtub is an essential fixture of your home. It is a significant investment. Thus, it is paramount to carefully consider how you intend to use it, your budget and the amount of space available.
Bootzcast and Americast are among the top best bathtubs available. Though, if you plan to choose any of them, it is wise to know every detail about Bootzcast vs Americast bathtubs. We understand how challenging it is to choose the right bathtub, and that is why we shall help you make the right decision in this particular piece.
Bootzcast Vs Americast Bathtub: Overview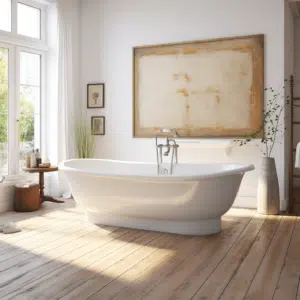 These are two different bathtub brands, each using their own engineered composite materials that are secret to the rest of the world. They have many differences, but we'll examine the critical ones in detail. Let's dive right into the differences.
Special Material
None outside the operation is aware of the type of composite both brands use, for they are proprietary, which means they remain a secret recipe unknown to the public and competitors.
Although their composite materials remain a mystery, the finished product is enameled with materials that benefit from other materials, such as cast iron. For instance, they retain heat, weight, and a durable surface finish,
Bootzcast uses enamel steel covered by SYNIRON, which (is a cheap alternative to cast iron) to formulate their tubs. It is a coating that holds heat, allowing you to relax/soak for a long time without the water getting cold.
On the contrary, Americast uses a mixture of porcelain and tough quartz to make their tubs, often referred to as "Stan-Sure," an anti-slip coating.
Space
Bootzcast and Americast Bathtubs is a crucial factor when choosing a tub, for you cannot buy a tub that is two times the size of bathroom space.
Bootzcast's size is 60"x30"x14" whereas Americast is 61″x31.5″x16″ in size, which makes the Americast bathtub bigger than Bootzcast.
If space is your concern, Bootzcast will be your better choice.
Water capacity
To be precise, a nice hot bath requires a large amount of water, 1/3 cold and 2/3 hot water. Having a big tub translates to the need for more water, which will impact your wallet.
Americast has a larger water capacity than Bootzcast, so you must consider this factor before purchasing, for it affects the general water consumption rate.
Weight
It is an essential factor to consider when choosing a bathtub. Weight connects to the transportation costs and shipping comfort, so it will be arduous to take it home if it weighs too much.
Bootzcast tub is 80 pounds. On the other hand, Americast weighs 96 pounds, making it significantly higher than the Bootzcast tub.
Comfort
No single tub is good if it doesn't provide comfort. Deeper tubs tend to offer more comfort.
The Americast tubs are more profound than their counterpart.
Price
The price factor solely lies in your budget. So if you are willing to spend more or are on a tight budget, price is something you should not overlook.
Americast tub will cost you more money, like$450 contrary to Bootzcast, which costs about $370 though they keep fluctuating depending on the market trends.
The Installation Procedure for Bootzcast
Bootzcast has a durable finish; therefore, you need to pay extra cautiousness during the installation process. Please use pads, blankets or cut cartons as a protective pad at the bottom of the bath. Rough handling, ladders and dropped tools may cause damage.
Avoid dropping or hitting the bath with complex objects, pushing it against the apron, or standing the ladders inside, and permanently remove shoes before standing in the tub.
Installation Tips
Do thorough inspections before installing the bathtub and in case of any damage, report to the supplier and seek advice on the following action.
After measuring the bath dimensions, frame the construction area
If need be, use small shims to achieve level installation
Secure the bath to studs by overlapping the tiling flange with large-head galvanized roofing nails or drywall screws and washers.
Install the overflow, faucet and showerhead according to the manufacturer's instructions. Over-tightening of the fixtures can cause damage to the bath.
Care and Cleaning
For regular care and cleaning, use warm water, a mild detergent and a soft cloth or stiff nylon brush to clean. Never use abrasive scouring powders or pads.
Alternatively, you can use "Barkeepers Friend" and a nylon brush to clean the slip-resistant surface that may trap soap scams, metallic particles, and dirt leaving your shiny bathtub new.
Americast Bathtub Installation Tips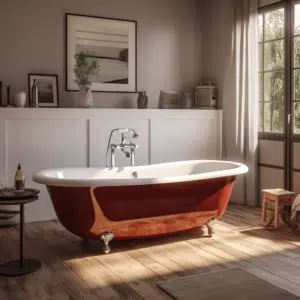 It is easier to install than traditional cast iron or fiberglass bathtubs. Americast is lighter and has a ridged bottom, obviating the need to set it in a mortar bed.
Cut the support stringer to length, measure the length of each of the tub alcove walls, and cut a stringer out of 2×4 materials to run the length of each wall.
Connect the support stringer horizontally to the tub alcove walls below the rim. Nail in place using two 16d nails into each stud but ensure the height of the stringer is the right one, for they vary.
Install the drain assembly through the hole in the bottom of the tub, from inside and on the outer side, a rubber seal, then brass washer and tighten the nut
Slide the tub into the alcove and position it over the support stringers. Using 11/2-inch roofing nails drive a nail into each stud immediately above the tub's rim for the head of the staple to hold the edge of the tub.
Americast Cleaning Hints
To clean the slip-resistant (Stansure) surface on bathtubs, sprinkle Bon Ami, Spic and Span, DiDi Seven or Zud onto a wet sponge, apply the surface, and rinse with water.
Having a good idea of the differences between the two tubs, it is easier now to pick the best one for your bathroom. If the size, higher maintenance cost, and the price is not an issue, Americast would be your ideal choice. After all, it is a product of the American Standard; I guess you know what that means.
On a different note, if you want to spend less and have a smaller bathroom area, Bootzcast is budget-friendly and occupies less space.
The choice is yours to make on the one you think to meet your expectations.