Engineered Wood is among the most chosen materials for interior decorations and building homes. From flooring to furniture, from doors to stare cases, wood is used in home designs to achieve functional needs and blend with the décor theme of your house.
Although wood is a renewable material, its use has raised some environmental concerns causing people to embrace the use of alternative materials like engineered wood.
In simple terms, engineered wood, also referred to as "composite" wood or manufactured board, means artificial wood is on-demand as a sustainable material for residential and commercial buildings.
The composite wood can change its color or be painted, depending on the material. We shall take you through the basics of engineered wood, so ensure you stay glued.
Can You Paint Engineered Wood?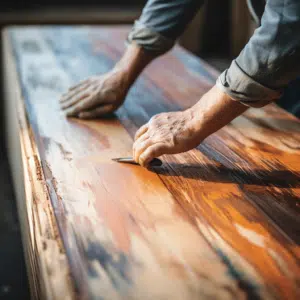 It is always significant to improve the overall look of your wood, but, like many people, it is very challenging. Not knowing how or where to start is overwhelming. That is why you must take time to get your desired result.
You can paint your engineered wood; sanding and priming the wood surface before painting is good to ensure even paint distribution and make it aesthetically incredible.
It is highly recommended to use good-quality wood paint for a perfect finish that looks awesome from all angles.
There are three factors to consider:
The painting process is a delicate exercise; hence it is a brilliant idea to use the right paint-wood paint as it is the only way to achieve remarkable results! Invest in finding quality wood paint, then begin your painting process.
Hints for Painting Engineered Wood
Utilize wood furniture-<span style="font-weight: 400;"> Get the right wood paint that will offer impressive results and a perfect finish. Many people use acrylic paint or other types of color, which give short-term results, but eventually, they will begin to crack.
Sand the Wood First– wood is not easy to paint. You must prep and ensure the wood is ready for the new paint. Failure to do so makes the color look odd/ mottled, a complete turn-off.
Sand the wood surface for a smoother texture for the wood to be receptive to the wood paint and looks appealing after 2-3 coats
Multiple Coats- At least do two coats and some touch-ups if need be to prevent an off finish. Take your time for a better result.
Types of Engineered Wood
Engineered wood is a product manufactured to look like wood, using various materials like shredded wood fibers, sawdust, adhesives, and different chemicals. The product is then cut and sawed like timber
The artificial wood is designed and tested to be strong, durable, and moisture resistant. Certain products are formulated using waterproof adhesives, especially those for outdoor use. Let's look into types of wood right away:
Particle board
It is made from wood wastes like sawdust, sawmill shavings, and wood chips, then pressed and extruded. Its is more even than plywood but needs a sealant to ensure it lasts long.
It is suitable for furniture and false ceiling
Plywood
It is a popular type of wood and is a wood structural panel made via cross-lamination of veneer sheets and binding them with moisture-resistant glue under pressure and heat.
It is versatile and thus used for interiors, exteriors, and structural frames.
Blockboard
It is manufactured by binding the core of softwood strips about 25mm in width, which is placed side by side between hardwood veneers, followed by joining under high pressure.
They are light and used in making doors, shelves, partitions, and panels.
Medium-Density Fiberboard
It is also known as MDF, made by shredding hardwood and softwood particles into wood fibers. They are joined together under intense pressure and high temperature to make panels.
They have a smooth finish and are denser than plywood. The medium-density fiberboard is available in different qualities and thicknesses.
High-density Fiberboard (HDFs)
They are wood-engineered wood manufactured from pulped wood waste and chips.
The material is durable and denser than most wood types and can be used as an option for engineered wood flooring.
Laminated Veneer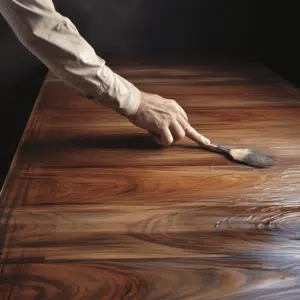 It is produced by assembling multiple layers of thin wood using adhesives and resembles plywood.
It is more durable and uniform than other types of wood. Thanks to the composite structure, this makes it less prone to warping or shrinking.
Cross-laminated timber
(
CLT
)
It is formulated by arranging different layers of solid-sawed lumber perpendicular to each other. It is a type of wood preferable for designing walls, floors, roofs, ceilings, and furniture.
Oriented Strand Board
It is made by combining wood flakes with adhesive and compressing them and is available in sanded or unsanded forms.
It is mainly preferred for flooring because of its load-bearing capacity and is water-resistant.
Benefits Of Engineered Wood
It is a sustainable product that is more affordable contrary to the traditional solid wood.

It is formulated to bear heavy loads.

It is flexible, pliable, and available in a variety of grades

The material doesn't warp or crack easily

It is durable and easy to install
It is good to be able to paint your wood, although there are key factors to always remember, such as the type of paint, the age of the wood, and the wood quality.
Sanding and refinishing are popular methods to paint wood, but it depends on what you want to paint and the result you long to achieve. The sanding is allowed in woods that are thick enough with a veneer layer. Refinishing is done only once.
Despite being a delicate process, paint is worth the risk, for if it is done right, it elongates its lifespan up to five times. You can use latex or wood paint as it is the correct type. It is recommendable to apply two coats or more for a refined finish.
Find quality wood paint that is going to settle well on the surface. The results will be excellent if you take the time to use primer and sand the wood.