Importance of Window Treatments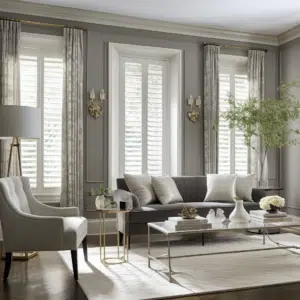 Window treatments have a huge role in interior design. They boost the look of a room and also have practical benefits. From sunlight control and privacy to insulation and noise reduction, window treatments offer lots of advantages.
It's important to pick the right window treatments. The color, fabric, and style of curtains or blinds can really affect the atmosphere. Elegant drapes or modern blinds – you can set the tone of your space.
The practical advantages of window treatments are great, too. You have control over how much light comes in, meaning you can customize the mood. Sheer curtains let in light but keep privacy, or blackout curtains stop people from spying.
Window treatments also make your home energy efficient. Thick curtains keep cold drafts out in winter, and reflective blinds can reduce summer heat gain, helping cooling systems.
Different Types of Window Treatments
Window treatments are a must-have in interior design. They control light and privacy, and even enhance the look of a room. Here are some types of window treatments that can spruce up any space:
Blinds: Versatile and practical, blinds come in materials like wood, vinyl, or metal. They offer different levels of light control and privacy.
Curtains: Elegant and warm, these come in different lengths, fabrics, and designs.
Shades: Sleek and modern, shades provide good light control. They come in styles like roller shades and Roman shades.
Shutters: Timeless and characterful, shutters come in plantation or solid panel designs. They also offer great insulation and privacy.
Valances: Decorative and stylish, valances add a touch of flair to windows. They allow light in while keeping privacy.
Sheer curtains: Lightweight, sheer curtains filter light while still providing privacy.
Innovative options like motorized blinds, with remote control operation, are also available. Window treatments have been used since ancient times! The Romans were pioneers of fabric window coverings. Choosing the right window treatments is like finding the perfect outfit for your windows – dress them well and they'll be the envy of the neighborhood, dress them badly and they'll be the talk of the town!
Factors to Consider When Choosing Window Treatments
Window treatment are important to make any space look and function better. When selecting window treatments, there are factors to consider to get the right match for the room. With many options, the decision could be overwhelming. Here are six things to consider:
Privacy – Decide how much privacy you need. For bedrooms and bathrooms, complete privacy is essential. For living areas, something that allows views but protects confidentiality.
Light Control – Decide how much light you want. Sheer curtains or blinds offer diffused light. Blackout curtains or shades block out sunlight.
Energy Efficiency – Get energy-efficient options like cellular shades or insulated draperies. These reduce heat transfer through windows, saving on heating and cooling costs.
Style and Aesthetics – Choose a window treatment that fits the decor theme of your space. There are many styles, from classic curtains to modern blinds.
Durability and Maintenance – Check the durability of materials like wood, fabric, or metal blinds. Also, look at cleaning and maintenance.
Budget – Set a budget before exploring options. Prices vary depending on size, material quality, and brand reputation.
Pro Tip: Request samples or swatches from suppliers. Get a feel of fabrics, colors, patterns, and transparency levels under different lights.
Getting professionals to install your window treatments will give you the perfect look.
Benefits of Professional Installation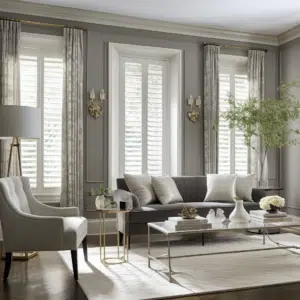 Text:
Entrusting window treatments to professionals offers great benefits. Here are 4 key advantages to consider:
Efficiency: Pros have the expertise to measure, fit, and install quickly. This avoids DIY delays or errors.
Precision: With their skills and experience, professionals can ensure proper alignment. This results in a polished look and optimal performance.
Durability: Proper installation techniques are essential for long-term window treatment. Experts understand how to fasten the hardware securely.
Expert Advice: Professionals offer advice on the type of window treatment that suits your needs and style. This helps make informed decisions, boosting the space's aesthetic.
Pros also have special tools and equipment to streamline the process. Their knowledge helps tackle any unexpected issues.
Get flawless installations that reflect your personal style and elevate your interior design. Reap the many benefits of professional installation of window treatment.