There are so many dishwasher detergents on the market that it seems impossible to find the one that is right for you.
Dishwasher detergent reviews can often be discouraging, where all reviews seem to give the same information.
Cascade Complete adds Cascade's most powerful clean, along with protection against hard water, to clean dishes better, plus fill your dishwasher for fewer stops.
On the other hand, Finish offers almost similar benefits at nearly similar prices, leaving consumers confused about which product to get.
This review will break down how well each product works and determine what the best dishwasher detergent is.
Product offerings: Finish vs Cascade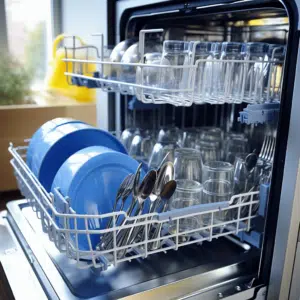 Here, we look at any outstanding benefits each dishwasher detergent offers. While Finish and Cascade offer dishwasher products, including boosters and detergents, their product offerings differ significantly.
Cascade is more versatile with its dishwasher product offerings, while Finish concentrates more on water treatment and dishwasher maintenance.
Cascade products
Their Cascade offers four main products: additives, ActionPacs, gel detergents, and powder detergents. These products come in citrus breeze, lemon, and fresh (original) scents.
Additionally, Cascade offers a Free and Clear formulation that's rid of dyes, bleach, and phosphates. There is also a fragrance-free version.
Cascade ActionPacs
These small soluble packs are designed to be dissolved in the water as they release their cleaning power during the cycle. As a result, they are a slightly more convenient alternative to detergent powders and gels.
Cascade ActionPac products comprise of:
Cascade Platinum ActionPacs – Lemon Scent.
Cascade Platinum ActionPacs – Fresh Scent.
Cascade Complete ActionPacs – Lemon Scent.
Cascade Complete ActionPacs – Fresh Scent.
Cascade Original ActionPacs – Fresh Scent.
Cascade Platinum ActionPacs + OXI.
Cascade Free & Clear ActionPacs – Lemon Scent.
Cascade Original ActionPacs- Lemon Scent.
Cascade Platinum ActionPacs + Dishwasher Cleaner Action.
Additives
These products ensure clean rinse cycles and keep your dishwasher clean by eliminating grease, limescale, odors, or debris. In this category, Cascade offers:
l Cascade Dishwasher Cleaner.
l Cascade Power dry.
Gel detergents
These are thick liquid formulas designed to cleanse and scour dishes. They are your best bet if you prefer liquid solutions to powder detergents or action pacs.
Just like Cascade ActionPacs, Cascade gel detergents have a variety of options depending on your preferred performance and scent.
Powder Detergents
Cascade is probably best known for its dishwasher detergent powder, which is also its original offering.
The dishwasher detergent granules are made to scrub and clean dishes. The Cascade powder detergent can be traced back to the 1980s when Dennis Weatherby patented Cascade.
Although Cascade Complete with Dawn in fresh scent is the most common product in this category, it is possible to find the same formulation in citrus breeze of lemon on Amazon.
Finish Products
Finish was started in the early 1950s by the US-based Economics Laboratory (now known as Ecolab) but now belongs to Reckitt, the goods company.
It is available in three primary scents: Fresh, orange, and lemon. It also offers four major products: dishwasher cleaner, detergents, booster agents. Finish pods can either be filled with liquid with detergent tablets, liquid alone, or a combination of liquid, gel, and powder detergent.
Finish detergents
It offers an option between dishwasher pods, pod and tablet combinations, gels, and detergent powders. These products come as: Finish Dishwasher Powder – Lemon Scent. Finish Gel Detergent – Lemon Scent. The Finish Powerball Deep Clean Detergent Pac/Tablets – Fresh Scent.
Finish Powerball Quantum Detergent Pacs – Fresh Scent. Finish Powerball Max In 1 Detergent Pac/Tablets – Fresh Scent. Finish Gelpacs – Orange Scent. Their Finish Gel Detergent – Orange Scent.
Finish rinse aids
The Finish offers two rinse aids: Finish Jet-Dry Hard Water Rinse aid and Finish Jet-Dry Rinse aid.
Rinse aids boost the results of whatever washing detergent you have. They help reduce spots even if you are using hard water and accelerate drying.
Finish Dishwasher cleaner
Finish also offers liquid and tablet dishwasher cleaners. These products include:
Finish In Wash Dishwasher Cleaner Tabs. Their Finish Dishwasher Cleaner Liquid.
Finish Booster agents
Finally, the company also offers an additional product to improve the effectiveness of their detergents: Finish Booster Agent.
It is a lemon-scented powder that is specifically designed to remove:
Spots, beverage stains, and residue. Hard water stains.It is Odors. Mineral buildup in dishwashers.
Quality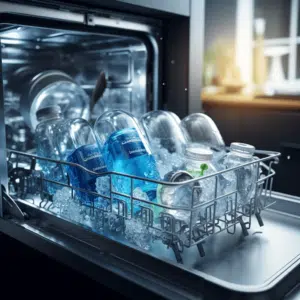 Now that you know what each brand offers, we can jump straight into the most important comparison: performance. For a fair comparison, we will use results from several trusted sources that have tested both Cascade and Finish products.
Good Housekeeping tested the detergents in a cleaning lab. They used greasy, stuck-on foods, allowing the ingredients to stick properly for two hours before each experiment began.
As a result, Cascade Platinum ActionPacs was their Best overall detergent. As a matter of fact, it's the most popular detergent for Good Housekeeping kitchens, thanks to its abilities.
The Spruce also tested a few detergents in various forms: pods, powder, tablets, and gel. Cascade Platinum ActionPacs also took the award here as the Best Overall detergent, with Finish getting honorary acclaim for its booster agents.
On the other hand, Food Network crowned Finish Powerball Quantum in its test of liquid and pod-style dishwasher detergents. Cascade Platinum Plus Action Pacs also delivered outstanding results but were criticized for the strong scent.
Finish Quantum Max Powerball tablets were Business Insider's pick for the best overall detergent. Cascade Complete Powder was the site's best powder detergent.
Price
Finish and Cascade detergents are very similarly priced, but the prices vary depending on the formulation you choose and where you shop.
However, when determining the best value for money, you should look at the cost per fluid ounce or per pod if you're buying detergent pods.
In conclusion
Cascade and Finish both offer great dishwasher detergents. According to Finish, it is the overall market leader, while Cascade claims to be the number one recommended dishwasher detergent in North America.
The bottom line is, you can't go wrong with either of them. Since they have significantly different product offerings, you can pick whichever of the two that appeals most to your needs.