Larson and Andersen Storm Doors, While you already have your main entrance door, there are several reasons you could be looking at getting a storm door. Chances are you could be looking to letting more light in a while also improving the air circulation inside your home. In addition, storm doors offer you incredible convenience in keeping bugs and other external weather elements out.
But before rushing to buy that storm door, you stand the agony of choosing between the many different brands all promising to deliver. In particular, the debate between Larson Vs. Andersen Storm Doors is always a popular point of discussion. Likewise, we get to dive into this debate and lay bare which between the two brands standouts.
Which Is Better?: Larson Vs. Andersen Storm Doors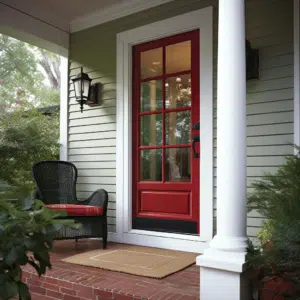 Virtually all homeowners invest much into their front door entrance. Similarly, a storm door should also be of high consideration right out of the top models available. The Larson and Andersen line gives you that high-end selection of premium storm doors for your home improvement.
But what makes the Larson storm doors so much reputable in the storm door category? Or why do Andersen doors always come up when talking of quality storm door selections? Well, let us find out.
Why Larson Storm Doors
The Larson Door Company has an over and above reputation that spans over 60 years, providing door solutions to homeowners. Here are more qualities that make Larson storm door the go-to option.
All variety of storm doors
The Larson storm door selection is nothing short of spectacular, with all door types to many different house types and designs. The storm doors come in a wide range of colors, hardware, screen, and even materials. Better yet, you can even consider whether you want a complete view. Mid view or high-view type of storm door with the Larson lineup.
Another Larson lineup could have you choosing between the standard screen, a retractable one, and an interchangeable screen for extra storage.
Ease of Installation
Installation of storm doors can be a hit or miss situation, especially when renovating the whole front entrance. But this is not the case with Larson storm doors, as you will find out. Unlike other brands, Larson fits all storm doors under its lineup with EasyHang.
The feature allows for an exact fit of all Larson storm doors onto mounting rail extenders or hinge holes. In short, you can count on these storm doors to come with easy mounting, which needs no cutting or sawing.
Material quality
Larson's premium offering of quality materials stretches from providing a wide variety of glass, hardware, and finish options. Each Larson storm door utilizes elegant, and quality design plus material make to meet your expectation. For instance, glass options will set you up with Clear Tempered glass, Double Bevel glass, Low-E classic glass, and Keep Safe glass for extra security.
Additionally, the hardware finishes also provide that eye-candy looks to spruce up the elegance of Larson storm doors. You are bound to get choosy picking between handle set with finishes such as brass, brushed nickel, antique brass, aged bronze, and even sandstone.
Advanced features
On top of quality and design, you can't go wrong with Larson storm doors regarding next-level door features. For enhanced security, some Larson storm doors come with a keyed deadbolt lockset or a 3 point locking system to make the most secure exterior doors.
Other Larson storm doors can also combine the KeepSafe glass with robust locks for that extra security and peace of mind. However, these advanced features are more than improving the door's security but enhancing the outlook and quality of the Larson storm door.
Why Andersen Storm Doors
Innovative Features
Andersen Storm doors come with abundant features thanks to the wide variety of designs, styles, and options.
The convenience of light and bug control present with the insect screen door is top among these innovative features to allow natural light and better ventilation. At the same time, you get to control bugs and other elements from coming in through your entryway.
While an insect screen door is far from the only innovative feature, you can count on more Andersen doors to give you unique elements from the catalog.
Expert craftsmanship
Of course, innovative features go hand-in-hand with expert craftsmanship on the quality and value of Andersen storm doors. True to this, you can always count on the Andersen brand to offer you next-level material to match the different styles and options.
To get you started, the selection of storm door styles includes full-view interchangeable, full view retractable, LuminAire retractable insect screen door, and light panel ventilating storm doors. All these storm door styles profess to the exceptional quality of kind, make and design.
Easy Installation
The Andersen brand sets you up with one of the most effortless installation processes, making it best for your DIY projects. The Andersen storm doors take out installation hassle thanks to preassembled installation systems that need minimal drilling or cutting.
Inside, Andersen storm doors come with easy installation options that include Rapid Install 1, Pro Install, and Rapid Install 2 for the different storm doors.
Each option gives you an extra level of easy assembly and installation. Do not forget the plenty of installation videos and guides that accompany each purchase of an Andersen storm door.
Customizable options
If your storm door measurement is past the standard dimensions, Andersen got you covered by providing custom-sized storm doors. All it takes is to determine the door opening size and the storm door model you want. After,
Andersen will give you a storm door model which matches your width and height ranges. Such a custom-make service allows Andersen storm doors to stand out as models that fit any front entry.
Which Is The Best Storm Door: Larson Or Andersen?
By all means, the debate on Larson or Andersen is a hot topic that cant be put to rest quickly. For starters, Larson storm doors offer you that convenience of styles, with many varieties. On the flip side, the Andersen brand gives homeowners the freedom of customization plus next-level design storm doors.
So, if you aim to remain classy but still get exceptional quality, you could go for a Larson storm door. However, Andersen storm doors offer a better choice with various designs and a lifetime warranty for the lineup. All-in-all, there is no huge difference, and it all boils down to what you find as the better choice when it comes to Larson Vs. Andersen storm doors.