Sectional Sofas and Two Sofas, It's not hard to understand that a beautiful sofa always sets the mood and adds life to your living. This critical piece of living furniture also enhances the design and influences the whole style of your actual living space. As such, selecting the right sofa can be a daunting task for most homeowners.
For starters, sofas are becoming more sophisticated with different styles, designs, sizes, and even fabrics to choose from and enjoy. In particular, the typical dilemma revolves around having Sectional Vs. Two Sofas. Of course, each of these sofa designs comes with its benefits and challenges once you decide to use them in your space. Read on and find the right sofa for you between Sectional Or Two Sofas.
Sectional vs Sofa: Overview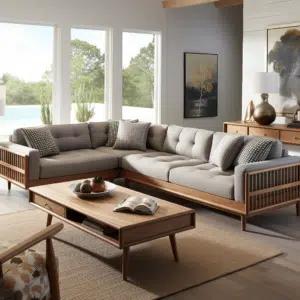 To better understand these furniture options, it only makes sense first to define the seat configurations.
A Sofa
According to purists, a sofa is an upholstered piece of furniture with two to three cushions alongside two armrests. Sofas also offer a decent amount of seating space with varying sizes, styles, and even types available to meet your needs. Among these types of sofas, you might come across include
Loveseat
The Loveseat is a small-than-usual sofa that seats two people thanks to its two-cushion design. As the name suggests, this sofa or settee is meant for two people or a couple and is ideal for small areas like an apartment. In addition, the Loveseat offers plenty of fashionable designs with style ranging from the classic double chair to modern stand-alone loveseat designs.
Couch
A couch and sofa are often used interchangeably to mean the same thing. However, there is a difference between the two. For beginners, a couch is smaller than a sofa and has a more loungy appearance. It is also standard that a couch comes with no armrests since it is for people to lay down, and arms would get in the way. In short, a coach offers a less formal and more relaxed look than a typical sofa.
Sleeper Sofa
The sleeper sofa is your go-to option whenever you feel like enjoying a sofa and a bed simultaneously. As per the design, a sleeper sofa is your typical three-seater for you to sit back and relax whenever you need it. But, once it's night, the sleeper sofa allows you to pull out the cushion and make it into a bed. Such a sofa choice comes in handy as a two-in-one option for people without extra bedroom space.
Sectional Sofa
Likewise, a sectional is also a sofa with a large, exceptional, and modern style alongside a contemporary angled design. The design is sectional since it usually combines two sofas attached to form a shape with the possibility of recliners at the ends. Some of the options possible with such sofas are
L-shaped sectional
This design is most famous for giving a five-cushion arrangement that combines into an L-shape once in place. All it takes is placing the two cushions onto one side and attaching the three on the other according to your spacing.
U-shaped sectionals
As the name implies, the U-shape sectional sofas give you that U-design to offer that contemporary look. The arrangement includes connecting two side sofas of the same length and connecting using a center sofa.
Chaise sectionals
The chaise sectionals can feature a chaise cushion at either the right or left end of the seat. At first, this design appears like a typical three-seat sofa, and you won't notice the difference until you touch each side.
Pit sectionals
Pit sectional sofas offer you a combination of a sofa alongside a customizable bed. You get to connect cushions all around, with one available also for the middle. This creates a buffer for every spot, making it a large cushion platform or a bed.
Sectional Vs. Two Sofas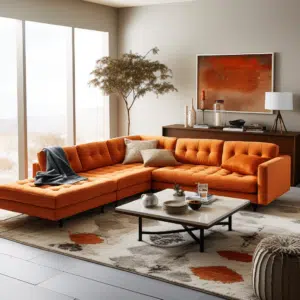 When considering a sectional or two sofas for your space, you have to consider what best works for you. For instance, sectionals are terrific in several ways. They are more versatile and feature various styles for all living spaces. However, sectionals take up more space and can easily overwhelm other furniture plus items in the room.
If you pick a traditional sofa for your living room, you may need two to create the desired effect. Two sofas offer the convenience of making a living room space whenever you place them facing each other. The design creates a sort of boundaries for a conversational living room area while giving the space a more formal look.
Two sofas are also great, especially since there are versatile options among the smaller sofa design. Sofas models such as loveseats can come in handy whenever you want to create more seating space but don't want to commit to too many sectional cushions.
Besides the personal preference of one choice over the other, there are many other factors to consider. These factors that help determine whether it is a sectional or two sofas for you are
How many people you accommodate in your living space is a significant factor in determining whether you pick a sectional or two sofas. Of course, a sectional is an excellent option for large families with kids or a household full of adults. The sectional sofas are more realistic since they can accommodate more people in the living area or a large group of guests.
Both two sofas or a sectional can offer a formal or casual look. But it is a common notion that a sofa is more traditional with a sophisticated and structured look for your room. Conversely, a sectional tends to be less formal with a more relaxed spectrum and cozy ambiance.
The room size is an essential factor since it practically decides whether your space can handle a sectional or two sofas. For example, the length can be considered minor, which means that a sectional will take up loads of space and clutter the living space. However, two sofas would become ideal since they can face each other for a formal arrangement feel and small room partition.
Is Sectional Better Than Two Sofas?
The sectional vs. two sofas debate has no outright winner since it all boils down to plenty of different factors, including individual preference. So, while a sectional can work for someone, please don't count on it to add life to your living room. Likewise, two sofas could look great in your friend's home but fail to fit in your house. Consider all the factors plus your style, then make a wise decision for your home decor.