Are you looking for the best privacy fence to install around your home? If you've ever searched over the internet, you will realize that two privacy fences pop up more frequently- the Shadow Box fence and the Board on Board fence.
What are the differences between the Shadow box fence and the Board on Board fence? Which is the best option that you can use on your property?
A shadowbox fence is always mistakenly referred to as Board on a board fence, but the two entities are different and don't mean the same thing.
The shadow box fence is a visually appealing, customizable, and durable option that boosts the appeal of your curb. It features an overlapping pattern with each Board attached opposite the fence's side. Let's compare it to the Board on Board fence.
Shadow Box Fence vs. Board On Board: Differences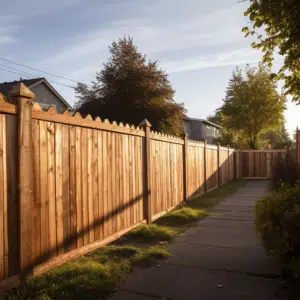 Unlike the Shadowbox fence, the Board on board fence is a more exciting privacy fence that doesn't allow airflow.
The fact that pressure-treated materials are put in the ground at least 35 inches and secured with concrete makes a board-on-board privacy fence strong and durable. As a result, the materials stay in place and can survive harsh climatic conditions for years.
You may add beautiful latticework to the fence to minimize noise and increase privacy while increasing aesthetic appeal.
Consider a board-on-board fence with a secured gate if security is your priority. Every person and creature in your home will be hidden from passersby.
Shadowbox fences are made from overlapping panels attached to the opposite side of the fence. Therefore, it has some space to allow air passage.
A shadowbox fence is a semi-privacy home fence. It conceals most views unless you are extremely near the barrier. Pickets are attached to both sides of the fence rails in staggered rows.
Each picket fills up the space between the pickets on the other side of the fence. The holes between the pickets allow for some ventilation through the air passage areas. Read on to find out if a shadow box fence is the right privacy fence for your house.
Shadow Box Fence Advantages
People that need to add to their traditional privacy fence design might profit from shadowbox fences. Shadowbox fences are picket fences with staggered picket rows on either fence rail. Pickets on one side of the rail reach across the gaps between the pickets on the other end, obstructing the view of the fence.
The show box design adds visual appeal while ensuring privacy. The shadow box fence is installed outside your home using standard posts with three rails.
Contractors install one picket on one rail, then another on the opposite rail, with a tiny overlap to block the view. They keep repeating this alternating cycle, and it becomes a uniform style. The mix of light and wood is quite appealing.
One of the essential features of privacy fencing is its durability. Any privacy fence may survive for years if properly maintained. On the other hand, Shadowbox fences are incredibly resilient due to the alternating pickets. They equally distributed the weight across the rails. As a result, you won't have to worry about pickets dropping or drooping.
If you're planning to sell your property, install the shadow box fence since it might add value. A shadowbox fence greatly enhances your whole property and home.
With the addition of a shadow box to your home, the compound seems more elegant and lovely than before. If well-maintained, it will directly impact the value of your home during the appraisal, resulting in a higher return.
Shadow Box Fence Cons
A shadowbox design privacy fence requires more pickets than a stockade fence. On each side, the alternate 5.5-inch pickets overlap by one inch. Therefore the material costs are more than for a stockade privacy fence of the same length.
Board On Board Fence Advantages
Fences serve a variety of functions. They secure your property from intruders, keep children safe, and improve the curb appearance of your home. Many people like Board on board fences because of its attractive fence style's design and general appearance.
Depending on how your property is planned out, you may want to talk to your neighbor about sharing the fence installation cost because upgrading to this style of fence will transform both segments.
Many wood materials such as pine, cedar, oak, and redwood can be used for a board-on-board fence. You can stain the wood to match your outdoor furniture or the property once the fence is erected. When the wood is properly treated and sealed, it will retain its color and shape without warping.
Extra security and privacy is the major advantage of the Board on board fence over the shadow box panels. Board on board fencing gives greater security and privacy than metal, chain link, or picket fencing.
Board On Board Fence Cons
Since the panels overlap by 1′′ to 1 1/2′′ for board on board fences, it's a costly option. A board on board fence will require up to 30% more pickets than a stockade-type fence.
If you want to complete your fence using the board on board fence design, you'll need more materials to cover the extra pickets. The vertical boards must be completed before installation to hide the overlapping edges.
Shadow Box Fence vs. Board On Board: Which is Better?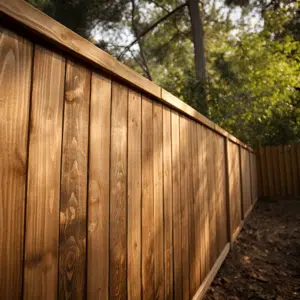 The normal posts of a regular privacy fence are used in a shadow box fence design, but there are three rails.
On one side of the rails, the builders install a picket, and on the other side of the rails, they install another picket. A little overlap additionally obscures the perspective.
The changing pattern runs the length of the fence, creating a lovely pattern. The wood and light work together to produce a beautiful shadow effect.
A shadowbox fence would be ideal for adding a bit of elegance and flair to your fence and overall yard. It would also be a hit with your guests. Your home's outdoor space adorned with a shadow box fence might become one of your favorite places to take selfies.
For their visual intrigue and aesthetic appeal, Board on board fences is much appreciated. Always examine what best matches your demands and money while picking between different types before making any final selections.