Ever woke up at night all sweaty and sticky? Well, your bed sheets are most likely the culprits. But how do you buy bed sheets that will keep you cool in the summer?
It's a question of buying breathable bed sheets that are comfortable and can absorb your sweat at night.
If you don't want the sticky mess, invest in bed sheets that will offer comfort during hot summer nights.
There are three major materials for sheets that will keep you cool and they include cotton, linen and bamboo. Other materials include flannel, polyester and silk. Let's take an in-depth look at these materials.
Cotton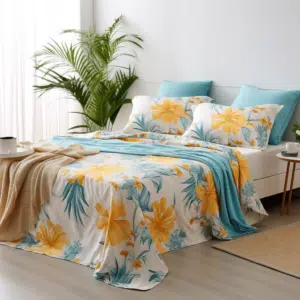 Cotton is one of the materials that you will find in most of course with a variation of brand and quality. As one of the most breathable materials, cotton is comfortable, durable and provides flexibility in pricing.
The best thing about cotton is that it is versatile because in the summer it will keep you cool and sweat-free while in winter it will keep you warm. There are different types of cotton and they vary in both prices and place of origin.
Egyptian cotton
Considered as one of the most expensive cottons in the world, Egyptian cotton is also very luxurious, comfortable and breathable bed sheets on the market. It is made from soft and long fibers that ensure the end result is smooth, comfortable and free of allergens.
Pima cotton
Pima cotton is also luxurious because it is also made from soft and long-staple fibers. The major difference between Egyptian cotton and Pima cotton is that Pima cotton is manufactured in the United States. 
Supima cotton
The other type of cotton is Supima cotton which is derived from 100% Pima cotton. It is more durable and softer than Pima cotton. It is breathable, comfortable and will keep you cool during a hot night. 
Upland cotton
One of the most common types of cotton is Upland cotton. Although it is not as soft or comfortable as the other types of cotton, it is durable. It is breathable and will still absorb your sweat at night.
So for sheets that are made of 100% cotton but do not specify what type of cotton, there is a high probability that they fall into this category. 
Organic cotton 
If you want to buy bed sheets that are hypoallergenic, then organic cotton is the best choice. Since the cotton is made free from synthetic pesticides and the plants are not genetically modified, it is true to say the cotton is 100% organic. Similar to Pima cotton, Organic cotton will offer you breathability and comfort.
Bamboo 
Even though bamboo sheets are quite expensive, they are very breathable, smooth and comfortable. Since they are chemically treated, they are regarded as unfriendly to the environment but at the same time, they are hypoallergenic. In terms of keeping you cool at night, they are a great choice. 
Linen 
As one of the most durable materials for bed sheets, linen is slightly thicker than most bed sheets and has a granular texture. They are quite comfortable and breathable due to the fact that the material has spacious threads. 
Silk
Considered as one of the most luxurious fabrics, silk will provide you with bed sheets that are smooth and breathable. The bed sheets are durable and will not easily stick to your skin. The fibers help in regulating temperature and you can use silk sheets in both summer and winter. It is important to note that silk bed sheets can be made into satin sheets as well. 
Satin
Since satin is almost similar to silk in terms of texture, it is not a specific fiber but a mode of weaving different fabrics like cotton and linen. Satin is fairly luxurious and breathable to keep the heat away.
Flannel
Ranking as one of the most durable materials for bed sheets, flannel is quite thick for a cool night. It is made out of several combinations of materials such as cotton, wool or polyester. For a hot night, they are not a great choice but they will keep you warm during cold winter nights. 
Microfiber Materials
The last type of material for bed sheets we examine is microfiber materials. Made from a combination of synthetic fibers like nylon and polyester, they have very tight threads that are fairly breathable. They are quite durable but not a good choice if you have pets because they tend to catch hairs causing them to look unsightly.
Which Factors Affect the Choice of Your Bed Sheet Material?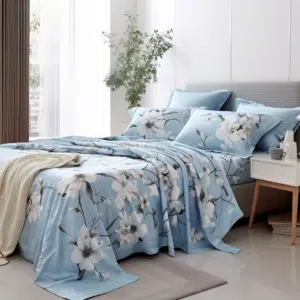 You can determine breathability through thread count. Most companies indicate the thread count on the packaging of the sheets. The more spacious the threads, the more breathable the material and the higher the chances of keeping you cool at night. 
The cost of any product is a huge determinant of whether you will buy the item or not. It is no different when it comes to buying yourself a bedsheet. The most luxurious, comfortable bed sheet might be out of your price range but don't despair.
Look for an alternative that can give you the same benefits or most of them for a lesser price. The best thing to do is to compare prices from different companies and stores. 
You don't want to cover yourself with a bed sheet that feels scratchy. Choose one that is fairly smooth if you cannot afford the silky ones. Remember for you to be productive the next day, you need to have a good night's sleep. 
It is very important to stay from materials that can cause allergies of any kind. You don't want to sneeze like it's the end of the world. If you can, think of getting organic cotton sheets. 
Conclusion
Incorporate the above tips in choosing "The Best Bed Sheet Materials to Keep You Cool" and you will be able to purchase a bed sheet with great material and superb benefits. You can choose from the materials that offer the best in terms of breathability, comfort, hypo-allergenic factors and price.