Wood Cabinet Colors, The world hosts a plethora of colors ideal for wood. Some are timeless, while others are a pretty challenge to update or modernize.
Wood is usually stained with a different color than its origin. Before choosing a color, you need to visualize the end product in mind. Do you want to accent your wood, camouflage, or blend it?
Warm and cool colors. You need cool colors like green, blue, or purple to accent warm colors. You can also use neutral colors with these undertones. Warm colors have a lighter tone than the wood tone, while cool colors have a darker tone.
These colors accent the wood more compared to colors of the same depth as the wood tone. Overall, cool colors do a better accenting job. If you want to spice things up, choose colors with minimal gray to produce more energy and contrast against the wood.
You can select a cool opposite color if your goal is to blend into the oak cabinets. You need warm colors like beige, cream, warm greys, or brown to neutralize or soften warm woods.
To achieve a seamless finish, use a paint color similar to your wood, although it makes your cabinets look a little bland in that neutral or warm color.  For a jazzed-up finish, consider using a paint color that is slightly lighter or darker than the depth of your wood's color.
For example, when using cream or beige, go for creams with an almost similar undertone to your wood.
Wood finishes tones
Yellow-toned woods are yellow with a slight orange variation and can pick up a green or pink wink.

Orange-toned finishes lean towards red or yellow with a dominant orange undertone.

Red or cherry-toned woods add depth and sparkle to your cabinets. They can also look pinkish, as pink is a lighter variation of red. Sometimes they can exude a subtle purple cast. Red-toned woods are the richest among other wood finishes tones.
It is important to remember that most woods pick up several undertones, meaning not all colors will match all wood stains.
But knowing how they complement each other is a step in the right direction.

Paint Colors That Go With Oak Cabinets
 Sherwin Williams Mindful Gray SW 7016
Mindful Gray is a light-medium gray that has a soft purple undertone. It also sometimes gives a wink of green. If you are bold enough, you can pair it with yellow cabinets to add a little warmth.
Sherwin Williams Kilim Beige SW 6106
Kilim Beige is a soft and subtle color with a beautiful range of warm undertones, making it a versatile choice. It can pick up a slight red or pinkish wink. It, however, does not blend well with yellow-toned woods.
Benjamin Moore Classic Gray OC 23
If you are going for a soft and subtle look, Classic Gray is a great warm gray which will not highlight or blend in with your cabinets. Instead, you can darken the color a bit for more body and impact.
Benjamin Moore Abalone 2108-60
Abalone is a classic mix of purple, gray, and brown. The purple color, though subtle, adds a dash of color to spice up the gray color.
Abalone's lighter color is ideal for removing some weight off darker red or cherry cabinets while contrasting with the white trim. The purple color does not look obvious, yet it taps into the wood tones.
Sherwin Williams Canvas Tan SW 7531
Canvas Tan is a tan paint color that is relatively neutral. The color is not too bland on orange-toned cabinets or overly warm, allowing it to be flexible for use on various wood stains.
Sherwin Williams Sea Salt SW 6204
Wood Cabinet Colors want a fresh and fun look, try Sea Salt. It has a light-toned green blend and a gray-blue undertone that makes the color calmer.
This lovely color combination makes Sea Salt complement most woods. In addition, it accents your cabinets slightly and gives an overall pleasant look. 
Benjamin Moore Mountain Air CC 636
For your orange-toned cabinets, Mountain Air is the go-to color to accent the warm colors. It is subtle and earthy, with a green-gray blend, giving your room a fresher look.
Benjamin Moore Sandy Hook Gray HC 108
Sandy Hook Gray is a perfect choice to accent your cabinet's wood warmth with its pleasant green undertone. This neutral base works to produce a calmer look.
Sherwin Williams Silverplate SW 7649
To achieve a modern look, Silverplate is the perfect color. It is a cool and slightly gray color with a minimal blue undertone. This blue undertone adds spice to the overall look and matches nicely with your yellow-toned oak cabinets.
Benjamin Moore Gray Cashmere 2138-60
Gray Cashmere is a classic soft gray that produces a fresh feeling thanks to its strong blue-green undertone. It leans more to blue than green, adding a touch of class to your oak cabinets without being too obvious or powerful.
Gray Cashmere is ideal for accenting wood tones rather than softening them.
Benjamin Moore Collingwood OC 28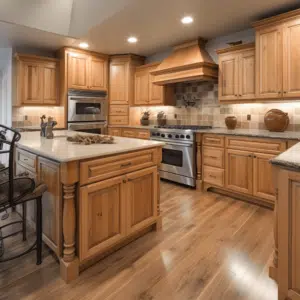 Collingwood is a beautiful and warm greige color with a subtle purple undertone. The undertone is pretty passive as Collingwood is heavily grey.
This color is a lovely match with purple or red wood finishes.
Collingwood holds up steadily and does not lean into any gray undertone variation, even with proper lighting.
Benjamin Moore Gentle Cream OC 96
Wood Cabinet Colors want something inviting, Gentle Cream is the way to go. It is warm and not overly golden. It produces a neutral look and does not accent or camouflage your cabinets.
Benjamin Moore Edgecomb Gray HC 173
Edgecomb Gray is the ultimate greige, as it sits in between gray and beige without leaning to either color. As a result, it does not highlight or blend in with most wood tones.
However, if you have darker wood, Edgecomb Gray highlights it through the contrast and not the color itself.
Although this list is by no means comprehensive, Wood Cabinet Colors is a sure push in the right direction. You can try out different colors to see which gives you the perfect aesthetic for your room.