Sherwin Williams Sea Salt is one of the most popular, best-selling paint colors for modern home interiors. While white, grays, and greiges are still iconic when it comes to home designs, Sea Salt is among the few actual colors embraced by many.
Soft and muted, this flexible color can look great even with fresh color palettes. We can't say for certain that it's a color that goes everywhere, as there could exist cases where it doesn't look right. The blue-green paint color leans more towards blue vs. green and it's seemed to be more of a color than a neutral.
That said, avoid confusing Sherwin-Williams Sea Salt with Benjamin Moore Sea Salt. They are actually very different as Benjamin Moore Sea Salt leans more towards gray and violet undertones. We'll show you this comparison of both colors a little later in the post.
Most people would refer to Seas Salt as a neutral despite that it's a true color. Seas Salt is muted enough, making it ideal for use in almost any room- yet it has enough color to give the room a little pop. Sherwin Williams Sea Salt is especially great when you want to paint color, but don't want to appear too intensely colored.
Sherwin Williams Sea Salt Benjamin Moore Equivalent; Which is the closest?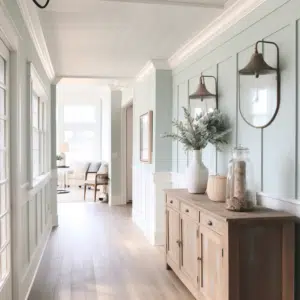 While SW Sea Salt is a beautiful greenish blue, it's reminiscent of the pale green sea with the sun shimmering through it. However, it is not as bright. One pretty good match to SW Sea Salt is Benjamin Moore Gray Cashmere (2128-60). Wickham Gray by Benjamin Moore is yet another pretty blue-green option and is similar to Sea Salt by Sherwin Williams.
As stated earlier at the beginning of this article, Sherwin Williams and Benjamin Moore are two different colors, though they're both called Sea Salt.
To avoid making mistakes of picking up the wrong color, we recommend that you always write down the name and the code once you select a paint color. Otherwise, these two colors are very different. The Sea Salt by Benjamin Moore is more of a "Greige" color while the other Sea Salt falls more towards blue vs. green.
Type of Home Where Sea Salt Work Best
Sea salt is an excellent choice for most different styles of homes. Although it has been a popular color for quite a long time, it reached its greater heights with the show Fixer Upper, where Joana Gaines (the designer of the show) used a light green like Sea Salt in most of the homes he featured. Consequently, Sea Salt became a natural pick for the majority of homeowners, as it is light, quite neutral, and really pretty.
Moreover, Sea Salt is an iconic color for homes with a coastal look. In fact, experts at Sherwin Williams refer to it as quite possibly the best-selling colors for beach homes. Based on reviews from people who used it in their whole house color scheme, Sea Salt works well in any style of home, including coastal styles, traditional, farmhouse, and transitional.
Color Comparison
Color comparison is crucial. Comparing colors might help you choose a focus color. For better color visibility, place your large color boards against a white background.
Kittery Point Green by Benjamin Moore is more gray than bright colors.
White Dove OC-117 from Benjamin Moore is a good white for Sea Salt. You recognize that there are always multiple best whites for ceilings, trims, and doors.
Westhighland White 7566 or Greek Villa SW 7551 are good Sherwin Williams colors to combine with Sea Salt. The 7566 option is more creamy, so bear that in mind if your fireplace or countertops are stark white.
When Should You Use Sherwin Williams Sea Salt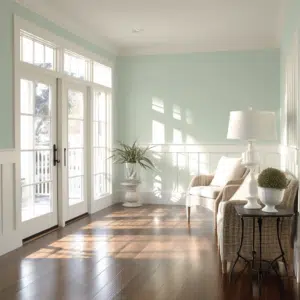 Sea Salt works great when you want a splash of color. Most people tend to love using this color in mudrooms, laundry rooms, and even calm and peaceful bedrooms. This color looks amazing with crisp white color and muted terra cotta floorings. A little bit goes a long way. Except if you are deeply interested in this palette, we would recommend avoiding it for large common spaces.
If you're looking for the best trim and ceiling colors to pair with Sherwin Williams Sea Salt, you can use Extra White SW 7005; it is bright white with invisible blue undertones. Moreover, Sea Salt works great with clean whites like SW High Reflective White and off-whites like SW Greek Villa and SW Alabaster. We wouldn't recommend going creamier unless you have to.
Rooms To Paint Sea Salt
First, Sea Salt is a great bathroom hue. Soft, tranquil, and clean. Since the sink to the toilet are normally white, it appears to have more color. Lighting makes Sea Salt look more than green. The color Sea Salt is chameleon-like because of this. Lighting, time, day, and surroundings affect color.
Bedrooms are peaceful escapes from the workday, so Sea Salt works well there. Sea Salt is often used in kitchens to enhance white backsplashes and marble worktops. Simply put, sea salt goes in most rooms. Its gray undertones make it look natural in some settings, making it suitable for use across the home, especially for an understated elegance.