Acacia and Oak, With its outstanding practicality and unique beauty, acacia wood is often considered the best alternative to the pricey teak solid wood. It has a good texture and property that hardly shrinks or bends.
Acacia wood also has good durability and strength that makes it the ultimate choice for decorative projects and furniture woodwork. It is great for the construction of indoor furniture such as beds, computer tables, sofas, chairs, and dining tables, due to its high water resistance and solid characteristic.
Oakwood, on the other hand, is the hardwood that's commonly used in the making of log furniture. It has a rustic look with beautiful grain patterns. Oak wood is mostly popular for its heavy and strong properties that offer high resistance to fungal and terminate attacks.
It comes with a fine and smooth finish that makes the staining process easier. In fact, it is the most preferred wood for the manufacturing of European furniture.
Acacia vs. Oak: Overview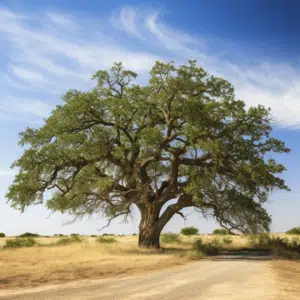 Acacia vs. Oak: Durability
As a hardwood flooring option, acacia doesn't get nearly the amount of attention it deserves. Durable, distinctive, and budget-friendly, this wood can deliver an air of luxury and character in any room.
Acacia floors, for instance, are so long-lasting that it's no surprise to find them sold with a 50-year guarantee. Harder than oak, maple, and mahogany, hardwood floors made with acacia wood can easily stand up to frequent foot traffic. Yet, it has plenty of resilience that keeps it comfortable underfoot.
Better yet, even with its exotic looks, acacia is moderately priced and easy to work with. It stands up well to foot traffic even with minimal maintenance. Its natural resistance to wear and mold development means that it'll hardly swell or warp in a humid climate.
However, like any hardwood, Acacia doesn't hold up well in standing water, so if you're planning to install it in the bath or kitchen, you'll need to mop up any major spills really quickly.
Oakwood, on the other hand, is very durable and usually cut in a way that makes it resistant to warping. Due to its visible wavy grain, oak wood has a distinctive look, with a clear finish that highlights the grain.
It has a property of great endurance, which makes it highly resistant to wrapping. Oak wood also provides Ultra-resistance against corrosion and excessive moisture. Perhaps that's why it is useful for manufacturing heavy-grade materials.
Acacia vs. Oak: Appearance
Acacia wood is unique in that it boasts a stand-out appearance that often combines everything from rich, deep brown, and auburn red to pale beige and bronze. The colors can also show up within the same plant, offering the wood a variegated appearance. In other words, no two acacia floors are exactly the same.
Acacia wood comes with a variety of earthly colors that fit in well with rustic décor schemes. It can also help warm up gray, beige, and other neutral interiors and probably add a touch of sophistication to a home office.
While acacia can be left neutral or stained, it looks particularly attractive with a hand-scraped finish that grants it a traditional homey warmth and a sense of fine craftsmanship.
However, besides its color variations, acacia is often associated with knots and other irregularities. Some people feel this contributes to the overall character, but others find it too showy and distracting.
Acacia's stand-out appearance draws the eye to the floor, which is something you might want to consider when designing your room. Staining the floor can even affect the coloring, especially if you choose a darker stain.
choose a floor
Still, if you choose a floor with subtle consistent shades, you'll get that better with a material such as pine, walnut, maple, or bamboo.
Oakwood, meanwhile, is a hardwood that tends to be very grainy. It's usually available in two varieties: red oak, which ranges from light brown to pinkish red with swirling, water-like patterns, and white oak, which features a tiger-stripe grain with yellow rays and flecks. Oak is commonly used in pieces made in the arts and crafts or mission style.
On the flip side, the stain of oak wood can darken and create an unattractive double-toned look, which is not something that's not associated with other wood types. Also, this wood has exposure and high tannin content to cold and wet weather, which can react with oil finishes.
Acacia vs. Oak: Maintenance
Coming down to maintenance, acacia is fairly undemanding. All you need to do to keep it clean is sweep now and then, and damp-mop once a week. You don't need special cleaners. Contrary to delicate wood species, acacia will hardly sustain scratches from moderate amounts of dirt and debris.
As a hardwood, oak is often used in furniture, flooring, and to create cork. It is an open-grained wood with distinctive markings. Oakwood can be easily processed into diverse shapes as it is very easy to work with. It adheres well with varnish and looks beautiful over the long run.
However, you will need to take off your oak wood products because with no proper care and cleaning, the oak wood may start shrinking and even turn into cracks. Because of its weight, oak is fairly difficult to work with as it is prone to shatters and splinters if not handled properly.
Acacia vs. Oak: Cost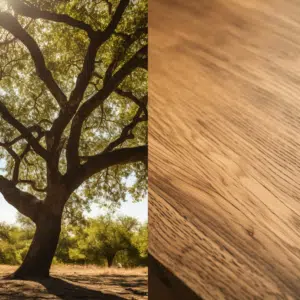 Acacia might look pricey, but sustainability makes it less expensive than similar woods like teak. It is available in solid, engineered, and laminate forms, offering you several options for meeting your budget.
Factor in the aspect of durability and ease of maintenance linked with acacia floors and you will find this flooring material as a decidedly cost-effective long-term investment. Also, durability isn't always difficult, so you don't have to worry about surprise costs there.
That said, acacia is more expensive than common hardwoods, and is often limited in availability. While it is more affordable than teak, acacia is still more expensive than common hardwoods like maple and oak.
 Acacia vs. Oak: The Ultimate Choice
If you're looking for a tough, sustainable eco-friendly flooring material that will add distinctive character to your room, acacia is an easy recommendation. Well, it's not the most impervious to damage, but can look great for decades, even in a house full of go. However, its outstanding coloring doesn't match every style of home. On that note, Oakwood serves great for a floor that quietly blends in with its surroundings.