Door Braces, When most people think of home security, they often think of burglar alarms or complicated monitoring services with lots of rules to follow.
Security doesn't have to be complex, though.
Sometimes the most useful solutions are the most straightforward ones. For example, there are many times when you just want to lock a door without worrying about opening it for inquisitive kids or pesky solicitors.
In this article, we compare some of the most common door braces in the market.
Best Door Brace: Door Club vs Nightlock vs Ongard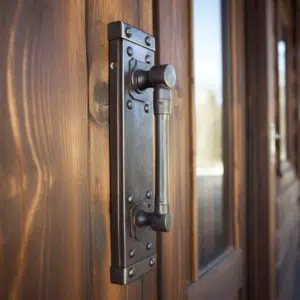 No one likes the idea of having to install a door brace, and most people don't consider it until after something has already happened.
However, having a door brace is essential, and you should buy one as soon as possible. Here are some of the most important things you should look for in a home security product.
Force Resisting capacity
This is simply the amount of force the door will be able to resist with the door brace in place.
A good door jammer should be able to withstand any kick-ins and similar situations.
However, for enhanced protection, you should get a door brace that can withstand more forceful burglaries.
For example, an Ongard door brace is rated to resist 3000 pounds of force. That is strong enough to withstand a small car.
Ease of Installation
A good door brace should be easy to install. It should also be easy to mount and dismount without requiring the assistance of a professional because some people like to remove the jammers whenever they are not in use.
If that's the case with you, it's better to avoid the classic screw-to-floor door barricades unless it's a sliding mechanism.
Instead, look for a pressure-mounted door brace that requires one side connection to the door and the other to the floor.
On the other hand, if you put security over convenience, you might benefit from the old screw-to-floor design.
This is because they are largely more robust than pressure-mounted door braces.
Compatibility
There are countless types of doors out there. Unfortunately, this means that not every door brace will work on every kind of door. 
Therefore, you should research the types of jammers that you can use with your door before making the purchase.
Alternatively, you can buy an all-compatible door jammer that works on standard doors, patio sliding, roller doors, and pivot doors, to name a few. However, these types of jammers are usually significantly more expensive.
Adjustability
A good door barricade should have some level of adjustability as not all doors meet standard measurements. For example, the doorknob might be higher, or the door gap might be higher from the floor than standard doors.
Most door braces adjust by 22 to 52 inches for hinged doors and 22 to 48 inches for sliding doors. Most also come with hole notches to adjust the bar.
Material
When it comes to home security, the material of your door brace is paramount to how robust and durable the device is. Door barricades come in a variety of materials, including aluminum, plastic, steel, and iron.
Aluminum and steel barricades are the strongest and withstand the most amount of force on the door. Iron is also strong but not quite like the first two. Aluminum is the best overall because it is lighter than steel and does not rust.
Ongard
Ongard is a unique door barricade that is designed to stop break-ins and burglaries.
When locked, the Ongard door barricade can sustain heavy force on the door and has been rated to withstand 3000pounds of force.
This means that even a battering ram would not be able to break through the door.
An Ongard barricade works with one piece bolting into the floor while the other bolts into your door.
When you activate it, the bolts are engaged, making it virtually impossible to open the door.
Regards are pretty easy to find and are often in stock on Amazon, where they also come with a lifetime warranty.
Advantages
The bottom floor plate is half an inch high. It can withstand up to 3000pounds of force. It has a lifetime warranty. Easy to install.
Disadvantages
Quite expensive compared to Night locks and Door clubs.
Requires installation tools like drills.
Some doors may not have enough clearance for the bottom plate.
Nightlock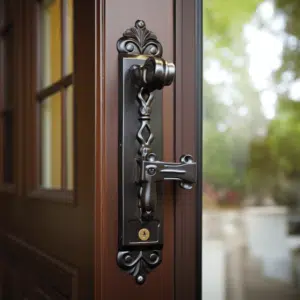 The Nightlock door brace is one of the most popular door barricades that uses the floor's strength and can withstand an impressive amount of force. It is also easy to install on any door, including French, standard, or even double doors.
Advantages
l Nightlock also has some fancier alternatives like the Nightlock patio. This is a Nightlock for doors with a sliding mechanism.
This is one of the most practical door barricade devices, given that most sliding doors don't come with security features. It also has other impressive functions like home partitioning.
l Being one of the best-selling door barricades in the market, a Nightlock is easy to find and is often in stock on Amazon with plus prime shipping.
l Doesn't require installation.
Disadvantages
l Some reviewers have noticed that the brace plate slides into the floor plate from the side and does not lock in place.
One actually said that he was able to slip a hacksaw under the door and disengage the Nightguard. This is quite risky and beats the whole purpose of a door barricade.
l No listed strength specifications.
 Door club
The Door club is a revolutionary anti-burglary device. It is definitely safer than deadbolts and chain locks. Once installed, a door club can withstand high amounts of force, such as in kick-ins.
Advantages
l It's widely available and costs $28 on Amazon Prime.
l It is convenient as it comes with a cradle to hold the brace plate when it's not in use.
l The brace plate secures by going into a hole in the floor. As a result, it can't be disengaged from outside like in the disadvantages of a Nightlock.
Disadvantages
l It has no listed strength specifications.
Final thoughts
Most homeowners aren't aware that a well-placed door brace can be a critical line of defence against crime.  Door braces are designed to keep the door closed and have been known in some cases to save lives and property.