Birdy Grey and Azazie, Planning a wedding is a crazy ride. Traditionally, the bride and bridesmaids head to the boutiques for a dress shopping experience. However, we're in a modern time that calls for current measures.
One of the primary elements of a wedding is figuring out the bridal party dresses. Shopping from the web for your maids' attires is a wise option. However, it entails many unsolicited opinions, questions, and advice. You may worry about your dress's quality, how fast it will arrive, and whether you'll find your style.
In this piece, we compare two wedding online retailers- Birdy Grey and Azazie, to make things easy on you so that you can pick the one that makes you feel good.
Birdy Grey and Azazie: Overview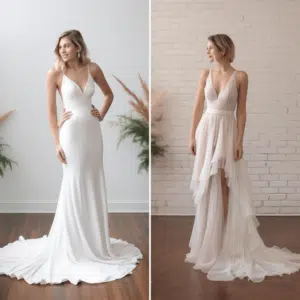 Birdy Grey's popularity is rising, while Azazie has excellent brand recognition.
With Birdy Grey, their dresses are ready for shipment. Apart from the ready-made sizes, Azazie allows you to tailor your dress custom to your body shape and measurements without extra costs.
Azazie gives a test-home try before committing to it. However, the return should be within a week, unlike Birdy Grey.
Azazie's primary focus is on sustainability commitments, unlike Birdy Grey, although they both support Charity programs.
Birdy Grey
Birdy Grey is an online business brand based out of Los Angeles. It delights in offering attractive apparel alternatives for wedding party members without intermediaries.
The brand is founded and run by women meaning they perfectly understand your struggle as a bride to get a perfect gown, the best gorgeous dresses for your bridesmaids' dresses, and all the expenses that come with the planning.
Gorgeous Colors and Ready to Match or Mix
Birdy Grey and Azazie focuses on offering the to-be-weds and loved ones elegant dress choices in an array of aesthetically pleasing color palettes and styles. Shades are modern and timeless, meaning you'll be amazed by the outcome in a few years.
Birdy Grey offers gowns that guarantee a lasting impression at an affordable price. Therefore, you can pick a single fabric color, and your bridesmaids like a style of their preference in the same color.
The grouping of dresses by particular colors or trendy mix-and-match palettes, including a broad spectrum of styles available in all colors and materials, makes your shopping seamless. The brand offers free color and material swatches delivery.
Modern Silhouettes and Convertible Bridesmaid Dresses
Multiple materials such as chiffon, crepe, satin, and tulle enable the wedding party members to improve their natural beauty bringing forth the vision of the bride and groom to a reality.
They have a wide range of styles like halter style maxi dresses, flutter sleeve deep v necklines, off shoulders, etc. The brand provides convertible bridesmaids allowing multi-way neckline solutions to give various configurations.
Shipment
Most dresses ordered via bridal shops have a lead time of many months, which means you may wait a long time before you can access your dress and make necessary adjustments.
Birdy Grey's ready-to-ship feature means that your dress will be on time for the event. However, they recommend 3 months before you require the dress to give allowance for exchange or any alterations and if another dress doesn't work out.
Birdy Grey's shipment takes about a week after placing your order which is a plus.
Plenty of Sizing Options
The model makes the process much more manageable when planning for a wedding. The brand's dresses come in sizes XS-3X, with sizes 1X- 3X as part of the curve collection. Baby bump design options to suit each body type are also available.
Birdy Grey allows you to customize your dresses, thus allowing your friends and family to select the styles that look beautiful.
For any adjustments, each order comes with a pack of safety pins, bobby pins, and double-sided tape.
Good Deed
The dresses not worn on the big day or worn later may be donated to the company for free prom dresses to needy teens (The Princess Project) who cannot afford them.
Easy Accessorization
They not only provide your bridesmaids with their dress style but also have coordinating ties and pocket squares, making it easy to blend groomsmen's accessories with the dresses!
Azazie
Do you want a custom-made dress for your wedding and your bridal team? The Azazie is a sustainably-minded brand for you. It is a body-inclusive online store that prioritizes each bride's uniqueness.
The brand provides dresses from 0 – 30. Additionally, the brand offers custom sizing free of charge, meaning you can have your dress custom designed to your exact measurement.
The brand uses a cut-to-order model for its bridal party, wedding, and mother-of-the-bride dresses to minimize its carbon footprint, which may end up in a landfill to conserve the environment.
Any returned dresses are added to their at-home try-on program. They support a non-profit project called "Princess Project " that offers dresses to young women who cannot buy seasonally by donating the return and repurposed dresses.
Azazie offers a try-at-home program where brides can pick up 2-3 dresses to test drive at home.
What Does Azazie Offer?
The brand offers a one-stop–shop for the entire bridal party other than flowers. From hundreds of different styles across thirty various sizes, brides can get their choice. In addition, the bridal party and moms also have their selection from a stylish variety of silhouettes, color palettes and design details.
The brand contains timeless design details, including true skirting, romantic sleeves, and embroidery.
If you're on a regular budget and still want multiple options, then Azazie is the brand for you. It is a robust alternative if you're a person who focuses on sustainability and size inclusivity.
Countless Styles for the Modern Bridesmaid
Being compelled to wear a hideous dress in an unflattering color is every bride's worst nightmare. With over 400 styles in more than 30 colors, you cannot miss something that meets your taste, palette and body type.
They provide modern trendy off-the-shoulder pieces, including silhouettes; Short, long, or midi; Sequin, tulle, or lace; cap sleeves, strapless or convertible straps. Also, their excellent inventory makes it super easy to embrace the mix-and-match bridesmaid dress trend.
Customizable Fit
Azazie offers custom sizing regardless of their size chart, making it seamless to estimate which size to order. But if you find this tricky, you can have your dress customized for your body type at absolutely free (without) any additional charges.
Sample Trial from Home
Before making any commitment, Azazie allows you to choose up to 3 dresses at $10 each to cater for shipping, try them on in the comfort of your home then return them within a week with a prepaid label. This model makes dress shopping a fun experience.
Amazingly Affordable
To be a bride, the list of expenses is endless, from the make-up, bridal shower, wedding gift, etc., making the whole process expensive. Therefore, it is wise to keep your dress choice affordable, and Azazie styles range between $ 100-150, which is cost-effective.
High-Quality
Affordability doesn't necessarily equate to poor quality. Unlike some dresses that go for double the price in some boutiques, Azazie has affordable good quality dresses. The dresses are packaged in a sturdy garment bag to keep them wrinkle-free.
Customer Service
The company keeps professional and communicative throughout the whole process! They offer options of sending in your measurements and ordering color swatches for a start which is an excellent option for online shoppers.
They maintain email communication throughout the whole process.
Their exchange/ return policy is highly fair; thus, take time and read it.
Both brands are great, and each has its benefits, making them stand out uniquely. Therefore, it is excellent to go through what they offer and decide which one to go for your big day wedding plans.