Fruit Basket Showdown, Have you ever received a basket loaded with fruits alongside other edible items to accompany it? A fruit basket delivery service allows you to send appreciation gifts or offer something to add to a celebration.
The basket is tailored to personal wishes with additional options like snacks, candy and another surplus gift to improve the entire gift. However, how can you tell a fruit basket delivery service is best?
A perfect fruit basket delivery service offers your favorite fruits regardless of being prepared or dried fruits ready for snacking or fresh from the farm at peak season alongside other extras.
Among the best are Shari's Berries and Edible Arrangements. So, which one do you prefer? Read on to be in a position to make a wise choice.
Shari's Berries vs Edible Arrangements: Comparison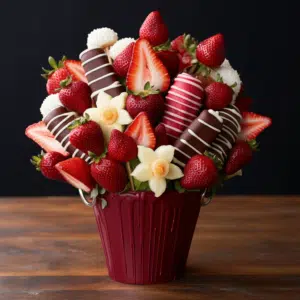 Shari's Berries

Edible Arrangements

Offers Google Support

It starts at $30 plus delivery or shopping fees

Shipping time 1-3 days

Availability nationwide

Support Apple pay support

Greater brand recognition than Shari's Berries

Price unit $30 plus $ 10 delivery fee

Customizable delivery day

Available national hired

Offer more discounts and promotions than Shari's Berries

Strong customer support

Positive brand values

Offers ethical supply chain

Gift wrapping services

International shopping policies

Offer discount policies

Offer in-store pickup
About Shari's Berries
The company specializes in offering one item and does it exceptionally well-providing the best chocolate-dipped strawberries available. You can find it online at Berries.com. It has been in business since 1998, branching out to multiple websites specializing in mail order gifts.
You'll get the maximum decadent treat at Shari's Berries: chocolate-dipped strawberries. Fresh strawberries can be hand dipped in dark chocolate or milk and then garnished with crunchy toppings like toffee bits, chocolate drizzles, and chocolate chips.
Pricing
The stunning gifts from Shari's Berries brand might seem expensive at first, but looking at the quality of the strawberries, the taste of the cake and the awesome gift baskets with their richness, it is worth it. However, it doesn't mean it is very pricey.
Shipping costs are between $9.99 and $39.98 per order. They also separately charge care and handling costs at $ 2.99
Do you have that special person or celebration of some sort? Get some chocolate-dipped strawberries from about $ 30 – $85, which they sell in one dozen or two dozen counts.

Delight your children on their birthday celebrations with decorated strawberries that look like Easter bunnies and whimsical unicorn sparkle strawberries.
Champagne chocolate-covered with strawberries is also available to offer a luxury taste. The brand offers 10% off the first order to all new customers.
Gift Options
Shari's Berries has a gift for every occasion. There are gift boxes and baskets for ordinary celebrations like birthdays, etc. For instance, Shari's box gift is sent to congratulate a grandaunt during graduation celebrations.
The brand's gifts are a great way of expressing love to your special other or a way of saying sorry with some offers for seasonal occasions like winter.
Delivery
Shari's Berries offers nationwide coverage, including Alaska and Hawaii. Once you place your order, Fruit Basket Showdown will either get transferred to a local shop for personal delivery or sent in a gift box by FedEx or UPS, with some regions receiving their deliveries within 24 hours.
However, their deliveries happen from Tuesday to Saturday throughout the year except on national holidays.
In some areas like Hawaii, additional shipping expenses are required, such as $ 19.99, but still, you can deliver a gift on a Monday though you will pay between $ 4.99 and $ 9.99 for the same service.
Advantages of Shari's Berries
Most items are available in many quantities for all occasions

Farm fresh berries and organic fruit

Gifts for all occasions and business gifts

Customized options for special occasions

Dark, milk and white chocolate are available

Nationwide coverage
Shari's Berries Cons
Not all items come in half dozen orders

To get free shipping, you must join the annual program.

The source of fruits is unknown

Not too affordable

Shipping is charged additionally

Handling and care
About Edible Arrangements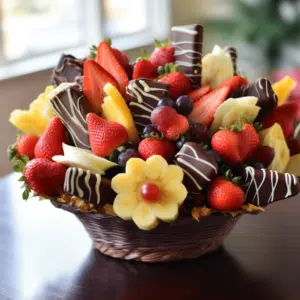 The company was established by Tariq Farid at the age of 17 years, together with his brother Karman. It has grown to 1237 stores worldwide, the busiest time being "Valentine's day."
In 2013, the brand founded the Tariq Farid Foundation, which provides basic needs like food and healthcare to US citizens and overseas and other noble charitable activities.
Fruit Basket Showdown is the kind of bouquets that permit you to share various fresh-cut fruits ready to eat upon delivery and arranged creatively.
The brand provides a wide range of nationwide home delivery designed in a bouquet similar to a floral arrangement.
Aside from the fresh-cut fruits bouquets, individually portioned snacks make a perfect gift for larger groups and parties.
Customization
You can customize the box or arrange it with the fruits of your choice, for instance, grapes and oranges or a pineapple flower bouquet with chocolate-dipped strawberries topped with ground hazelnuts.
For an extra treat, add chocolate pop printed with a themed message.
The company has containers that can be customized to blend with your gift's theme. You are allowed to create your beginning $35 and a delivery fee.
The edible arrangement is a one-stop shop for a special occasion. After choosing your bouquet, fill in the packaging and a balloon and brighten that special someone's day.
Take note that fruits are dipped in real pure chocolate that is free of preservatives because the two can withstand the acidity and sweetness of fruits. Milk tends to taste too sugary when paired with fruit.
Edible Arrangements Pros
It is suitable for large parties

Customized for multiple occasions

Both undipped and dipped fruit is available

Easy to order
Edible Arrangements Cons
Requires to be refrigerated even when doing deliveries

Delivery fee not included

Have no alternatives in arrangements.
Shari Berries and Edible Arrangements are great fruit basket services with a great reputation. However, as seen in our comparison above, they are different from each other. Edible Arrangements is perfect for large events with customization options.
On the other hand, Shari's Berries are ideal for a personalized gift; however, Fruit Basket Showdown is limited to only one type of item, unlike Edible Arrangements, which has a variety of fruits. Therefore, read through each brand carefully to make an informative decision.