Cooking has never been so different and exciting. With the invention of two cooking vessels, the French-style cocotte, and the Dutch oven, cooking elevated from mere sustenance to a culinary experience.
Whether you ask chefs and amateur cooks alike, a French or Dutch oven is the perfect instrument for cooking delicious dishes. The French and Dutch ovens have their own merits and can cook many dishes.
Similarities and Differences of Cocotte and Dutch Oven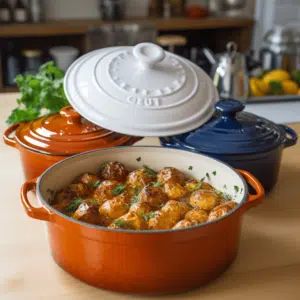 How Are Dutch Oven And Cocotte Similar?
Cooking in Dutch ovens and Cocotte is as convenient as deep-frying, baking, and roasting. A Dutch oven and a cocotte are both cast-iron, enameled, pots with thick walls, thick bases, and heavy lids.
If you don't enjoy spending time in the kitchen, the Dutch oven or cocotte oven are also good. You simply have to prepare your ingredients and let the Dutch oven or French oven do the rest.
Cocotte ovens and Dutch ovens are very similar in what they can do. They can both cook a range of dishes and be used on a stovetop and in the oven.
How Do Dutch Oven and Cocottes Differ?
Cocottes feature an enameled cast-iron bottom. Dutch ovens, however, are available in a variety of materials. It is possible to get Dutch ovens in aluminum and stainless steel. Dutch ovens made of base cast iron can be both enameled and unnamelled. Then there are Dutch ovens designed with non-stick features.
Cocottes come with spikes inside their lids that are excellent for basting. Their flat surface keeps them in position at all times. Their flat outside helps them retain moisture and prevents them from drying out. On the other hand, Dutch ovens do not. Dutch ovens have a dome-shaped lid with smooth surfaces on the outside and inside.
Compared to the surface of a Dutch oven, which is smooth and colorful, the surface of a Cocotte is rough and black. If you have a bright surface, you might see the brownness of your food. However, if your surface is dark, it's hard to tell how much the food has been cooked.
Because cocotte are heavier than Dutch ovens, the latter excels if you are likely to move the pot around while cooking, choose the Dutch oven.
The enamel coating on a cocotte makes it very unsafe for you to cook in it over a campfire. In contrast, you can use Dutch ovens indoors or outdoors, and some are even great for cooking over a campfire.
Cocotte Oven Benefits
Looking for a new way to make your favorite dish in the kitchen? Consider investing in a professional quality cocotte oven! This oven is perfect for when you are in the mood for pot pies, stews, puddings, or any other delicious dish that will benefit from its even cooking. With the ability to hold up to nine quarts of food, you can use it in almost any circumstance. Here are a few advantages.
You can keep food that easily dries out moist with a cocotte that has a heavy lid. It comes with a tight-fitting lid that seals the food inside. This is an essential tool for keeping the moisture in whatever you cook, including meats and vegetables.

A cocotte oven is also non-stick, making it easier to cook and clean. You can cook everything from cakes and Crêpes to sauces and steaks. All dishes come out perfectly, with the same flavor and texture as they would if cooked on a stovetop, and clean-up is a breeze.

Most cocotte come with spikes on the inner part of the lid. When basting with a cocotte, this is an exceptional advantage.

The other advantage of cooking food in a braised state is preserving all nutrients. The food will not be exposed to the high temperatures of an oven, where it is exposed to between 60°C and 120°C. This ensures that your food will be cooked and nourished as the temperature is low.
Dutch ovens have many advantages:-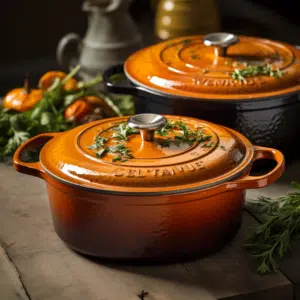 Fresh cooking: A Dutch oven provides the benefits of fresh cooking and the benefit of bringing new flavors to the table. It will result in the food being cooked in slow motion, resulting in a better texture and color.
Less energy: This traditional cooking method produces less energy than its alternatives. Additionally, it will make cooking easier with minimal effort.
Oven proof: Thanks to their oven-proof nature, you can begin preparing your meal on the stove and finish it in the oven. In addition, the pots are so attractive you can place them on a trivet at the table for serving.
Dutch Oven Or Cocotte: Which Is Better? 
You can use both on the stovetop or in the oven and prepare a wide range of foods. Adding a Dutch oven or a Cocotte to your cooking arsenal is a fantastic way to prepare healthy meals and spend as little time in the kitchen as possible. Prepare everything and leave the rest to the Dutch oven or Cocotte. The only exception is if you will cook over an open fire, and non-enameled Dutch ovens are the only ones that will work.
Frequently Asked Questions
Who should buy an enameled cast-iron Dutch oven?
An enameled cast-iron Dutch oven is perfect for someone who loves to cook for their family and wants to get back to the roots of cooking. They are perfect for slow cooking, simmering stews, and baking loaves of bread like cornbread. These things are the heart of every kitchen, and there is no better way to create delicious family meals than with one. For those looking for a quick and easy way to prepare food that tastes good, enameled Dutch ovens are the best choice.  
Is it safe to use an enameled cast iron Dutch Oven
Enamelled cast-iron Dutch ovens are safe if manufactured by a reputable manufacturer. As long as you use high-quality products, enamel is a hard surface and won't leak toxins. Ensure the product is safe by getting a quality one.
How to Choose a Dutch Oven Shape? Oval vs. Round
There are two basic Dutch ovens: a circle and an oblong oval. Round Dutch ovens fit much better on burners, so they heat evenly.
What is the best Dutch oven size?
Some Dutch ovens are as small as 1/4 quart, while the largest are about 13 quarts. There are uses for every size of the Dutch oven, but given the cost, you're probably better off by just getting the one that's right for your needs.
 The small Dutch ovens are designed not only for cooking but also for serving. Because of their size and the fact that you can use them as individual serving bowls, they are best purchased in a set. Consider buying a large Dutch oven and a set of small ones for cozy entertaining if money isn't an issue.