Home Reserve and Lovesac shopping for a couch, it can be hard to know what to look for. Should you get a leather couch or fabric? Is there a difference between cheap and expensive? We're here to help.
When buying a new couch, there's more than just price and style to consider: you also have to think about comfort. If you're looking for a couch that will hold up to regular use and provide ample space for family movie nights or slumber parties, then you might want to consider a sectional sofa like the Home Reserve or Lovesac. Both brands offer many different options so that you can find the right fit for your home.
We'll help you figure out which is right for you by looking at their quality of materials, pricing, comfort, and more.
Home Reserve vs Lovesac: Overview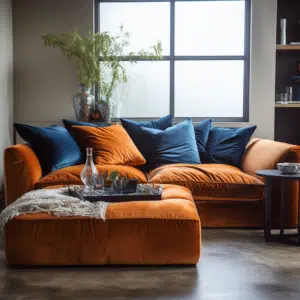 Lovesac has an expansive library of designs available for their chairs, sectionals, sofas, and other pieces of furniture.
They have many designs available that include modern, contemporary, and traditional styles as well as different colors, fabrics, and finishes to choose from.
They both offer a wide selection of fabrics to choose from, including pet-friendly fabrics.
While Home Reserve has a smaller library of designs available than Lovesac, they have more flexibility to customize their pieces.
One thing that stands out with Home Reserve is the ability to change your sofa's look by buying new covers.
If you need to replace a piece of fabric on your chair, you can do so and not have to buy a whole new couch. This is especially useful if you want to change the color scheme in your living room or bedroom.
This also means you can replace individual pieces in case something is stained or gets tone.
Let's see how these brands compare.
Home Reserve vs Lovesac: What's The Difference? 
Here are some key differences between these brands:
Quality of Materials
Do you have kids? If so, you're going to want to make sure your couch is durable enough to stand up to their shenanigans.
Both Home Reserve and Lovesac offer a wide variety of fabrics that are easy to clean and resist stains. However, if you have pets that shed or kids who eat on the furniture, we recommend opting for a leather couch from Home Reserve. As a bonus, the leather couches from Home Reserve come with a ten-year warranty!
Both companies have different styles and options when it comes to their furniture sets. For example, Lovesac offers more options in terms of material than Home Reserve does.
They both offer leather, microfiber, and suede, but Home Reserve also offers fabric as well as cotton blends that are higher quality than Home Reserve's offerings.
Home Reserve's sectionals are made with high-quality materials. It has a strong and sturdy construction that can last for years. The sofa is made from foam, which makes it comfortable to sit on.
Lovesac uses higher quality foam than Home Reserve does, but it also costs more money. If you're looking for a cozy spot to chill with your furry friends, we recommend Lovesac! They have several options for pet-friendly fabrics that come with washable pet-safe covering.
Home Reserve and Lovesac you want something with a bit more cushioning but don't want to break the bank, then Lovesac is probably your best bet.
Comfort
The first thing you should consider when deciding which couch to buy is comfort. You want to ensure that your couch is comfortable enough for you and your family members to sit on it for hours at a time — even after a big meal or during an intense game night.
If you plan on using your new couch as an extra bed, then its comfort level is even more important because it will be used as such more often than not.
When it comes to comfort, both Home Reserve and Lovesac are excellent choices. They both use high-quality materials that are designed for comfort. However, some customers have reported that Lovesac's seats tend to sink in slightly after extended use, meaning they may not be as ideal for those who plan on regularly using their couches as beds (though this may vary depending on how much weight each person puts onto their seat).
Design
When it comes to buying furniture for your home, the biggest question is: what type of product do you want? If you're looking for a sofa that can be both comfortable and stylish, Lovesacs is an excellent choice. The company offers a wide variety of sizes and styles, so you can choose the one that best fits your needs.
Lovesacs also offers a wide range of materials that allow you to get exactly what you want. For example, if you want a leather sofa, they have options like real leather or faux leather. If you want something more eco-friendly, they offer eco-friendly fabrics made from recycled plastic bottles.
However, not all Lovesacs are created equal — there are several different versions available.
Home Reserve has a simple design that will fit into any home decor style. On top of that, the Home Reserve is one of the few sectionals with built-in storage. This is great for people with limited storage space.
You can choose from a wide range of colors and patterns so that you can find something that matches your taste.
Lovesac is also known for its simple yet elegant designs that can fit in with any modern home. They also offer more traditional styles that don't look out of place in older homes but still provide comfortable seating.
Assembly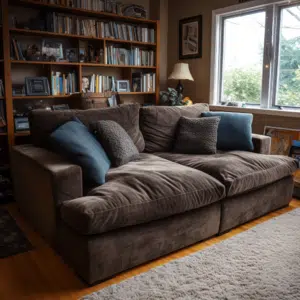 Since both products require assembly, this should be considered when deciding which one to buy. Although some people say that Home Reserve is harder to assemble than Lovesac because it requires more parts, others say that it's actually easier because those parts are easier to fit together properly once they know what they're doing!
If you don't like putting things together yourself but want something comfortable and fun for your living room, then either product would be great!
Pricing
Lovesac has some pretty good deals on their products, especially if you're buying multiple pieces (like a sectional). But if you're looking for something specific and don't need extras like ottomans or armchairs, Home Reserve will probably be cheaper because they have fewer options available.
Now that you know what the two brands have to offer, it's time to decide which one is right for you.