Kohler Gleam and Valiant Toilets, A well-chosen toilet piece can bring your bathroom's overall design together. Finding the ideal toilet, on the other hand, is a difficult task. You must consider the room's size, the overall aesthetics, and the pricing range.
However, if you've been looking for Kohler models, you're on the right track. This article will quickly compare the two most popular Kohler toilets, the Kohler Gleam and Valiant toilets, so you can see why people are interested in them and whether they are worth your money.
Kohler Gleam vs Valiant: Quick Comparison Table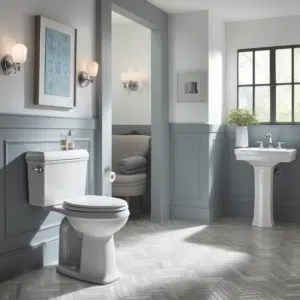 Here's a quick comparison table between Kohler's Gleam and Valiant for our curious readers. This brief table will give you a rough idea of what's happening between these two toilets and their different features.
| | | |
| --- | --- | --- |
| Features | Kohler Gleam | Kohler Valiant |
| Bowl type | Elongated | elongated |
| Design | Two-piece | Two-piece |
| GPF | 1.28 GPF | 1.28 GPF |
| Rim to water surface | 149mm | 137mm |
| Trap way | 54mm | 54mm |
| Flush type | Class five | Gravity siphon jet |
| Mounting style | Floor | Floor |
| Lid | Quiet close technology | Quiet close technology |
| Colors | White | Biscuit and white |
| Installation | Dry-lock system | The supply line is sold separately |
There isn't much of a distinction between these brands, which is understandable given that they are all part of the same company.
Some distinct characteristics can be found mainly in the features and pricing points, but they are still worth highlighting. Simply looking at this table will allow you to make a quick conclusion.
Kohler Gleam Vs Valiant: Key Differences
Let's face it, the differences between these two products are almost insignificant. Continue reading, though, if you want to learn more about the minor differences in detail.
Installation
As you can already tell, the Gleam toilet by Kohler is straightforward and quick to install.
It boasts a proprietary ready-lock system that makes the installation process simple and quick.
Furthermore, this technology eliminates the need for drilling and heavy labor, allowing you to save time and have the most simple and direct fix for your skirted toilet.
The Valiant, on the other hand, also comes with a ready-lock.
This toilet, however, will require the use of floor flanges.
This model's supply lines are also available separately. So even though the Valiant is a safe, hassle-free, and drill-free choice, the gleam is easier to install.
Flushing System
Here, there is no apparent loser or winner. It's only that the flushing systems on these toilets aren't the same.
The Valiant toilet has a gravity siphon jet and a conventional flushing system with revolutionary 360 swirling cleaning capabilities. It cleans the bowl entirely in one pass.
The Kohler Gleam toilet, on the other hand, has a class five flushing system that provides complete rinsing power and plug-free cleaning. Both models use single-flush gravity technology to clean the trap ways, bowls, and tanks.
Design And Appearance
The exteriors of the models are sleek and polished. Kohler has consistently produced the most attractive skirting toilet designs, and the Gleam and Valiant are no exception.
Although they appear nearly identical, the Valiant may have a better chance in this race because it comes in two colors: white and biscuit.
So, if you want to avoid the traditional white look in your bathroom, you have a unique option.
Price
The price difference between the Valiant and the gleam is almost insignificant. The Kohler Gleam is slightly more expensive than the Valiant, but the range isn't great.
If you're searching for a toilet that's a cut above the rest at a reasonable price, Valiant could be the toilet for you.
Mounting Kit
The Kohler Valiant comes with a more comprehensive installation kit than the gleam.
In retrospect, the gleam provides a simple installation with a dry lock system that is quite fast.
If you decide to install the toilet yourself, though, you may run into problems mounting the bowl to the tank.
In addition, you'll need a socket wrench to help you out.
The Kohler Valiant caters to users in this category by providing an all-inclusive kit.
As if that weren't enough, the product's price includes the seat, wax rings, tanks, and everything else listed in the installation kit.
Rim to Water Surface
The differences in these specifications may not make a significant difference to you. It's still a good idea to bring it up. The Valiant has a rim to water surface distance of 137mm, whereas the Gleam toilet models have a rim to water surface distance of 149mm.
As we've already shown, the comfort factor for either of these devices is unaffected by this minor difference. Fortunately, both of these products have an enlarged bowl form and design.
As a result, this element will not affect your seating or height comfort.
Kohler Gleam Vs Valiant: Which One Stands Out?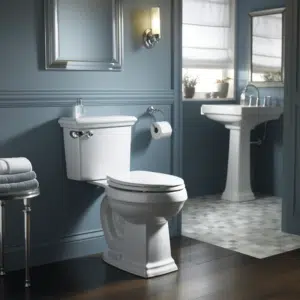 Still undecided about which to choose? Let's get rid of the haze once and for all. We recommend you look into your likes, preferences, and required features before recommending one of these two items.
It's a foregone conclusion that your perplexity will grow when the differences between the two models become increasingly minor.
However, because the functionalities are nearly identical, you might compare the pricing, color selection, and ease of installation to decide.
To be safe, make your final option based on your budget and the required perceived value.
Frequently Asked Questions
In One Flush, How Many Gallons of Water Can a Kohler Toilet Use?
The flush volume will range from 0.8 to 1.28 gallons if the toilet has two top buttons.
The dual flushing technology saves roughly 6,000 gallons of water with 0.8 low settings, whereas standard toilets use about 1.6 gallons.
Do Kohler Toilets Last a Long Time?
The average lifespan of a Kohler toilet is ten to fifteen years, depending on additional fixtures, wear and tear, and maintenance.
When Should a Toilet be Replaced?
After a rigorous use, Kohler toilets usually are replaced after 25 years. As a result, you can estimate their lifespan to be between twenty and twenty-five years.
Toilets made of porcelain have an indefinite lifespan. However, it's more likely that the other components will need to be replaced.