Valspar Ultra vs. Signature Paints
Valspar Ultra vs. Signature Paints, Before beginning your painting project, you must choose the paint you will use. However, this task may prove challenging if you encounter Valspar ultra and Signature paints. Which paint is the superior choice? What similarities exist?
This short guide will compare Valspar Ultra and Signature so you can choose the one that best suits your painting project.
Valspar Ultra vs Signature: Overview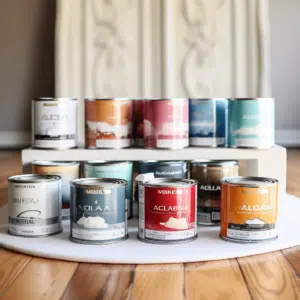 Valspar Ultra vs Signature: What are the Similarities
Before breaking down their differences, let's examine the similarities between Valspar Ultra and Signature.
Paint and Primer in One
Valspar Ultra and Signature are 100% latex acrylic paints with Primer.
This implies that you won't spend extra money or time on priming before painting.
VOCs
Higher volatile organic compound paints are linked to headaches, nausea, and dizzy symptoms.
These substances are discharged into the atmosphere when the solvents in the paint evaporate. Because of this, always leave windows open and ensure your painting space is adequately ventilated.
The great news is that Valspar Ultra and Signature contain fewer than 50 grams per liter (g/l) of VOCs, which is significantly less than the federal cap of 250 g/l, and are Greenguard Certified and regarded as zero-VOC paints.
Greenguard Certified 
Both paints are Greenguard Certified. This is because they have minimal VOC content, which results in a moderate odor and a reduced risk of dizziness while painting.
Area Coverage
Each gallon of Valspar Ultra and Valspar Signature covers about 400 square feet. For comparison, a two-car garage is roughly 400 square feet in size.
Valspar Ultra Exterior paint covers a 350-400 square foot area when working on an outdoor project (Valspar Signature is only interior paint).
Drying period
The drying times for Valspar Ultra and Valspar Signature are the same. You must wait two to four hours before adding a second coat after the paint has dried to the touch, which takes between 30 and 60 minutes.
Finishes
The shine and durability of paint are both impacted by its finish. The Valspar Ultra Interior and the Signature paint lines come in four finish variations. The finishes available for each of them are satin, eggshell, flat, and semi-gloss.
Colors
There are so many options that choosing a paint color might sometimes be challenging. Regardless of whatever line you select, picking the appropriate color is simple because Valspar Ultra and Signature both provide similar colors.
Your options can be reduced using the Valspar website's color family filter. The website displays several related colors to meet your needs when you select your first color. By providing tools like the Paint Visualizer, which allows you to see how individual paint colors appear in various settings and lighting, Valspar again makes it simple to choose a color. Alternatively, you can use Valspar's free consultation option to connect with color specialists for more specialized guidance.
Valspar Ultra vs Signature: What are the Differences
Now that you know the parallels between Valspar Ultra and Signature let's examine the differences.
Exterior and Interior
Valspar Ultra offers an outdoor paint line in addition to its interior paint line if you intend to paint both inside and outside. Only interiors can be painted with Valspar Signature.
Volume of Solids
When choosing paint, volume solids are a crucial aspect to consider.
What precisely are volume solids?
The four components of paint are pigments, solvents, binders, and additives. The solvent evaporates when the paint dries, leaving the pigment and binder on the wall. What remains once the paint dries are volume solids.
For instance, the formula for a paint that contains 35% volume solids is 65% solvents and 35% pigments, binders, and additives.
Paint with a high volume solids percentage is often of superior quality and has a longer shelf life. You'll require fewer coats because it is thicker and covers better.
When comparing the solid volume between Valspar Ultra and Signature, Valspar has a higher volume of solids.
ScuffShield Technology
When selecting a paint brand, durability is often a desirable characteristic. The ScuffShield Technology in Valspar Signature paint adds an unseen layer of protection against scrapes and stains. The ScrubShield Technology in Valspar Ultra makes it simpler to remove stains from surfaces.
Price
The cost is one of the most significant distinctions between Valspar Ultra and Signature. Cost-wise, Signature paint is around $8 per gallon, more expensive than Ultra.
Despite this, prices might change anytime and depend on the finish and the retailer.
Valspar Ultra vs Signature: Which One Should You Pick?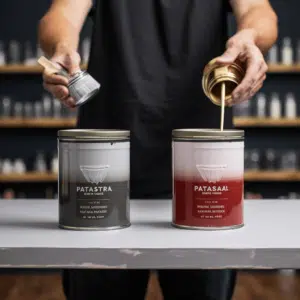 It time to choose between Valspar Ultra and Valspar Signature now that you know their similarities and distinctions.
Valspar Signature is a better paint compared to the Valspar Ultra. It requires fewer coats and is thicker and more lasting.
Choose Signature paint if you need exceptionally durable paint for walls that are constantly getting scratched. Even though it is more expensive than Ultra, it is worthwhile if it fits your budget.
Although Valspar Ultra is less expensive, it won't last as long or cover as effectively. Ultra is a reliable, affordable alternative if you're renting, moving soon, or constantly changing your color scheme.
Frequently Asked Questions
What Distinguishes Valspar From Sherwin-Williams?
In terms of quality, Sherwin-Williams is the superior paint brand. Valspar has a broader selection of products, some of which are exceptionally high quality and offer long-lasting coats and excellent coverage.
Most experts concur that Sherwin-Williams provides the best durability and quality, nevertheless.
Is Ultra White too White for Walls?
Anywhere in the house can benefit from using Ultra Pure White. Just bear in mind that it can reflect neighboring colors if you plan to use it as a wall color or over a sizable space.
What Undertone does Ultra White by Valspar Have?
Ultra white by Valspar has no undertones. Even with artificial lighting, it never seems yellow or any other color.
Final Take
We hope this article has provided you with everything you need to know about Valspar Ultra and Signature. However, selecting which one best suits your painting project depends on your preferences and taste.