Paint is a quick fix for significant results. It can transform your home into something new, refresh, and enrich your room once drab. Therefore, choosing the right paint is the most critical step in the whole painting process.
It is even more challenging when picking a paint brand. Therefore, we look into a deeper perspective of two of the top paint brands on the market-Behr and Sherwin Williams. Both are available in a broad array of colors and finishes. However, each has some features that make them stand out.
If you choose between Behr paint vs. Sherwin Williams, what are some of the notable differences you would want to consider? Well, this guide is for you. Read on
Behr vs. Sherwin Williams: Overview
Behr Paint
Sherwin Williams Paint
Coverage

250 to 400sq. ft. per gallon

300 to 400 sq. ft. per gallon

Durability

Moderate

High

Consistency

Very thick

Thick

Colors

1400+

1700+

Adhesion

Good

Great

VOC Levels

Low to moderate

Zero to Moderate

Number of Coats

1-2 coats

1-2 coats

Price

Moderate

Expensive

Best For

Lower traffic areas

Both interior and exterior projects

Fade Resistance

Good

Good

Cleaning

Tricky as it doesn't stand up well with scrubbing

Easy to clean

Drying Time

4 hours for a dry to touch, 8 hours

for a new coat with 12 -16 hours of specific wood surfaces, a complete cure is 24-48 hours

Dry touch within 1 hour

New Coat 2-4 hours

Fully cure 24- 48 hours
About Behr Paint
Behr Company has a long history as one of the biggest paint manufacturers globally. The 1947 founded company has been painted for relatively any project and over a dozen products.
It is famous because of its Premium Ultra paint since some of its paints are the thickest on the market, thus offering a robust coverage.
Pros
Full coverage in fewer coats

Covers stains, discoloration, or dark colors with ease

Lower price cost.

High Variety

Easily accessible
Cons
Complex to clean

Mat drip when applied using brush or roller

Moderate durability

Some paints are low quality
What Is Sherwin Williams?
The 1866-founded brand is considered a premium paint meaning its quality is very high. It has multiple company-run stores and a presence in home improvement stores, making it convenient to purchase.
The brand has several paint lines, each with its benefit, although the Emerald line is the preferable option to many. Sherwin Williams invests heavily in research and development, enabling this brand to bring new, exciting features and shocking regularity.
The company leads with color options. More than 1700 shades and the color match software offer unique color choices.
Pros
Highly durable

High-quality paint

Easy to use and access

Field experts in their stores

Cutting-edge color matching

Research and development focused
Cons
Expensive

Lower touchup blending

Longer drying time
Behr vs. Sherwin Williams: Comparison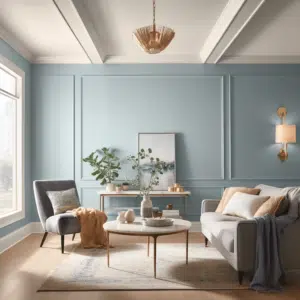 Durability
Sherwin Williams stands up well to wear and tear. It is also resistant to scratches, scuffing, and chipping, making it ideal for high-traffic areas and houses with children and pets.
Behr paint may crack when subjected to hash temperatures, it doesn't stand up to wear and tear, and it isn't specifically scrubbable thus may not work well in high traffic.
Consistency
Both brands are thick paints, although Behr is substantially thick to the extent of dripping when applied using a brush. Instead, use a sprayer for an even look.
On the contrary, despite being thick, Sherwin William doesn't drip, and some of its paints are self-leveling, meaning they can eliminate unevenness as they settle.
Colors
As much as Sherwin William has 1700+ and Behr 1400+ colors, it is not a real difference in the paint industry. Sherwin William does excellent color matching due to their leading software, thus giving it a plus over Behr.
Number of coats
Both brands have thicker paints with intense pigments; hence you can achieve a solid coverage in single or double coats with any of them.
Uses
With higher durability and an easy-to-clean type of paint, Sherwin William paints closely to any project. As a result, it is suitable for high-traffic areas, exteriors, and on high–touch surfaces on wood products.
Aside from a few paint lines, Behr doesn't offer a high-longevity level or washability. Therefore, Behr is suitable for use in low-traffic areas and low-touch projects.
Price
On average, Sherwin Williams paint is more costly than Behr, with a difference of roughly $10 to $20 per gallon. The price will be something big if you're handling a large project.
Typically, Behr's price tags are between moderate- high ranges.
Cleaning
Because Sherwin Williams provides solid durability and stain resistance, it lowers your maintenance needs. Again its paint lines do stand up to a bit of scrubbing, more so on a satin finish.
Its longevity isn't high with Behr, hindering a few particular paint lines. It lacks stain and dirty resistance in some products. It is, therefore, to keep in mind that Behr isn't scrubbable like Sherwin Williams. Hence needs to be cleaned with caution to avoid ruining the finish.
Coverage
It is the factor that determines the number of paint coats needed to deliver acceptable results. Take note that the fewer coats required, the better in terms of time and cost.
Sherwin William goes much thicker than Behr paint. You may get 250 sq. ft. out of Behr can while Sherwin Williams's products give at least 300. However, both brands offer a maximum level of 400 sq. ft. per can
Your application method is significant. If you apply paint using a sprayer, you may get closer to the maximum coverage levels with both than when you use a brush or a roller.
Drying Time
Sherwin William paints are oil-based; thus, they take longer to dry, like 24 hours before applying the second coat, which may not be necessary because of the high quality.
Behr is best if you're looking forward to finishing a project within a specific time, and this can apply to their water-based latex paints, for the oil-based takes time to dry.
Is Behr or Sherwin Williams Better?
Overall, both brands have their benefits and shortcomings. However, Sherwin Williams comes ahead in terms of durability, consistency, in-store support, application, versatility, and cleaning. It is an ideal option if you don't mind spending. Behr is an affordable option for those not willing to spend more on paint.