Most large and established windows companies provide wonderful services that can do very well in one's home when installed properly. Windsor and Pella window companies are one of the best and world-leading window dealers in the United States.
Choosing a window from either will undoubtedly give one a decent product. They are both headquartered in Iowa, just an hour apart. Their reputations and high-quality products make them one of the best window manufacturers.
When purchasing new windows, you may find yourself asking which company is better than the other. But as usual, customers' tastes and preferences do vary from one product to another. This article provides insightful features of both Windsor and Pella windows. The choice is yours.
Windsor windows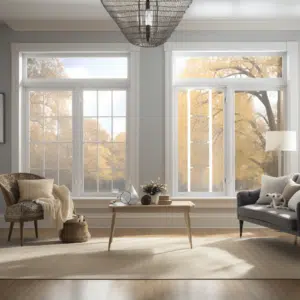 Windsor is a brand name for windows that operate under the parent company Woodgrain Millwork. It was started in 1946, and it is located in Des Moines, Iowa. Windsor made their name by constructing affordable replacement windows using wood.
The company manufactures a respectable wood-clad window that competes well with other top window companies across the US. It is currently estimated that Windsor makes about $300 million in windows annually, according to the 2019 analysis report. That brings them to the top 100 manufacturers nationwide.
Windsor is not a household name like some other window brands, but they have a good market share that extends from Iowa to the Carolinas.
Benefits of using Windsor windows
Windsor is a mid-size company that makes quality windows in the United States. Its major benefit involves the specialization in wood windows that other companies do not offer anymore. Windsor also has a desirable eleven-year warranty that covers glass issues.
Their wood windows are also affordable, reliable, and knowledgeable.
Why Windsor windows?
Windsor is one of the companies that are dedicating themselves to creating wooden replacement windows. Many window companies are moving away from using wood, but some people still prefer wood and wood-clad to glass. This is a unique characteristic of Windsor.
Windsor deals with four distinct window categories: vinyl, PVC, Pinnacle, Legends, Pinnacle, revive, and next dimension Vinyl. Their Pinnacle category includes wood and wood-clad windows, and it is the most popular brand for Windsor's.
Advantages of Windsor windows
High-quality wood windows

Wooden and wood-clad windows

Affordability
Disadvantages of Windsor windows
Their Vinyl windows are not the best.

Their warranty services are not attractive.
Pella Windows
Pella windows are the third-largest window manufacturing company in the United States. It makes approximately $1 billion from sales per year, and it transports windows across entire North America.
The company is located in Iowa, particularly in Pella, and it is not too far from the headquarters of Windsor, Des Moines. Large home constructors know Pella windows, and they are put in new construction buildings all over the country. They provide all types and styles of windows. Pella has windows in PVC, vinyl, wood, and wood-clad with varieties of color options, hardware and finish.
Benefits of Pella windows
Pella Company has a rich experience in the window industry, and its operations are dated to have started in 1925. They provide windows in all shapes and sizes. They offer the strongest warranties in the window industry.
Most Pella windows include a limited lifetime warranty that lasts for decades after installation. Each window is guaranteed by the Pella Care Guarantee, which serves to replace bad windows under warranty. Pella is a household name in many parts of the country. With Pella, you get various wonderful designs and expertise.
In addition, Pella windows also have enhanced security of windows due to the presence of the long warranty and improved overall strength of windows. The Pella 250 series windows contain many chambers and well-welded sashes for improvement of strength and thermal performance.
The Vinyl window sashes are reinforced with metals for additional strength and to offer resistance to wind. They also have a unique tamper prevention system.
The company also has double-hung and single-hung windows designed with an interlocking check rail, hardware reinforced with steel, and a unique anti-jar sill. Additionally, their windows are made with sturdy and strong frames.
Why Pella windows?
Pella windows are known to be expensive, unlike its other competitors. For example, PGT, Ply Gem, Jeld-Wen, and Andersen are similar to Pella Company, and they can all provide windows which are cheaper than Pella windows.
This has given Pella a reputation as expensive, but it has several options that go with all prices, but most of their standard replacement windows are more expensive than a similar unit from another company. Pella windows have higher quality than those of its competitors, in addition to its wide variety of options, wonderful warranty and great hardware.
Advantages
It has a wide variety of options

High-quality windows

Fantastic warranty
Disadvantages
Sometimes there are poor quality products due to its large size

Expensive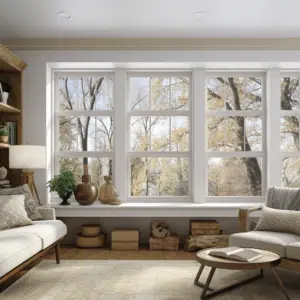 Both Pella and Windsor windows have an equal market share because of their similar large sizes. Both windows are expensive compared to the contractor-grade windows made by companies such as PGT and Jeld-Wen, but they are not quite as expensive as Andersen.
The typical price for a standard Pella window is about $400, while a standard Windsor window stands at around $350. Windsor has wood windows that are affordable and superior to those of Pella.
Final Take
Windsor and Pella are one of the top-ranking window-making companies in the United States. They both make high quality and reputable wood replacement windows and have a large market share.
Their close characteristics have triggered comparison over a long time, but truly none is greater than the other. The few differences are that Pella features many options and is prominent, while Windsor is more regional, small, and wood-focused.