Can You Use Lysol On Laminate Floors?
Laminate Floor Cleaning, While your laminate floor may appear as good as hardwood floors, it should not be evident that you clean them the same way. Laminate floor cleaning requires special care because refinishing their surface is impossible in case of damage or stain.
Therefore to avoid costly replacements, it is critical to maintain your floors and treat them with care. I wonder how to clean them and keep them looking incredible for years? Most homeowners get stuck, leading to the floor staining and unkempt.
For laminate floor disinfecting, it is vital to use the right cleaning agent in hand like Lysol, an all-purpose surface cleaner that will get rid of marks, stains and other messes on the laminate floor.
This write-down will look at the benefits of using Lysol on the laminated floor at home, the dos and don'ts, and the right way to clean the floor. 
Benefits of Lysol on Laminate Floors
Consistent Finish
You don't want a scenario where the cleaning agent is applied, and it looks unappealing. Lysol offers detailed finishes from one side to another, especially on a floor that needs constant cleaning throughout the day because of high traffic, like the living room.
Lysol works excellent on such a surface as it removes scuff marks or anything that suddenly pops up due to the continuous movement in the room.
The use of Lysol on the laminate floor offers the finish you desire.
Ideal for Stubborn Messes
Stubborn stains on the laminate floor are a concern. While it is a resilient flooring material, you must take care of messes before settling on the top surface.
 The messes can be cleaned using a mop or vacuum based on the problem and account for debris to loosen them a little bit. Get rid of stubborn messes with Lysol for a shiny result.
Safe to Use
You can't afford to cause damage on a laminate floor. That is why Lysol is perfect, for it has been tested and proved to work on laminate floors without causing any harm to the floor. It will ensure it shines over the days. 
Follow the instruction given for an incredible result
Quick –Acting Agent
 Lysol is formulated to act as fast and thus will work instantly. However, ensure the entire space gets an even finish when done. 
Best Ways To Clean Your Laminate Floor
Today's laminate flooring is affordable and attractive with realistic finishes and textures. It can look at any wood, imaginable hardwood, stone, and other flooring styles. Laminate floors are firm and not easily scratched, and floor material doesn't stretch.
Nevertheless, it is more highly subjected to moisture damage than natural wood, which is why harsh cleaning products are allowed for cleaning on the laminate floor. Therefore, regular light maintenance will make the floor sustainable and shiny in the years ahead. Here is how you should clean laminate flooring
Vacuum Clean
Run the canister vacuum over the surface to remove dirt and debris from cracks and crevices. Ensure you turn off the rotating brush to prevent the bristles from scratching your floors and scattering dirt.
Vacuum the floor's direction to catch dirt between the interlocking pieces and clear up spills instantly, especially dry material.
Damp-mop the floor once a month
Light damp cleaning, more so in spaces that experience a lot of traffic like the kitchen, should be done though it requires care. Using a mop with a washable, reusable microfiber head, spray sparingly with a laminate floor cleaner to avoid oversaturation and then wipe with the mop.
Remember not to polish or wax a laminate floor to prevent damage. You should avoid the use of abrasive cleaners, scouring powder, and steel wool at all costs, as they have the potential to scratch the floor and ruin the protective finish.
Dry Floor, If Needed
If there is stagnant water on the floor after mopping, dry it with a microfiber cloth.Water is all you need to clean laminate flooring and if you must use a cleaning agent, opt for a manufactured-proven solution meant for laminate floor. For home use, you can use a mixture of vinegar and water. Never use wax, acrylic products or bleach, for they ruin the floor's finish.
How to Remove Stain from Laminate Floor 
It is always recommendable to clean spills right on the spot. Fortunately, the laminate floor doesn't stain easily, but when it does, your first line of defense should be the approved laminate remover by the manufacturer.
Natural remedies like vinegar, baking soda, and liquid soap can help eliminate laminate flooring stains. Avoid using abrasive sponges and scrubbers like steel wool as they cause permanent scratches.
Tough Stains And How To Remove Them
Grease and Tar- use mineral spirit. 

Nail polish, ink, crayon and shoe polish stains – use alcohol or a tiny nail remover for nail polish removal.

Candle wax and Chewing gum- a plastic bag of ice, then once hardened, scrape using a plastic knife.

Blood and wine- use a damp cloth followed by a dry cloth.
The Do's And Don'ts Of Cleaning Laminate Floor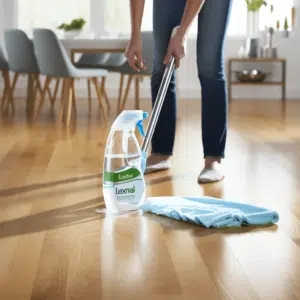 Whether your floor is new or existing, keeping your laminate floor as good as the day it was mounted is in the best interests. Do cleaning like a pro with these tips.
Go through the manufacturer's cleaning instructions with your laminate floor.

Don't allow stains to settle on the floor. 

Don't use abrasive tools such as steel wool, etc.

Don't use excessive water.

Do skip products that are not meant for laminate flooring

Do cautiously mop your laminate floor twice monthly

Do consider a DIY laminate cleaner like a gallon of hot water and vinegar

To protect the surface from future damage, use furniture pads beneath the legs of chairs and tables if they are moved regularly.

DO add everyday household items to your cleaning arsenal of the laminate floor, such as plastic ice bags for chewing gum and candle wax removal using a plastic knife once it has hardened. 

Don't forget to throw down a floor mat to stop the dirties, dulls and even scratches from a dirty shoe bottom.

Seep and vacuum at least once weekly

Remove warped and damaged flooring 
Lysol cleaner is safe for laminate floors to immediately clean any scuff, stains, marks or messes found on its surface. It is proven safe and effective. Just apply Lysol sparingly on the floor, then begin to wipe. It won't cause any harm, but it will keep the floor clean while creating impressive results, which is a win-win.