No one would like to clean up broken glass. It's not just messy; it's sharp and dangerous.
When a shower door shatters, it spreads all through the bathroom, creating a substantial amount of mess.
That means you'll need to ensure that the right steps are taken, so you don't end up stepping on shards of glass later on. The first thing is to learn how to clean up a shattered shower door.
Usually, shower doors shatter due to a process called tempering. This is basically the process of heat-related fractures where the glass tensile strength is altered until it finally gives out.
In some cases, you'll find it easier figuring out how to clean up a shattered shower door, because it can be a set of large pieces spread from one end to another.
However, most situations often involve dealing with the entire shower door shattering.
This is where the glass goes everywhere at once. We shared some glass clean-up hacks alongside what to use to help get rid of the mess faster, and safer.
So next time when a shower door shatters, try one of these tips.
How To Clean Up Shattered Shower Door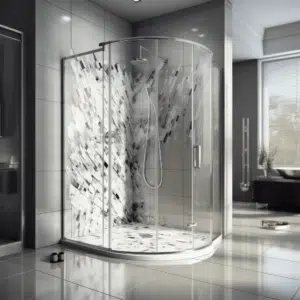 The most common approach to clean shattered shower doors is to use a damp cloth and placing it on top of the shards. However, various factors go into cleaning the broken glass in a shower. These include:
       

Amount of glass

       

Location of the shower door

       

Number of larger pieces
Tips on How To Clean Up Shattered Shower Door
Safety First
Working on broken glass is risky enough. Don't take chances. Be sure to check that everyone in the room carefully backs away from the glass.
In case anyone is barefoot, it's best to simply have them standstill until the shards of glass are removed from around them.
Start by wearing protective gloves (preferably thick rubber gloves) and pick up any large shards of glass you can remove. Then follow the following steps:
Use a Damp Cloth
As earlier stated, the best way to start involves the use of a damp cloth. This is recommended because the glass pieces will stick to the cloth, making it easier and safer to ensure nothing is left behind.
This way, you'll be able to run the damp cloth on top of the shards of glass and get them latching on the cloth.
Anything else should be picked up with a vacuum- something we'll discuss later in this article.
Broom the Pieces to One Side
Sometimes it can be challenging to clean up a shattered shower door, considering how small the shards can be.
One way to get around this is to make sure you push/brash the shards to one side of the bathroom.
Otherwise, it's likely to be a very long process to pick the glass that has spread all through space. Just take a broom and push all the pieces to one side.
Brooms work well when it comes to getting rid of small shards of glass by pushing them to one side of the bathroom so you can pick them up. Plus, this will save you some time.
Use a Hand Vacuum
Next, you will need suction power to make sure the ends results are agreeable and the floor is safe.
This might be in form of a traditional upright vacuum or a hand vacuum. You may want to go with a hand vacuum for mobility and versatility.
Besides, they are suitable for picking up shards of glass as they can get into areas that traditional vacuums may not. Be sure to set the hose as close to the floor as possible to reach any glass that remains stuck.
Traditional vacuums are likely to make it harder when trying to access hard-to-reach areas in your bathroom. That's why a hand vacuum is often considered a better option for such indoor purposes.
How Often Should You Clean Shower Doors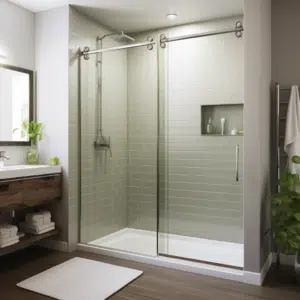 Apart from shattered shower doors, you might want to learn how to keep the whole thing clean.
Hard water spots tend to form when drops of water dry on the glass, which can lead to mold and mildew growing in such damp environments.
To keep your glass shower door clean and grime-free, prevention is the key.
The first thing to do is to squeegee the door after every use. A basic squeegee costs less than $20, so you can keep one hanging in the shower to make it easy. You may want to remind your family to do it each time they shower.
This will save you a lot of time and keep hard-water deposits from building up.
Also, aim to wipe down shower doors every night after the last use for the day. Moreover, this can be the best time to clean your shower surround since the warmer water has already loosened up the grime.
Use a foam cleaning pad or sponge to avoid the need for toxic chemicals and such additional cleaning products.
Leaving the door open after a shower can help dry it out. If you want to further prevent hard water spots and keep the door clean, you can spray the doors with a water repellent spray or consider installing a water softener to combat mineral buildup.
The Bottom Line
These are the various tips that can help you learn how to clean the shattered shower doors.
Having shards of glass spread all through the bathroom is not a pretty sight, which is why you need to do it right.
This is how to make sure you don't end up stepping in the sharp glass when you take a shower.