Epoxy Shower Floors, It is possible to slip and fall on a slippery or dangerous shower floor if you choose the wrong paint for it.
Furthermore, water and soap may create a slippery and sticky surface that is difficult to clean. When it comes to painting your shower floor, a variety of options are available, each with varying durability levels and cost.
The major goal is to find strong paint that will stick well to the shower floor and maintain its appearance for years.
Durability is an important aspect when choosing the best paint for shower floors. However, you also want to ensure that it's easy to clean, so it doesn't accumulate mold or mildew.
Whether painting the whole shower or just the floor, it's important to choose the right paint. Many varieties of paint work well in the shower, with one of the most popular being epoxy paint.
This article will explain how to use epoxy paint on your shower floor.
Are the floors of your showers painted with a certain type of paint?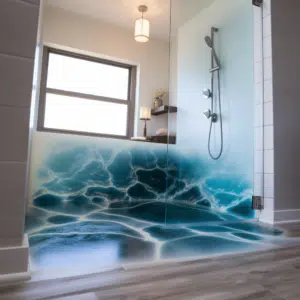 One of the most important aspects of showering is the paint on the floor. Paint in the shower should be easy to clean and resistant to stains and mildew.
However, there are a lot of different paints out there, and it's difficult to know which one to choose for your shower.
Different paints work better for different surfaces, and sometimes, it is a matter of personal preference.
Wet Look Paints Wet look paints are an excellent choice for shower floors. This type of paint is going to be easy to clean and will last a long time. This would be the best option for a shower that gets a lot of traffic.
When you choose wet look paint, you also have the option of choosing one with a satin or gloss finish.
Is Epoxy good for bathrooms?
If you want a long-lasting, easy-to-clean material in your bathroom, epoxy is the perfect option because it will not crack, leak, or peel off since it's waterproof.
Other reasons to use epoxy in a bathroom are that it:
Provides excellent protection from heat and moisture,

Can be easily matched to almost any color, and

Makes an excellent seal for tiles and countertops.
What is the best way to use epoxy on a shower floor?
Epoxy is a versatile substance that can help you transform your bathroom. It can transform your bathroom into a pleasurable and easy one to keep up with.
Epoxy has several uses in the bathroom, from the floor to the walls.
Epoxy is a two-part substance comprising an epoxy resin and a hardener. When mixed, it creates a waterproof seal that lasts for years.
Epoxy Shower Floors is primarily used to create tile floors that are resistant to moisture seeping in. The seal created is waterproof and durable.
Using epoxy as grout can create a strong bond between shower tiles that also doesn't shrink, making it the perfect grout.
Epoxy grout will also give the tiles a completely flat surface, which means you won't have to worry about gaps or uneven surfaces that can create mold and mildew.
This grout also comes in various colors to match the tiles you are using for your bathroom. Epoxy grout is also more stain-resistant than regular grout and can withstand high humidity, making it an ideal option for shower tile.
Due to its clear-drying characteristics, it can be used for various art projects, such as mosaics.
Considering this, you can have any type of floor you want in your shower. It is possible to have your shower floor made from whatever material you wish.
Can you use epoxy over a concrete shower floor?
Yes, adding epoxy to a concrete shower floor is an option some customers prefer for more strength and durability.
A professional should use a liquid epoxy. The epoxy will protect the concrete for years to come.
However, there are several steps you'll need to take before adding epoxy to your paint or sealer.
The first step is to remove the old paint or sealer from the shower floor. You may use paint thinner to strip off the old product (and if it's oil-based paint, you definitely should).

After cleaning the surface thoroughly, make sure it's completely dry before applying the epoxy.

Using a roller, apply a layer of epoxy-based primer or sealer to the surface.

After the primer is dried (which takes about 2 hours), you can add an epoxy coating to your floor. This will fill any scratches and give the surface a solid coat to protect it from moisture and stains.
Using Epoxy over Tile Floors
Epoxy coating is a synthetic liquid coat of sealant that can be easily poured over shower tiles to protect the tile from water damage.
This liquid is applied to the tiled surface with no invasive removal of tile or grout required, making it an ideal solution for homeowners who want to preserve the beauty of their existing floor.
Here is How to Apply Epoxy Over Shower Tile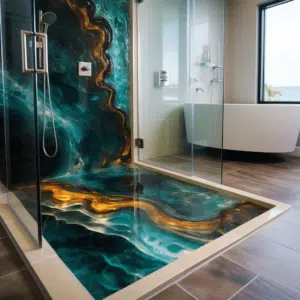 Because epoxy floors have a glossy finish, they can become slippery when wet. To make the shower floor slip-resistant, either use epoxy as grout or add slip-resistant shower mats or stickers.
The shower floor needs to be cleaned before applying the epoxy. After sweeping and dusting:
Use a grout cleaner to remove stubborn stains from the surface.

Once the surface is clean and dry, roll out the epoxy and apply it in a thin coat over the surface.

Follow the product's directions and use a slow and steady hand to avoid drips and bubbles that impede the floor's waterproof qualities.
Like other types of flooring, shower floor tile needs to be protected from water and other liquids.
Different flooring finishes are available, but epoxy can offer better protection than many others.
With the simple installation process, epoxy over shower floor tile is a brilliant choice. The ability to add your design and color is a bonus.