Box spring disposal have plans to upgrade your box spring mattress or buy a new one, then chances are you are looking to get rid of the old one.
As with most beds, box spring disposal can be a pretty daunting task especially considering the health and environmental issues.
In addition, you can not expect to toss out your box spring and hope to forget about it.
For mattresses, including box springs, the disposal process needs adequate attention and an understanding that box spring mattresses are not like other trash.
So, in all fairness, we have compiled the best ways on how to destroy a box spring without harming the environment.
But first, let's take time to understand why box spring disposal can be a tricky process.
Can You Take Apart A Box Spring?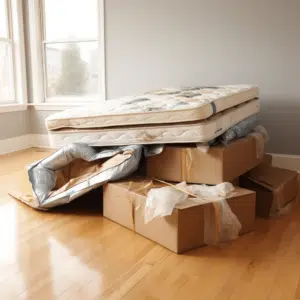 Yes. You can take apart a box spring using the right tools and a proper process.
In fact, taking apart a box spring is the best way to ensure the appropriate disposal of the whole mattress components.
A box spring consists of different parts, for starters, including a wooden frame with coils and springs in a steel-grid pattern.
Of course, such a variety of components means each will need a different disposal process from the other.
The results, therefore, will have you take apart your box spring to expose the innerspring structure and dump each part accordingly.
This means you will have to learn that you can safely take each box apart and the proper steps. Here is a guide on how the process works.
The Disassembling Process
Like any DIY process, destroying a box spring requires ample time, space, and patience from a safety perspective.
Not forgetting, the proper steps will sure account for everything from the start till the whole box spring is in the trash.
What's Needed
Protective glasses

Cut-resistant gloves

Box cutter

Hand saw

Metal cutting scissors or wire clippers

Pliers

Garbage bags
Before tearing apart the box spring, it's wise to get a large working area or go outdoors where debris from the mattress won't make a mess.
Also, count on having the workwear ready to protect from the wood and metalwork you undertake.
Step 1
Find the box spring's edge piping to start the breakdown of the mattress top construction.
Cut open the piping using the box cutter and pull the cable out till the end. Head over to the mattress's other side and repeat the procedure.
Set aside these material cables in the relevant garbage or recycle bags.
Step 2
With the side binding cables out, rip the sides of the mattress open to reveal the soft foam or cushion inside.
Get the pliers to snip away the staples present to bind the outside cover of the mattress.
Some bed mattresses can also have tabs or buttons on the sides, which you may need to get rid off. You will also need to simultaneously quilt the top and bottom sides using a joint ripper.
Step 3
Collect and gather the fluffy foam or interior cushioning into the garbage bags for future use. The stuffing, often cotton, or foam can be recycled or composted into other products.
Step 4
Head over to the bottom layer to retrieve the fiber layer by cutting and folding it into a garbage bag for disposal.
Once retrieved, the layer exposes the interior spring structure for removal afterward.
You will need the pliers and metal scissors to dismantle and cut the springs into small-sized bits for easier packaging plus recycling.
If you don't plan on dumping or recycling, you can always get crafty and come up with different artworks from the spring cuttings.
Step 5
At this point, begin to dismantle the wood frame and finish destroying your box spring.
The handsaw is explicitly for this process, where you will have to cut through the wood base and finish off the entire bed spring.
Since it's the most laborious process to destroy a box spring, you will have to be careful with all the protective gear.
Cut through the wood base, starting on one end and working through to the other.
Once the frame is split, further cut the wood into smaller pieces to make the disposal much more effortless.
Step 6
Gather the collected materials from the box spring and sort them according to their disposal.
There are always alternative disposal methods depending on your area, including calling up your local junk removal service for proper disposal.
How To Get Rid Of A Box Spring For Free
You can always opt to get rid of your box spring mattress differently. Here are the other options available to do away with that old box spring lying around.
Resell it
Of course, reselling your box spring is always a great way to get rid of an old mattress and return your investment in the process.
However, reselling a used box spring might need the mattress to be in good condition.
So make sure your box spring has no stains, rips, tears, critters, or any structural issues before deciding to resell it.
Box Spring Donations
Donating your old box spring is a legit way to not only keep the environment clean but also help out the homeless or those in need.
For starters, there are foundations such as the Salvation Army box spring pickup, which will take your mattress for free.
Other organizations you can also count on to have your box spring donation include Habitat For Humanity and Goodwill.
Keep in mind that the donated mattress needs to be in good shape and not damaged or destroyed.
Box Spring Disposal Services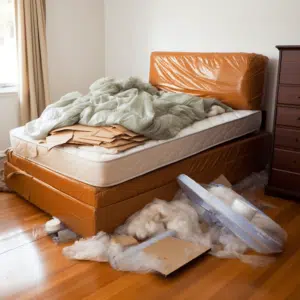 Of course, there are local garbage disposal companies that are willing to help you get rid of that old box spring mattress.
Get into contact with the certified garbage disposal unit and have them run by your house to haul away the old mattress to the landfill.
However, ensure that the garbage service you pick has a proper disposal process instead of dumping the old box spring on a landfill.
Final Thoughts
From our piece, you can conclude that learning how to destroy a box spring mattress can be an overwhelming process.
But with the proper knowledge beforehand, it is easier to break down, recycle or reuse that old box spring.
You can rest easy after learning how to get rid of the mattress and help prevent environmental pollution.