A bathroom is one of the smallest rooms in our homes, yet the most complex to decorate. There are multiple alternatives in the market today if you have a shower needing a curtain or shower bath.
The primary role of shower curtains is to prevent water and moisture from escaping the bath or shower area, add privacy during showering, and keep your bathroom looking elegant.
To improve your showering experience and transform the ambiance of your bathroom, Read on for various shower curtain substitutes in detail.
2 Key Factors to Consider
Before you select any alternatives, it is essential to note that specific alternatives work with particular shower types, and some work if you're remodeling your bathroom.
Therefore, it is paramount to know:
The size of the shower curtain you need

The reason for replacing your shower curtain, for instance, is that you want a modern shower look.
Top 10 Shower Curtain Alternatives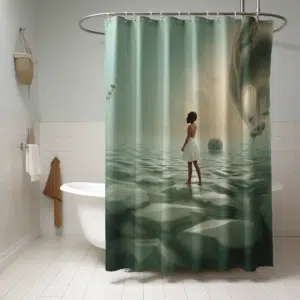 Are you looking for something sustainable other than the standard vinyl shower curtains? Regardless of your reason for looking for shower curtain substitutes, please take a look at the top 10, each with its benefits and drawbacks, and whichever your choice, it is personal.
Hemp Shower Curtains
Hemp is a very light material that allows light to pass through, making your bathroom area look brighter and more prominent quickly.
They bring a natural feel to the bathroom, like bamboo curtains, and they're environment-friendly and sustainable.
They are available in different colors, like natural beige or neutral palettes.
They are mold resistant but can be prone to mildew, preventable by regularly washing them, opening your shower curtain, and pulling its bottom outside your tub to dry entirely.
They look fantastic in farm or beach house bathrooms because of their natural look.
Sliding Panel Doors
Regardless of your bathroom size, a sliding panel door is an excellent idea as a shower curtain alternative. It is incredible at containing water splashes and ensuring no water leakages out of your shower area.
There are several options, so find one that matches your bathroom décor and style.
Bamboo Curtains
They bring a naturally soft feel close to you which is very soothing and unexplainable. Bamboo curtains are light, permitting sunlight through them, making your bathroom brighter.
They're environment-friendly
They are ideal for bathtub shower bathrooms, and if you're a natural person, this option is a killer.
This option is perfect for those with modern design. It looks sleek and even better when paired with modern tiles and fixtures.
Glass shower doors make your bathroom space look big as they are clear and don't close off your showering area from the rest of the bathroom.
They are suitable even in the smaller bathroom as they prevent water splashes or leaks from flooding the entire bathroom.
The glass door may be frosted to offer more privacy. However, glass doors look amazing when they are wholesomely clear.
Shower Blinds/Rolling Panels
It is a shower curtain that rolls up like a window blind and down to your desired length during the shower. When it is not used, you can return it to its housing, although you should ensure it is 100% dry to avoid mold and mildew growth inside the metal housing.
It is an excellent option if your bathroom doesn't need a hanging curtain and valuable if you use the tub for baths, particularly for kids or pets.
It doesn't go well with hard water as it easily stains, ruining the aesthetic. Nevertheless, it is an excellent option for those who would love to keep your shower curtain out of the way when they're not in use.
Cotton Curtain
This option is a great one because they are easily washable. You don't necessarily need rings or hooks for this substitute, yet they are more appealing than vinyl. They also come in a range of colors and texture that satisfies every aesthetic.
Doorless Shower/ Open Wet Room
If your bathroom is spacious, you can leave your shower open and doorless without needing a shower curtain or an alternative that needs regular cleaning.
They are the walk-in kinder of the shower, with some having a few steps to get in. The doorless shower is trendy, stylish, and functional with limitless customization, like having shelves inside and a bench for a soothing, luxurious experience.
They benefit from having a rainfall type of showerhead, making you presumably think you're under a waterfall utterly free without any barrier to keep the water out.
However, get ready to clean a puddle of water after the shower if you choose this option.
Linen Curtains
Linen panels have been a prized fabric for many, offering a significant amount of privacy and breathability and allowing light.
They're lightweight, moisture-absorbent, and quick-dry between washes.
For maintenance purposes, wash them in a washing machine.
Shower screen
This option is on the rise due to its flexibility and efficiency. It offers you the necessary privacy while rolling away when not in use. It is trendy with a fresh modern look.
Repurposed Metal
Most metals can be molded into any size, shape, or design to suit your shower. They are used on hinges or can slide open and close based on your style.
The metals are available in hardware stores, yards, thrift stores, and online.
They are treated to be water-resistant and rust-resistant.
Why Go For a Shower Curtain Alternatives?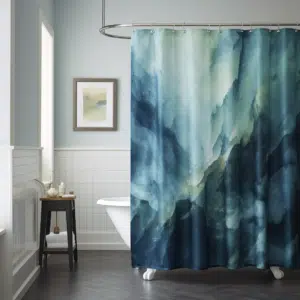 Shower curtain alternatives are long-lasting than the traditional choices
Choices are from materials that can be washable, glass that you can easily clean, and metals, all making for a durable investment
Alternatives are visually appealing, thus bringing a sense of uniqueness to your bathroom.
Vinyl shower curtains aren't recyclable, resulting in flooding our landfills yearly. Fortunately, the alternative options are sustainable and environment-friendly options.
The standard curtains don't remain in place, leading to water flowing outside your shower and causing the annoying issue of the curtain sticking to your legs.
For a modern, elegant, and environment-friendly bathroom experience, shower curtain alternatives can work wonders in boosting your bathroom style. No matter your choice, there are multiple options with various price tags depending on your budget. Choose the one that communicates your style and brings atmosphere to your space while keeping water out.