Matte Black Silverware, Getting a new set of silverware for your home, whether casual or formal can help achieve a delightful dining experience during a visit by friends and family. Matte black silver wear can complement your dinnerware nicely as it has enticed many homes as of late.
They have a sleek design with simple cleaning lines that complement other dinnerware. Perhaps that's how they made their way into the homes and hearts of most homeowners. They bring all the necessary visual impact, yet stay classic and timeless so they remain appropriate for long-time use.
It is said that most homeowners buy a silverware set only about a few times in their lifetime, so selecting a classic silhouette that you won't fall out of love with after a while is crucial.
Matte Black Silverware Explained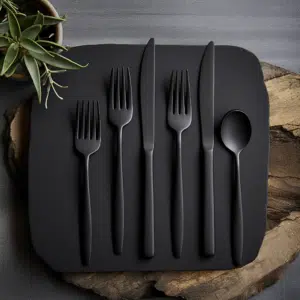 Matte black silverware simply refers to items that are either completely stainless steel or feature a flat black colored Teflon coating over the top of them to make them look like they are stainless steel.
However, there are so many options out there that make it difficult to make a choice. Silverware retailers are beginning to carry more matte black silverware options due to the increased demand.
Furthermore, there are varying degrees of quality in both the design and material among manufacturers. Fortunately, none of these options will tarnish or rust.
Berglander 20-Piece Matte Black Silverware Set
The Bergland 20-Piece Matte Black Silverware Set is an easy recommendation to help make your tabletop shine. It's also a great option for silverware that will stand out in any table setting.
This sleek eating utensil set comes with classic lines that beautifully complement the most elegant tabletops you have while making your casual white dinnerware look cool. Every piece is designed with elaborate and perfect curves. That means they're well-balanced and will hold securely in your hand.
Suitable for formal events and everyday meals, this set comprises four tablespoons (18.7 cm), four dinner forks (20 cm) four dinner knives (23 cm), and four teaspoons (15.7 cm). The whole silverware set is made of durable stainless steel and is safe for food and resistant to dust. Even when exposed to heat, these utensils won't bend.
The set boasts a shiny polished finish and features a high-quality titanium black vacuum plating that enhances surface hardness. This makes it more resistant to scratching and perfect for high-wear use such as restaurants, a hotel, or wedding venues.
Pros
Heat and rust-resistant

Dishwasher safe

Stainless steel construction

Curved silhouette with a perfect balance
Considerations
The finish may peel with time

Slightly uneven forks
LIANYU 20 Piece Stainless Steel Flatware Cutlery Set
LIANYU is one of the best-known brands that offer a reliable line of flatware. They provide high-quality flatware that elevates your dining experience.
The LIANYU 20 Piece Stainless Steel Flatware Cutlery Set boasts a durable and elegant silhouette so you can create a perfect occasion with everyday meals. The set is perfect for restaurants, bistros, and buffets.
Coming down to design, this cutlery set consists of 20 pieces from dinner knife dinner spoon, dessert fork, and dinner fork. Every piece has a perfect weight and is well-balanced for comfortable by both adults and kids.
The LIANYU 20 Piece Stainless Steel Flatware set is safe and comfy to use. Thanks to the ergonomic design and smooth edges. Each piece boasts a premium stainless steel construction that can withstand daily rigors.
Pros
High-quality food-safe stainless steel

Black shiny metallic finish

Dishwasher safe

2-piece set for up to four people
Considerations
The set tends to rust with time
Sharecook Matte Black Silverware Set
This is yet another eye-catching elegantly developed matte black set, designed to match your gatherings, wedding, and dinner parties. It is a perfect model for both commercial and home use.
This 20-piece collection has a beautiful design, impressive durability, and convenience. It includes dessert forks, dinner knives, dessert spoons, dinner spoons, and dinner forks to serve up to four people.
What's better, every piece comes with an ergonomic handle and smooth edges delivering a timeless and classic look. The Sharecook Matte Black Silverware Set is made from refined extra-thick 18/0 stainless steel for maximum durability. Plus, it is resistant to corrosion.
Pros
Dishwasher safe

Elegant finish

20-pieces to serve up to four people

Durable stainless steel construction

Corrosion resistance
Considerations
The finish tends to rub off over time
Homelux Theory 10-Piece Adaline Royal Modern Matte Black Silverware Set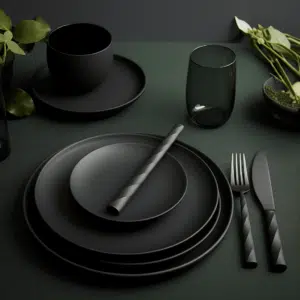 The Adaline Royal Modern Matte Black Silverware Set from Homelux Theory is yet another excellent choice, perfect for any use and occasion. The timeless and sophisticated design means that you pair this with any dinnerware and still make a statement.
The whole set is elegant enough for formal events, yet sturdy enough for everyday use. This best matte black silverware set features a classic and elegant design for hosting great events at home. It will complement any décor theme at your dinner table and stay comfortable and safe to use.
Moreover, every piece is relatively lightweight, making it ideal for both kids and adults. The set includes two of each of these eating utensils: dinner knife, dinner spoon, dinner fork, salad fork, and teaspoon.
Pros
Dishwasher safe

Great for everyday use

Premium stainless construction

30-day money-back guarantee
Considerations
Inaccurate product description
Conclusion
Matte black silverware is one of the best high-quality products that you should consider. While you can find numerous options out there, we reviewed some of the best matte black silverware that might be just what you need to complement your tabletop. Moreover, these items have been tested by professionals who know better regarding eating utensils.