There is tough competition when choosing the perfect toilet for your bathroom. With the many toilet brands in the market, you are left baffled. Therefore, it is essential to consider the toilet brand when shopping for a toilet. 
However, it is worthwhile to focus more on the toilet's functionality. Have you come across the Eljer diplomat toilet? Eljer is not only a famous brand but also a perfect choice for any bathroom because of its aesthetic appeal, durability, great design, and comfort.
We take you through the Eljer diplomat toilet review to keep you updated about the brand and what makes it unique from the rest of the toilets in the market. Let's get started!
Eljer Diplomat Toilet Reviews: Who Owns The Eljer Toilet?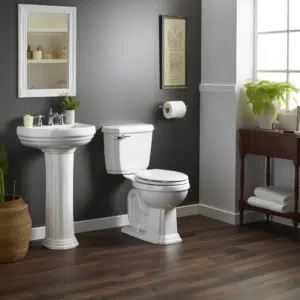 Raymond Elmer Crane and Oscar Jerome Backus are the co-founders of Eljer toilet. They invented their first toilet made of vitreous porcelain in 1904 because they opposed using copper-lined wooden cisterns for lavatories. Currently, their idea is widely spread in the industry globally. 
In 2008, Eljer brand united with Crane Plumbing to form the American Standard Company, a prominent brand in the industry. It is recognized as the familiar leading brand by the Home Design magazine.
The American Standard Brand's owner is Lixil, who has over 90%. It is the global producer of the bathroom, toilets, and building materials.
A Glance of Eljer Diplomat Toilet Features
| | |
| --- | --- |
| Features | Specifications |
| Flush Type | Single |
| Flushing system | Gravity siphonic |
| Gallons of water per flush | 1.6 |
| Bowl shape | Round and elongated |
| Rough-in metrics | 12- inch |
| Width | 2-1/8" |
| Trapway Type | Not concealed |
| Mounting Type  | Floor |
| ADA  compliant | Yes |
| Toilet seat type | Slow-close design |
Eljer Diplomat Toilet Review
It is a top-performing brand with multiple features that make it exceptional in terms of performance, thus ideal for commercial and home applications. It also has an oversized base cover and is easy to install. Let's look at its outstanding features comprehensively!
Flushing system
Eljer's flushing system is extensive for frequent and efficient flushing. With a flushing rate of 1000 MaP, even large amounts of waste are appropriately flushed in a single flush. The great flushing power is due to the use of many jets.
Eljer diplomat toilet uses 1.6 gallons per flush, meaning there is less waste buildup on your sewerage system and less water consumption. Its intelligent dual flush technology contributes to less water usage.
You can regulate Eljer's flush to a softer flush mode, efficiently removing all waste with less power than usual. Nonetheless, you can always set it to normal mode if you like a full flush.
It has a seven-flush valve that distributes water to the bowl at high speed through its dual-jet water feed structure, ensuring a robust single flush. In addition, the toilet's flush valve consists of an anti-chlorine flapper, which enhances the toilet's longevity.
Installation
It comes along with installation guidelines that are easy to follow. You may take some time to get through, but it is not impossible. Its weight of 52 pounds is also favorable.
The Eljer diplomat toilet is suitable for DIYs and those with less time or expertise. Besides, it comes with all the necessities needed for installation giving you an easy start-up. 
It is available in various models, thus allowing you to choose as per your taste. It is structured to ensure your home retains good appeal at all times.
Design
Eljer diplomat toilets have a sleek, contemporary design that fits any bathroom. It is made with high-quality materials with a satin finish making it easy to maintain.
Its rounded porcelain bowls with a polished finish make it stylish. It has a 1.6-gallon integrated water tank serving up to 6 people simultaneously.
Its design is simple and clean without any extra frills but has excellent performance. Its ergonomic seat makes it perfect for the elderly and children, including adults.
 The toilet has a unique design that looks spectacular in any décor or bathroom.
Maintenance
Eljer toilet is made of porcelain and stainless steel, which makes it easy to clean and stain resistant. 
The flush valve within the bowl makes cleaning easier and keeps the toilet clog-free than toilets with a separate flapper valve system.
The tank emptying is much easier than other models, which require you to lift the handle thanks to the lid lever with the Eljer toilet. 
With correct maintenance, the toilet will last for years.
Price
Eljer Diplomat toilet price is affordable, giving you great value for your cash. The model comes in two sizes- elongated and standard. It is a suitable choice for those who require a single-piece toilet and are on a budget.
Warranty
Another fantastic thing about the Eljer diplomat toilet is the five-year warranty for parts and labor, meaning the brand will replace it for free in case of future issues.
Do Eljer Diplomat Toilets Have Any Downsides?
Eljer toilets have extraordinary performing abilities that, for a minute, you may think it doesn't have any shortcomings. In contrast, the model has its opposing sides, and here are some of the user's complaints:
Leaking Problems
Leakage is a common issue with Eljer diplomat toilet users. As a result of the uneven lip on the toilet bowl, there is constant leakage. Its tank is very tiny, leading to water getting trapped within the toilet bowl. Eventually, the toilet might leak, regardless of tightening the screws.
Cracks
Eljer toilets tend to develop cracks. The budget for replacing a toilet is complicated. Nobody would like to be subjected to constant repairs or replacement. However, the brand repairs leakages or cracked lids free. 
Challenge to Clean
Some customers complain about the gap between the base and the tank. The fact that it is integrated into the toilet bowl makes it a challenge to clean, especially when the toilet is uneven. 
Cleaning the toilet bowl is tricky as it is built with a tiny pedestal. Therefore, getting the water to flow through becomes a challenge. Consequently, the water might get stuck in the bowl due to insufficient space to keep the content in the toilet bowl.
Is Eljer Diplomat Toilet worth your Money?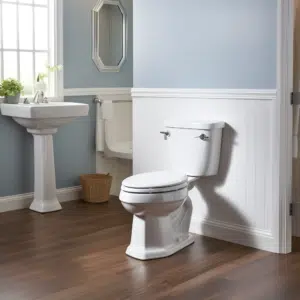 The Eljer Diplomat toilet is a famous brand globally. It has excellent water-saving technologies, silent operation, and smooth flush action. 
Its powerful 1.6 GPF dual flush system provides high performance and dependability, which uses little water but efficiently removes solid wastes.
Eljer diplomat toilet is a perfect choice for those after a reliable and efficient toilet. Its design offers all the modern features that make life comfortable and easy.