Could your flat-front house use a bit of extra curb appeal? A flat front house with a wide façade can by far detract from your property's overall curb appeal.
And if you're tired of letting cute dwellings and dressed-up windows get away with all the curb points on your block, you might want to complement the dimension with color, accessories, and other textures.
Tips on Adding Depth to a Flat Front House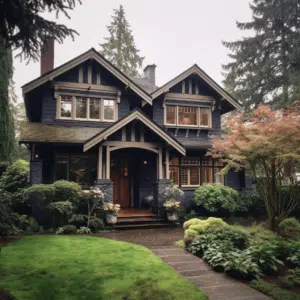 Whether you're planning to sell or simply want to make some adjustments for your own enjoyment, adding depth to a flat-front house is often an easy and affordable way to make your house look nicer, improve its value.
Note that your home's exterior serves as the cover of a book, setting the stage for what's inside. Below, we've shared various expert tips that will help your home create a better first impression.
Cast in New Light
First, let there be light. There's usually nothing welcoming about a dark doorway. If you already own a sconce or hanging pendant by your front door, consider replacing it with something a bit more fun and fresh. Wipe off all cobwebs and debris around outdoor light fixtures.
This will instantly make the space appear more bright and clean. If you'd like some additional light sources, you can use solar-powered lanterns or hang some porch string lights to light up a walkway.
Vary Your Landscaping
If the home features horizontal siding and also horizontal hedges, then it means there's no variety. A flat-front house will hardly benefit from landscaping that has plenty of flat lines.
Start by checking your yard by height and distance. Steer clear of conventional hedgerows and incorporate plants and flowers in a variety of groupings and colors for contrast and dimension.
For example, consider tall evergreens or shades trees as your background layer and borders. Choose tall shrubs to add privacy and low shrubs, grasses, and flowers to complement the middle ground. Sedges and groundcovers can be used to fill in the areas under/near walkways and patios.
Build Dimension
If time and budget allow, you can improve the curb appeal of a flat-front house considerably through a small construction such as a design-flourish, front porch pergola, or front porch portico.
Go Green
One of the easiest (and probably the most impactful ways to boost curb appeal is to add some fresh greenery and flowers. Don't stress if your font has the time and money to allocate in a garden- you can achieve the same effect by simply adding some planters and windows and boxes.
Count on plants to accentuates and frame key visual points, such as windows and entryways. Also, if you don't have the space for a standing planter, opt for a hanging one. Even one cool plant arrangement can effectively add to your home's façade.
Maintain Your Lawn
While speaking of green thumbs, it's great to note that lawn care is a big part for maintain curb appearance. Ensure regular care for your lawn by mowing the grass, raking off leaves, and pulling weeds. Make sure it is well watered to prevent brown spots.
Add Some Front Door Décor
Wreaths can be useful for purposes other than Christmas. You can get wreaths year-round that provide an exceptional dose of added beauty to your front door. Opt for wreaths made with dried or preserved greens and floras, or make everything even more appealing by purchasing one made from faux plants.
Keep off from seasonal elements that can date a wreath and make it look obsolete. Instead, choose something simple that can add elegance throughout an entire season.
Clean Your Gutters
Keep your gutters clean, both inside and out, clearing out any debris and thoroughly scrubbing the outside until they come out good as new. You may be amazed at what a little elbow grease can do.
Make Your Door Pop
Improve the curb appeal by making your front door stand out rather than blending in. Painting a front door usually costs about $75, and is quite an easy DIY job. Go for a bold color that accentuates and complements (rather than contending with) the other colors of your home's façade.
Although you can always go bright, you might want to hold up a swatch before painting so that the final product will be what you're searching for.
Upgrade Your House Numbers
Modernize the look of your home by removing the house numbers and replacing them with something with a bit more appeal.
Opt for a font that aligns with the design of your home, yet is distinctive enough to really catch the eye.
Replacing the numbers is usually an easy job and can be done in about half an hour or less.
Conceal Electrical Fixtures
Having an electrical box on the front of your house can be a great stand-out, but not in a good way. Luckily, a quick paint job can camouflage the fixture so it blends rather than being an eyesore. Opt for a color that's the same as your home's siding, and follow these tips to paint it correctly:
Design a Clear Path
A well-defined path can make your home look more welcoming and put together. You can always go big and create one out of stone or brick, or simply use visual cues like lighting and plants to line a clear path to your front door, probably through the grass or around an existing concrete walkway.
Use Your Outdoor Furniture Smartly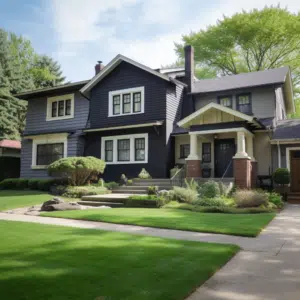 While too much outdoor furniture can clash with your home's appearance, too little can make it look scarce or neglected. Search for a good balance somewhere in the middle, and check that all outdoor furniture you have is clean and in good condition.
If you have a small yard, consider putting in a simple ceramic stool for seating and append some extra charm by setting up a small table with a beautiful planter on the top.
And that's it for, "How To Add Depth To A Flat Front House" Anything we might have missed?