Fireplace decor ideas, your living room has a fireplace, you have one of the most versatile interior decor components to work with.
As a fixture, a fireplace is a singular item and where it is placed becomes the focal point of the room.
Your fireplace quickly grabs and keeps the attention of whoever walks into the room making it critical that your decor choices not only augment but embellish the room.
If you have a good eye for interior decor or design, this will be a walk in the park, but if design does not come naturally to you, the ideas below should give you a strong starting point as you figure out what works best for your fireplace.
What to put on either side of a fireplace: Less Is More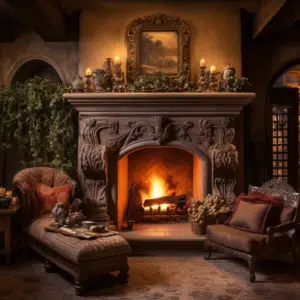 Fireplace decor ideas the design of your home is contemporary, then less is more. The contemporary facade is one of large open spaces and an airy boundless feel.
The fireplace itself is enough decor in this case and keeping the sides of the fireplace bare keeps the contemporary face intact.
The lack of items near and around the fireplace also enhances the spacious feel of the room.
Without further ado, here are some recommended items to put:
Book Cases
Few things are as lasting as the written word we all have that favorite genre that graces our bookshelves whether at home or at work.
Place even identical bookcases on either side of your fireplace and enjoy both the practical and the beautiful.
To truly enjoy a warm fire and your current crime thriller, grace your fireplace with an extravagant reclining chair or a quaint comfortable reading chair.
There is an endless array of fashionably crafted bookcases so pick any that jump out at you.
Flowers and Garden Plants
Our connection to the natural world is innate and every so often we seek to sustain that connection by bringing it into our homes notably, by placing flora in strategic locations in the home.
Your fireplace is an ideal place for these decor items and with an actual fire going, the ambiance should be warm and inviting. Try long green plants or flowers with long stalks to add a touch of class.
Elaborate Candle Holders
Visit specialty stores and get some elegant exquisitely done candle holders and place them on either side of your fireplace.
You can also design them yourself and have them crafted at a metal shop. Make them as elaborate as your tastes will allow the intention being to mesmerize.
Candles are highly reminiscent of medieval decor and that facade will always be beautiful.
Firewood and Logs
With the help of a designer, craft a practical wooden or metal contraption that can hold logs and firewood.
Placing them on either side of your fireplace packed with wood will create a welcoming appeal as well being a practical storage space for firewood.
Woven Baskets
Woven items are stunning and inviting. Sisal items are very often used as decor for their authentic appeal.
Woven baskets add a distinctly African or Caribbean tone to your home. Select two identical baskets whose size does not overwhelm the house and place them on either side of your fireplace.
Fireplace decor ideas have children, this is one of the safer items you could use for the fireplace and as an ancillary benefit, the kids' toys can be stored in the baskets.
Sculptures
If you have a particularly massive home and a love for sculpture, there is a dizzying selection of sculptures out there that could find a home on either side of your fireplace.
You could even commission a sculpture or sculptures of your own design. Make them big or small, bodacious or modest, sculptures will definitely be a unique addition to the face of your fireplace.
Collectibles
If you are a collector, feel free to hypnotize your guests with your one-of-a-kind originals or replicas of first-generation airplanes, your limited edition Star Wars figurines, your rare coins, or that signed autograph from Elvis Presley.
Fabricate a glass-paneled display for either side of your fireplace, pose all your collectibles and watch everyone, yourself included, stop and take in these marvels.
In any event, it would be a waste to have your collectibles collect dust and age in storage. Display them at the focal point of the room on the sides of your fireplace.
Painting and Murals
Most paintings are placed on the mantel but it would be quite the eccentric move to place paintings or murals on either side of your fireplace particularly if they are large and striking.
Experiment with the paintings you have and see what this placement might be able to do for your decor.
If you have children, however, this may not be practical since paintings are highly susceptible to tears and defacing which may not be reparable.
Wine Holders
Wine holders on either side of your fireplace should offer you a fashionable keep for your red, white, or pink drink.
Alternatively, you could place a simple sturdy counter for your favorite whisky and a couple of glasses making for a relaxed friendly atmosphere.
This is likely an option for younger people living alone than a family setting.
Rocking Chairs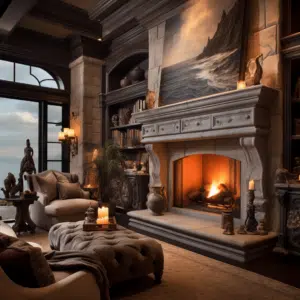 A rocking chair is the ultimate blend of comfortable and useful. Place a couple of these on either side of your fireplace.
Aside from adding a cozy aesthetic to the living room, you can watch your movie, read a good book or enjoy your favorite drink as a fire warms your legs at the end of a long day.
Asymmetrical Decor
For most people, symmetry is the reflex but you may want to try asymmetry. Be whimsical and mix it up.
Try placing different items on either side of the fireplace and see what works. It may surprise you to come up with design motifs you never thought could work with one another.
The options above are by no means exhaustive.
Decorating is an interesting activity that accommodates playfulness and encourages an infinity of creative ideas.
Delimit yourself and allow for the unconventional and you will undoubtedly come up with an exceptionally intriguing outcome.