GFCI Protection for Lights, Did you know that the bathroom light poses serious safety hazards in case of electrical short-circuiting?
That is why you need ground fault circuit interruption (GFCI) to offer ultimate protection from the switches, outlets, and light fixtures below the shower areas.
The bathroom is an essential utility for every home. To serve its greater purpose the bathroom needed sufficient lighting.
The process of choosing the design and style of bathroom lighting can be a little bit overwhelming, but you need to settle on something unique and well-sophisticated.
Do Bathroom Lights Need To Be GFCI Protected?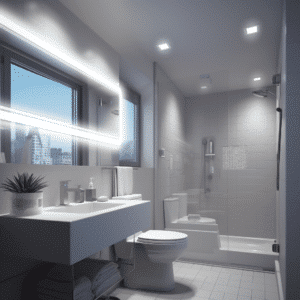 Yes, you need the GFCI protected bathroom to avoid electrocution. In most cases, the bathroom lights are directly connected to the hallway lighting and outlets.
That is where the question of whether you need the GFCI protection for bathroom lights or not arises.
  In addition, the ground fault circuit interruption serves the immersive role in enriching homeowner's safety and in light regulation.
Let's talk about what GFCI protection is and why it's important in bathrooms. Keep scrolling to learn more:
What is GFCI Protection?
GFCI (Ground Fault Circuit Interrupter) is a safety device designed with the utmost craftsmanship to save lives.
In an electricity imbalance, GFCI will alert you and shut down the power to break the outlet.

In bathroom lights, GFCI works with the mechanism of sensing the wet situations, and the outlet is shut down instantaneously, thus the potential of damage is stopped before it begins.
The safety of GFCI protection is founded on its ability to monitor electricity flow. If the normal flow is interrupted, an error code is created, and the flow is cut down automatically.
For example, an imbalance of electric currents is formed if a ground metal picks some water and transmits it to the electrical cords fixed on the wall.
Assume you don't have the GFCI protection, and bathroom water is sent through the electrical cords; you will get electrocuted for touching the exposed metal or water.
Generally, GFCI is the best safety feature, and you should think of installing it in your bathroom!
Where to Fix GFCI Protection in Your Bathroom?
As stated above, you need the GFCI protection in a section with electrical switches, light fixtures, or outlets prone to getting wet as you use the bathroom.
Some of the areas that you can install the GFCI include the sink, shower stall, and bathtub. However, don't assume that you don't need the GFCI protection in areas you don't use more often.
Bathroom codes require at least one outlet protected by GFCI, but many people install 2 or 3 for the best precautions. The number of outlets you need in your bathroom depends on your preferences.  Ensure that you've one or more GFCI protection in the bathroom and other sections where water passes into the house.
Why Bathroom Lights Need the GFCI Protection
As long as the outlets are rated damp or wet, the National Electrical Code (NEC) does not require the installation of GFCI circuits to cover all outlets within the bathrooms.
If your fixture has switches that need to be protected from current flow, you may be able to install both a wall switch and a breaker box outlet on the external walls of your home.
GFCI protection is required for lighting fixtures in your bathroom, depending on the type of light fixture that hangs over the shower or bathtub.
Suppose you have a recessed light, incandescent lighting, fluorescent fixture, or any other type of non-waterproof electric lighting in your bathroom. In that case, it doesn't need to be protected unless you choose to do so.
When your bathroom does not have GFCI protection, the light fixtures do nothing to prevent an electrical short.
That implies that if the bathroom components get wet, there is a risk of shock or fire. A single spark might be all that is required for fire to start blazing. Bathrooms are generally wet and full of water since they contain an integrated plumbing solution that can easily mess up everything.
That implies that if you don't take the appropriate precautions with bathroom lighting, you will always be in danger of a short circuit. Electrical shock can be fatal or cause significant damage to your home. Installing GFCI protection on your bathroom lights will ensure that no matter what occurs, everything is safe.
Special Rating for Bathroom Lighting
Bathroom light fixtures must survive severe circumstances, even if you don't use them more regularly. With bathing, you're bound to splash water to every corner and the roof of the bathroom.  Not all bathroom lights need a special rating, but the advanced lighting features are paramount for the items directly exposed to moisture.
Damp-rated lights are an excellent choice for situations where moisture is likely. They're suitable for use in bathrooms (but no showers), covered patios, saunas, and other moist areas.
On the other hand, Wet-rated lighting is utilized in areas with direct contact with water, such as the shower. At least one of these ratings should be present on any light fixture in your bathroom. If you have a shower, ensure that the shower light is certified for use in damp environments.
If your ceiling-mounted lamp doesn't have a Wet-rated lighting grade, it might not be able to resist shower sprays from anyone standing beneath it.
How to Tell If bathroom Light Fixture Has GFCI Protection
If your bathroom does not already have GFCI protection, it is critical to do the proper thing and safeguard yourself.  As a result, you should thoroughly inspect each light fixture to see whether or not it is GFCI protected. The procedure should take you only a few minutes.
All you have to do now is follow these simple steps:
Most light fixtures will include GFCI protection in the form of a little black box near the outlet or switch.

You'll find a test button on them that you may use to see if they're operating properly.

It's not time to worry if the GFCI outlet trips. If you have a problem with electricity flow in your house, the "reset" button will reset or turn on the circuit.
Don't worry if your lights don't have a GFCI gadget with a test button. That doesn't mean your lighting is in any way dangerous or vulnerable.
Instead, it just implies that they are not GFCI protected and did not require upgrading. Such fixtures include lights in the bathroom that do not get wet, such as a vent fan or ceiling lighting.
Conclusion: Checking GFCI Device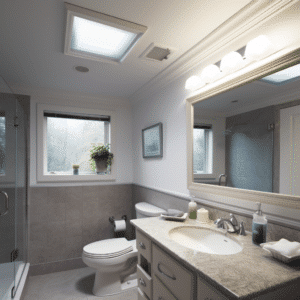 To check GFCI protection, do the following:
Look for a little black box with the word "TEST" written on it

To switch off the power, press the "TEST" button. When you do this, the "RESET" button should appear.

Plug-in electrical equipment to see if the GFCI is working.

A light indicator is included with some receptacles. Your outlet is safe if it turns green. If there is an electrical short, your GFCI protection will activate.

Simply click the "RESET" button to re-energize the system.
Experts recommend that you check the GFCI outlet at least once a month.