Large paintings art pieces can be intimidating to buy for your home or business, therefore they're usually at galleries and studios intended for them.
However, you will see a giant painting you want for your home. Any picture that occupies more than two-thirds of a wall is enormous, and some take up more.
Ensure the room can accommodate such an outstanding element, not simply the wall, to prevent getting overwhelmed. The best place for large paintings therefore would be large, spacious, airy rooms with high ceilings, lots of natural light, sparse furniture, and minimal foot traffic. Without these preconditions, the grandeur of a large painting will be all but lost.
Few things can add to the majesty of a large painting, however, some artifacts could add a touch of class to the entire picture, and below are a few.
What to put on either side of a large painting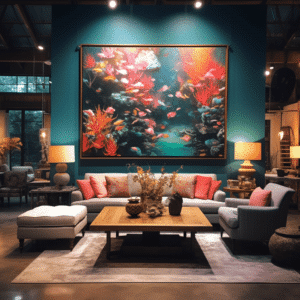 Wall Sconces
These are wall-mounted lights. They usually guide light upwards and sometimes sideways. It is rare that you will find wall sconces directing light downwards since the goal is to create a decorative glow and not to provide lighting.
Wall sconces can be as simplistic or as decadent and extravagant as you would like. Many churches, museums, luxury hotels, palaces, and grand homes are decorated with wall scones all over the interior and exterior. 
Decorative wall sconces placed on either side of a large painting would be a most pleasant sight. While providing a light glow that focuses your eye towards the painting, the low lighting also tones down the intimidating quality of a large painting.
Ekphrastic Literature
Ekphrasis is rhetorical writing inspired by a visual work of art to explain or investigate it. This might be poetry or prose, and the inspiration is usually a painting, sculpture, or building.
A famous ekphrastic poem is The Starry Night by Anne Sexton that was inspired largely by one of the most famous post-impressionist painters in European literature, Vincent Van Gogh.

That Van Gogh picture she describes is about $100 million. Every important painting has ekphrastic poems, so you're spoiled for choice. A thespian loves this arrangement since the two or three works are connected. Art lovers, frame the image on both sides with these poems to improve your collection.
Provenance Literature
Provenance is a painting's chronological history of ownership or its travel since its creation. Art traders rely on provenance to verify authenticity.For art collectors, provenance matters more. In many paintings, the owners, places, and events can lend majesty, awe, and value.
If your large picture, real or reproduction, has been in famous people's homes or involved in scandal and intrigue, a copy of its provenance should be there to make it more appealing to own or admire.
If Rembrandt's The Storm on the Sea of Galilee was recovered today, after being stolen and remaining unrecovered for the last thirty-one years, its provenance, specifically its journey since it was stolen would in itself be a work of art that everyone would be curious to read. Without question, it would be right next to it.
Place provenance literature next to your large painting to give a viewer more than just the visual appreciation of the painting.
Portraits, Busts, and Statues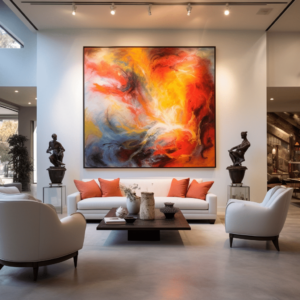 A portrait is a drawing or photograph of a person's head and shoulders. Busts are head and shoulders sculptures, while statues are full bodies.
Place portraits or busts of the artist, famous people, or oneself on either side of a large painting. To tell a fascinating story about your place, balance the objects physically and artistically.
Triptych Paintings
Large paintings are not easy to decorate around and space is vital if you choose to have one. You may have acquired a large painting that was part of a series and one of the best ways to showcase such a painting is to place it together with the other paintings that it is a part of. This is also easier than coming up with something to place on either side of a large painting. 
A good example is Hieronymus Bosch's painting, A Garden of Earthly Delights which is a three-part painting that tells a single story on three separate canvases.
Modern artists use this medium to create stunning paintings on two or more canvases. Triptych works can create a magnificent facade.
Large Windows
Place your large painting between two long large windows allowing natural light to flank your art. The large windows add an element of grandeur to the painting almost enlarging it further while the intense natural light draws focus to the detail of the painting.
It is no mean feat to acquire a large painting but it is an even greater accomplishment to utilize its decorative and artistic value skillfully. The ideas above, though not exhaustive should help you display your large painting successfully.