When purchasing a new dishwasher, you want to be confident in your decision. After all, you might have to live with it for years. To help you out, we've put together this Kitchenaid vs. Ge Dishwasher guide. Check it out to ensure you are making the right choice!
Kitchenaid vs GE Dishwasher: Brand Overview
Kitchenaid
A well-known brand that has been around for a long time and is one of the most trusted brands in the kitchen appliance industry. The KitchenAid brand has been in existence since 1919 and has a reputation for reliability and quality.
KitchenAid's full line of dishwashers includes traditional stainless steel tub and plastic tub options as well as stainless steel tubs with plastic interior and tall tub models. KitchenAid has both built-in and portable dishwasher models available.
KitchenAid dishwashers are manufactured by Whirlpool Corporation under license from KitchenAid brand owners Whirlpool Corporation. They have a good reputation with consumers and are available at most major retailers, including Best Buy, Sears, Home Depot, and Lowe's.
GE Dishwashers
General Electric is another well-known manufacturer of appliances, including dishwashers. They have been around since 1892 and are a US-based company with more than 100 years of experience in manufacturing high-quality goods for homes around the world. One thing that sets them apart from other brands is their commitment to innovation and improving their products year after year
GE Profile appliances are a step up in their line of kitchen and laundry room appliances. The Profile series is more than an aesthetic upgrade; the technology incorporated into these appliances is geared toward saving you time, money, and energy.
Kitchenaid vs. GE Dishwasher: Comparison
Features:
KitchenAid models offer a variety of features to make life easier and achieve cleaner dishes. They come with choices like the ProWash cycle, which automatically adjusts the wash cycle based on dirt level.
The ProScrub feature gives you 46 different spray jets to clean off tough, baked-on food without pre-scrubbing.
Another option is the ProDry system that turns up the heat to get dishes drier than air drying alone — a great option for water glasses, so you don't have to wipe off any spots by hand.
KitchenAid models also come with the Bottle Wash feature, which allows for cleaning of items like baby bottles and vases using two dedicated spray jets integrated into the upper rack.
The GE Dishwasher has a wide range of settings that can be used to get the perfect wash every time. There are six wash cycles that can be selected to suit any type of dish you may have, as well as options for drying your dishes when you're done with them. These settings allow you to customize your washer so it will work best for you and your needs.
Durability:
Both Kitchenaid and GE dishwashers have a similar life expectancy. They both have excellent quality materials and construction. However, if you must choose between the two based on durability alone, we would go with Kitchenaid. Their dishwashers are manufactured in the U.S., while GE has outsourced its manufacturing to China.
Both brands offer a wide range of dishwashers that are built to last. However, Kitchenaid wins this category hands down because their top-of-the-line units have durable stainless steel tubs.
Performance:
The KitchenAid dishwasher has a large capacity and is able to hold 16 place settings. It's also Energy Star certified, which means it will save you money on your energy bill.
If you want a quiet dishwasher with excellent cleaning power, then Kitchenaid will be better suited to your needs. They have models that are nearly twice as quiet as GE's best models.
KitchenAid and GE dishwashers are available in three cleaning cycles: Heavy, Normal, and Light. The light cycle is designed for plates with minimal food residue; the normal cycle is ideal for lightly soiled dishes, and the heavy cycle is meant for heavily soiled dishes. The dishwashers' filter systems remove food particles from the water so that they do not remain on your dishes during the rinse cycle.
Cost:
According to statistics, the price of KitchenAid, GE, and other brands of kitchen machines will fluctuate with the market. In particular, some models will be discounted from time to time. You can follow various platforms to track the price of each dishwasher.
Generally, KitchenAid appliances are more costly.
KitchenAid vs. GE Dishwashers: Pros and Cons
Both KitchenAid and GE produce high-quality dishwashers. But they also have their advantages and disadvantages. Here is a brief comparison of the two brands:
KitchenAid
Advantages:
More quiet operation

– KitchenAid dishwashers have an advanced sound insulation system. This gives the dishwasher a more silent operation than GE models.

More functional features

– special features include the ProWash cycle for automatically adjusting settings according to the load and the ProDry option that uses heat to thoroughly dry dishes.

GeoFence technology allows you to start your dishwasher from anywhere using your phone.

KitchenAid dishwashers also offer

more customization

than GE, with different models having different finishes such as Stainless Steel, SatinGlide, and ProScrub.

KitchenAid dishwashers are very

easy to use and clean

. They have a lot of advanced features that make the task even easier.
Disadvantages:
Pricey – most KitchenAid dishwashers are priced higher than their GE counterparts.
GE
Advantages:
Affordable

– most models by this brand are more affordable than those by KitchenAid. There is something for every budget range.

Advanced technology

– models under this brand use a variety of advanced technologies for cleaning, drying, and sanitizing dishes. For instance, it uses steam prewash technology to loosen tough food stains before starting the actual wash cycle.

It has

integrated WiFi

that lets you control your dishwasher remotely via phone or tablet.

Their

sleek design

makes them stand out in any kitchen, especially if you are looking for a machine that will blend well with your other appliances.
Disadvantages:
The GE Dishwasher is considered to be quite noisy.
How to Choose a Dishwasher?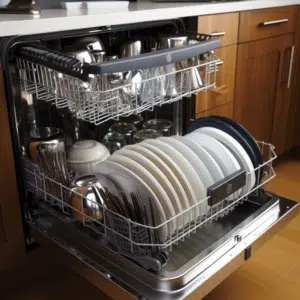 There are many things to consider when choosing dishwasher models. Some people like stainless steel, while others prefer plastic or enameled models. Also, think about whether you want an automatic shut-off feature and how much water pressure it can handle before needing another cycle running through it for cleaning purposes.
Features that can affect the longevity of a dishwasher include:
Adjustable racks. If you plan on washing bulky items, adjustable racks can help make sure everything fits. They also make it easier to wash items that aren't dishwasher safe, such as plastic containers and wine glasses.
A stainless steel tub. This can help keep the water hotter and sanitize dishes better than a tub made of plastic, which may not be able to effectively resist staining or cracking over time.
A good warranty. A warranty of one or two years is standard for most dishwashers, but some manufacturers offer longer warranties for their top-of-the-line models, covering parts and labor for up to five years.