Levolor and Graber, Shopping for the ideal window treatment can be a hurdle rather than an advantage, particularly now that multiple options are available in the market. A window treatment goes the extra mile to make your interior feel more luxurious and comfortable.
Unlike established products that have become household names, most window treatments have not been around long enough. However, the companies offering them have been in the market for a long time.
In this article, we look forward to sharing the primary differences between Levolor and Graber. Thus, you can make a sound decision as to which one is better and the one you prefer.
Levolor vs. Graber : Overview
Levolor
Graber
Features

Excellent light control

Several lift controls

Energy efficient

Quality materials

Energy efficient

Quality material

Price

Affordable

Affordable

Durability

Medium

Customer Service

Email, video Support,

Phone and Live chat

Email, Live chat, phone

Designs

Faux wood and Wood, Mini Blinds, Roller shades, Roman shades, Horizontal and Vertical Blinds

Cellular shades, Faux wood Blinds, Roller and Solar shades, Layered shades, Sheer shades

Customization

Yes

Yes
What is Levolor?
Origin
It is an American manufacturer of custom window shades and blinds, including stock blinds and shades. The 1914-founded company has its headquarters in Atlanta, Georgia.
It is known for custom window blinds. Its products are long-lasting and meet the highest quality standards, thus remaining durable over time.
Levolor's custom shades and motorized blinds add privacy to the hard-to-reach windows.
The brand offers different designs such as natural wood to faux wood, plastic horizontal vertical blinds, mini shutters, etc.
Levolor product collection is available on Amazon, making it easy to shop around for your best blinds on a budget.
Product Selection
Levolor offers various types of blinds, such as:
Sheer shades- are available in 72 fabrics with light control blind and light-filtering qualities. They contain room darkening options.
Wood Blinds- They are from natural wood. They are ideal in any wind with high light control and privacy by doing away with all cord holes.
Banded Roller Shades- are perfect for family, dining, and studies rooms. In addition, they come in vibrant color palettes that blend in subtle and bold statements.
Woven Wood- are made from natural woven materials and premium textured materials such as bamboo, grass, and jute for a warm interior aura.
Roman shades are a perfect choice for a luxurious and modern-looking home. They have flat designs with different patterns, textures, and colors.
Solar shades- are excellent in blocking heat and protecting your view while offering UV protection with motorized options.
Roller shades- can work well in traditional as well as modern houses. It comes in several light controls with room darkening, black-out, and light–filtering and has no line options. With over 100 textures and colors, you won't miss your choice.
Faux Wood Blinds- These are perfect for bathrooms, sunrooms, and kitchens because of the durable hardwood. They also can absorb humidity.
Warranty
Levolor has a limited lifetime warranty on enclosed products to original residential and retail buyers. The warranty is valid only if the product was correctly installed and remains in the original window covering against manufacturing defects that may make it stop functioning.
It also has a ten-year warranty for roman, cellular, roller, natural, banded, and panel track shades. The warranty is also on metal, natural wood and vertical blinds (except vertical vinyl vanes), faux wood blinds, sheer shadings and soft vertical blinds.
Shutters and vertical vinyl vans also get 25 3- year warranties.
Benefits of Levolor Blinds
Has customized options

Child-safe

Valuable pricing

Guaranteed Fit

Good Customer Ratings
Downsides
About Graber
Origin
It is a 1939 founded company by John N. Graber and has made a name for itself as one of the leading brands in the industry.
Graber offers an excellent price point with high-quality window treatment solutions and is among the most prominent names in the market.
Limited Lifetime Warranty
Graber offers a superior limited warranty coverage that is extensive and includes a 5-year warranty for various motorized parts.
Energy Efficiency
On energy efficiency, Graber offers a wide range of energy-conserving features. Because a lot of heat escapes through the windows in our homes, window coverings come in handy to reduce your energy bills. Graber energy shades can reduce up to 66% of your energy bill.
Environment Responsibility
Besides manufacturing high-quality products, Graber has a unique emphasis on using sustainable practices in the resourcing, production, and packaging of material to minimize eco-damage in all its production.
The wood used for blinds and shutters is sourced from sustainable forests in North America. Packaging is made from recycled materials like metals, plastics, fabrics, and other recyclable fixtures.
Automation
Graber offers window automation solutions. It uses Z-wave technology to motorized blinds, known as the "Virtual Cord motorization system".
Its shades and blinds use motors built by Somfy, and they can be linked and operated through Google Assistant, Wink 2 and SmartThings home-automation hubs.
Product Selection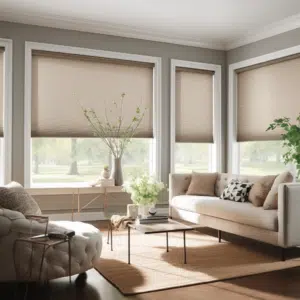 Graber offers a wide range of products both for exterior and interior in:
Cellular shades- provide an excellent price tag and vast fabric choices. It consists of an upgraded cordless top down, bottom up, which is a perfect privacy solution.
They insulate your home minimizing solar heat gain in summer while retaining heat inside during winter.
Layered Shades- offers a more moderate price tag for those who wish to have dual or zebra shades.
The shades offer an airy modern look to any room, and you can adjust the vanes to line up for diffused light control or layered for privacy purposes.
Roller and solar shades- provide a wide variety of textural fabrics and opacities. It offers simplicity and style with lower maintenance.
The solar shade helps you maintain your view while protecting you from the UV
This cover is the more eco-friendly option.
Sheer shades- They are durable and bring a more elegant soft statement. You can tilt the fabric vanes for privacy or light control.
Wood Blinds offers real wood slats with an attractive soft grain, structural stability, and hardness.
Faux Wood Blinds- are ideal for bathrooms or laundry as they are suitable in high humidity areas.
The two companies deal with similar products and share most of their characteristics. They have their share of differences. But the primary difference is that Graber focuses on conserving the environment through its production process, unlike Levolor.
Nonetheless, both are great brands with a name in the industry and produce high-quality products at affordable prices. I hope you can make a noble decision on your favorite.