When it comes to choosing the right building materials and components, builders and homeowners alike will acknowledge the fact that the type of windows you choose can have a significant impact on how great the end results will be.
In addition to basic purposes like proper ventilation, aesthetics, and keeping elements at bay, you want to choose windows that will serve sustainably for a long time without losing their structural integrity, even when the harsh weather kicks in.
Lindsay and Milgard are two popular companies that are evolving quite fast and have secured a reputable history over the past years. They are some of the best manufacturers of high-class windows in the industry and you'll hardly go wrong with their products.
Although these two brands are pretty much similar and comparable, each company has multiple designs that make it stand out and features that might influence your ultimate choice of the best windows.
Lindsay Windows vs Milgard: Overview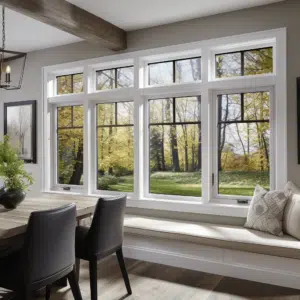 Lindsay and Milgard are steadily growing to be top brands all over. They not only provide high quality but also energy-efficient windows. This means that they filter the rays that cause heating in your house and still permit the natural taste of light inside.
They also allow free airflow around the house leaving your house with clean and fresh air. It's usually advisable to pick a window type based on how best it matches your needs and requirements. Still, it can be hard to decide between vinyl, aluminum, or fiberglass kind of windows. So here's a quick breakdown.
Lindsay windows Overview
Lindsay windows and door company is a family-owned company started in 1947. Initially, they made wood sash replacements. As time passed by, the company evolved and ventured into the window replacement business. In the early 90s, they were among the first company to offer low emissivity glass as a standard feature on their replacement products.
Their products are always in tip-top shape and level. As a Lindsay company customer, you will enjoy benefits such as an unlimited warranty which applies as long you are the owner of the property.
Milgard windows Overview
Milgard windows and door company saw its first outset in the late 1950s. Established by Maurice Milgard Jr and his son Gary, the company did not take long to broaden and expand its business venturing.
This was aided by the brainstorming ideas from the family when another son, Jim decided to join the fast-developing firm. Consistency and longevity are the key benefits that Milgard offers.
Over the years Milgard expanded delivering good quality products and services. By the end of the 1980s, the family-owned company was producing vinyl framed windows. Soon the company introduced a set of fiberglass windows and doors that are the company's major seller.
Lindsay Window Features
Lindsay company is popular for its professional-level materials, state-of-the-art procedures, and materials that incorporate appealing designs that surely complement any home`s style.
The Lindsay windows' principal benefit is energy efficiency. Their energy-efficient vinyl makes them one of the most efficient windows in the business.
They retain heat in winter and block heat in summer. Stop environmental damage and pollution.
They use metal-free super spacers between high-performance glass panes. This maximizes argon retention due to a dual glass seal spacer.
The glass contains standard argon and has an invisible coating that controls the heat flow between the window panes. Noise minimization is assured by the presence of the window sash and frames supporting the window panes.
The three pieces of weatherstrip on this company's windows make them have the lowest air infiltration in the market. All windows have an added leverage as they have three-point locks top, bottom, and center.
The presence of high-quality vinyl is a key reason that makes the Lindsay windows stain-free. This is a plus feature that makes these windows easy to maintain and for sure, these windows will look good for years to come.
Lindsay gives you the freedom to pick the kind of hardware and color details for your window. This is assured by the usage of only the best materials and state-of-the-art procedures and equipment. They boast of products that are easy to operate, durable, and have outstanding ventilation.
Milgard windows Features
It is nearly impossible to talk about authenticity in the window industry without mentioning Milgard window and door company. They produce some of the well-known and trusted materials in the market.
This comprises vinyl, insulated glass, and fiberglass frames. Their windows can withstand extreme weather.
Their wide range of frame colors and superior exterior finishes like bronze and espresso set them apart. TheY product coating lets UV rays pass through and reflect off frames, maintaining external finishes for long-lasting hues.
They have an excellent line system that makes the windows impenetrable to loud airport and freeway sounds. Milgard window and door company is known to offer windows made from materials such as aluminum, fiberglass, and vinyl.
Lindsay vs Milgard Windows: Which is the Better Choice?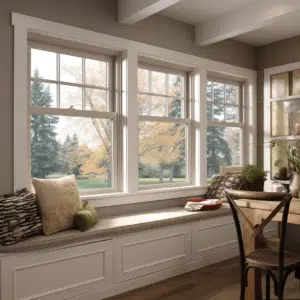 The best window choice for you is probably the one that caters to all of your needs and style. Even though Lindsay and Milgard produce high-standard windows, the most suitable option will depend on your requirements.
Lindsay windows and Milgard both have great windows and are highly ranked because of their high quality and energy-efficient products.
While Lindsay windows are known for providing the highest level of energy efficiency in the market based on global standards, Milgard on the other hand is known for its high-performance low emissivity glass that can reduce UV penetration by up to 85% and also prevent too much solar heat gain.
Prices
Prices differ according to the type color, size, and features applied. That's why it`s advisable to compare the prices of the two window companies to get a pocket-friendly deal.
When comparing both companies, it is safe to say that Milgard windows will be cheaper than Lindsay as they manufacture their products in the company rather than Lindsay which has no manufacturing plant.
Conclusion
Your ultimate choice will depend on how well the window suits your needs and style. When it comes to such a tough decision, there is no distinct selection that fits all the solutions. Hopefully, this guide will come in handy to help you find the desirable window that fits your requirements.