Over the years, interior decorating has seen tremendous change, especially in the furniture scene. Various chairs have become trendy, with some withstanding the test of time to become timeless classic pieces of furniture.
One such piece of chair furniture that falls into this category is the epic Papasan chain. Indeed, this chair piece has reinvented itself and built more pros and cons over the years. In addition, the Papasan has become a reliable piece of chair that serves up many functions and offers absolute comfort as well.
However, the Papasan is not the only roundabout or bowl chair we have around. The Mamasan is another bowl chair version that makes a statement and gives the Papasan a run for its money. Even now, most homeowners couldn't agree more that there is an ultimate dilemma for the Mamasan chair vs. Papasan battle.
That's not surprising. As we will find out, these chairs are very much alike although often one can have a better impression on you than the other.
What Is A Mamasan Chair?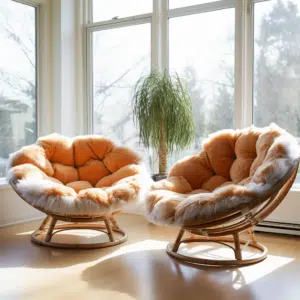 Most people would agree that the mamasan chair is the alternative or relative to the Papasan chair. In fact, to others, the Mamasan is the Papasan loveseat due to its similarities and resemblance to the original Papasan design.
Indeed, the Mamasan is a type of Papasan chair, with the only difference being the size and oblong seating area. The Mamasan is also a cone-shaped chair type made with a rattan frame and base plus a removable cushion. The Mamasan is different since it has twice the typical Papasan chair frame, hence the double Papasan chair tag.
The Rattan material is a bamboo-like palm that bends easily and is used for handicrafts, furniture, and even building material. However, innovations in furniture have allowed metal and plastic materials for the frame construction of mamasan chairs.
What Is A Papasan Chair?
The Papasan is no fabrication but the actual roundabout, moon, or bowl chair. This dish-like iconic chair became popular due to its unique and timeless design, offering style and the ultimate comfort.
Like its successor, the Mamasan, the Papasan has a rattan wicker frame in a bowl shape plus a short, broad cylindrical base for support. The dish frame comes with a large round cushion that is either removable or replaceable whenever necessary.
Since it's constructed from wood or wicker, this cushion should always be as thick as possible, with sturdy fabric covers and stuffed with cotton.
Mamasan Chair Vs. Papasan
The Mamasan and Papasan come from a similar concept. There isn't much to separate these two iconic chair types. Here's how much the Mamasan and Papasan share in common.
Similarities
From the perspective, you can mistake the Mamasan and Papasan as novelty chairs made as decorative furniture and not for comfortable sitting. But this is not the truth, as the iconic bowl design has made these chairs one of the most relaxing chair types for many people.
The dish-like frame lets you sink in comfortably in a curled position that enables you to relax. Not forgetting, the sizable thick cushion also comes in handy for comfort since it protects you from the sturdy wood-like frame. Plus, the pillow sizes for the Papasan and Mamasan are further comfortable to accommodate even large people.
The designs of the Mamasan and Papasan chairs are simple but still versatile enough to adapt to all kinds of interior decor. The bowl shape offers admirable comfort for starters, but it does not end there.
The chairs also feature adjustable angles, which you can use to have the chair adapt to your preferences. This enables the Papasan and Mamasan to be comfortable and relaxing chairs even for your living rooms.
Even better, you can still remove your chair base and have a seat as a swing for that extra comfort and relaxing feel. All it takes is a sturdy cord and proper fitting for you to enjoy your Papasan or mamasan outdoor seat.
If you are using either a Papasan or Mamasan, you are likely aware of the different styles and renditions available. Both chairs have different types with original designs made of rattan or wicker.
Different mamasans and Papasans are rocking the iconic bowl design seat with large polyfill cushions to provide comfort. Some frames are now even made from plastics or plated metals to achieve extra stability for the structure. In short, there are plenty of Papasan or mamasan designs to create that relaxing cocoon-like atmosphere.
Differences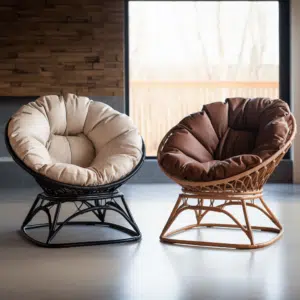 It's pretty straightforward that the seating capacity is an essential factor in Mamasan chair vs. Papasan. In this scenario, the Mamasan chair, also known as the "Double Papasan Chair", is crafted with a two-seater capacity.
The circular bowl design is elongated, and the chair is set into a deep oval seat to accommodate two people. In addition, the frame is similar to the Papasan chair. However, you can expect a larger cushion to allow you to share your seat.
Weight is always an important consideration whenever you purchase a piece of sitting furniture. Of course, with such a difference, you can expect the Mamasan to have a significant weight limit than the Papasan.
This is true with the typical Papasan design able to support a weight of up to 300 pounds. The Mamasan weight limit is higher than this, with the chair type able to hold up to 500 pounds thanks to its reliable and robust frame.
Size is the only significant difference between a Papasan and mamasan chair. For the Papasan, a standard seat could measure anywhere from 35 to 45 inches in diameter. Such dimensions mean the Papasan is a small seat with an ideal one-person capacity.
On the flip side, the Mamasan seats two average-sized adults; hence the sizes are larger than its counterpart. On paper, a standard Mamasan has an average measure of anywhere between 48 by 62 inches or 58 to 78 inches. Whatever the measure, a Mamasan's dimensions are outright bigger than the one person Papasan.
Mamasan Chair Vs. Papasan: Which Is Best?
While the similarities between the Mamasan and Papasan chairs are profound, the differences remain rather subtle. As such, choosing between the two ultimately boils down to personal preferences and what you want from the chair.
Both can be extremely cozy and comfortable, making them a worthy investment. However, choose wisely since whatever chair you pick plays a considerable role in complementing your room.