Best Silicone Adhesives for Vanity Tops, While you're washing your hands, your newly placed top may wobble. This bad situation can be rather inconvenient, especially if you must devote additional time to repairing the newly-installed top.
Worse, if the vanity base is constructed of wood, water can seep through it, and you know what happens! The adhesive used to install the vanity top is the source of the problem.
Although the benefits of your chosen adhesive seem appealing, it isn't well-formulated enough to form a solid bond.
So, where are you going to find the best adhesive?
Before you go to the store, keep in mind that you should be looking for the best silicone adhesive for a vanity top this time.
This quick guide will walk you through the best silicone adhesives for vanity tops. But before diving into that, let's look at some characteristics of the best silicone adhesive for vanity tops.
Best Silicone Adhesive for Vanity Top: Best Features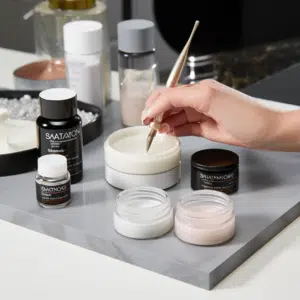 Mold and Mildew Resistance
Mold and mildew thrive on surfaces with much moisture. When a silicone glue is applied to a mold-prone location, it loses its effectiveness quickly.
As a result, you'll want to ensure the silicone adhesive you purchase is mold and mildew resistant.
Water-Resistant
Best Silicone Adhesives for Vanity Tops addition to mold and mildew resistance, the glue should be waterproof. Because you're sealing a vanity top, there's a good chance the sealed joints may come into touch with water. The seal will swiftly wear out if the adhesive fails to provide resistance.
Anti-Shrink and Anti-Crack.
The best under-mount sink silicone adhesive should not shrink or crack over time. The seal will not function perfectly if you use an adhesive that shrinks or breaks.
Longevity
Whichever silicone adhesive you use, it should hold the vanity top for a long duration.
As a result, you'll want to ensure that your adhesive is long-lasting.
Color
Silicone adhesives are either white or transparent in color. Some adhesives also allow you to paint over it to match the surrounding area's color. The color you choose depends mainly on personal preference.
Top 4 Best Silicone Adhesive for Vanity Tops
Gorilla Clear Silicone Sealant
Many people prefer Gorilla because of its extensive line of highly strong and adaptable adhesives.
This sealer works on vanity tops, interiors, windows, gutters, automobiles, and more. The same strength applies indoors and outdoors with this adhesive.
This sealer is great for vanity top silicone adhesive because it prevents mold and mildew. Thus, these microorganisms will not breakdown the adhesive, keeping your vanity top securely bonded to its foundation.
Waterproof adhesive never shrinks, breaks, or yellows. You can trust your new vanity top to last!
After applying it to your vanity top, it will only take 30 minutes for the sealant to dry. After that, you can expose the sealant to water without fear of losing its adhesive strength. For best results, clean the surface before applying the sealant.
DAP Kwik Seal White Adhesive Caulk
Another reliable brand of adhesives for kitchen, bathroom, and creative tasks is DAP. This white, sticky Kwik Seal caulk works for any application.
It ensures a strong, long-term bond. Water droplets won't affect its adhesive strength because you're connecting a vanity top.
Additionally, mold and mildew cannot damage the bonding when the sealant has fully cured. This is beneficial since your items will remain firmly stuck to their surface for many years.
Also, the adhesive does not emit a strong odor that would reduce your productivity. When you use a white-colored sealer, the hue might sometimes stand out from the rest of the room.
Best Silicone Adhesives for Vanity Tops worth remembering that the Kwik Seal adhesive is only intended for interior use.
GE Sealants & Adhesives for Kitchen & Bath
While GE is best known for its electronic appliances, it also produces sealants and adhesives for various tasks.
The Advanced Silicone is everything you need if you're seeking the best silicone for sink installation. This sealant can fix countertops, backsplashes, and sinks in the kitchen.
You may also use it in the bathroom to connect a vanity top, showers, tubs, and tiles
Additionally, this adhesive can be used in various materials, including glass, plaster, stone, and many others. It's also safe to use on metals like chrome, bronze, and nickel without staining them.
It also has five times the strength of conventional adhesives when it comes to adhering to these surfaces. This could be the sealant you are looking for if you're ready to use the white sealant without the aim of painting it.
This product cannot allow water to damage the seal or mold and mildew to grow in it. It will dry in 30 minutes after you apply it and attach the vanity top.
There will be no unwanted odors, so you can rest confident that you will be able to work in peace.
Red Devil 0445 Kitchen And Bath Siliconized Acrylic Caulk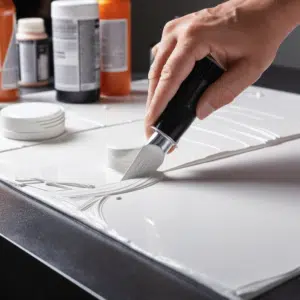 Red Devil has everything you need, from drywall tools to construction adhesives. The Kitchen And Bath Siliconized Acrylic Caulk is one of their most well-known adhesives.
The sealant can be used to adhere to a vanity top, tub, shower, countertop, or backsplash. It's meant to be used inside. Whatever you do with this sealant, you can always count on a long-lasting, glossy seal.
Aside from that, there's no need to be concerned about accidentally splashing water into the cured sealant. The strong bond will not be disturbed because the glue is waterproof.
Mold and mildew will never have a chance to live inside the seal.
Furthermore, the adhesive has no odor that could harm your health.
It also gives you the option of keeping the cured seal transparent or painting it. It's entirely up to you!
Final Take
It doesn't matter if you're obtaining silicone adhesive for a vanity top or a door; it must be dependable. Before being added to the list, the adhesives above were thoroughly investigated and tested. Whichever option you choose, you can be confident that it will securely support that shaky vanity top.