Towel Warmer Safety and Usage, Taking a hot shower is a great way to relax and warm up on those chilly days. But without a warm towel awaiting you at the end, all this coziness may just slip away the moment you step out.
Of course, you may think of tossing your towels in the dryer, but since it's hard to have such an appliance in the bathroom, it isn't really a practical solution.
That's exactly where the towel warmer comes in.
Towel warmers, sometimes referred to as heated towel rails, are great for warming your towels to the desired temperature, helping them dry quickly post-shower.
You can also use them to get toasty pajamas and bathrobes on cold winter nights. That said, one of the most common questions among users of these models is whether you leave your towel warmer on overnight.
Can You Leave Your Towel Warmer On?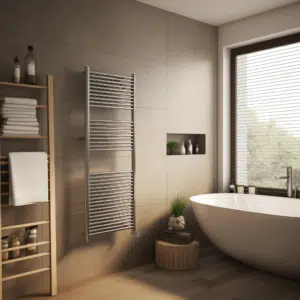 Although we wouldn't recommend leaving it on, towel warmers can be left on indefinitely.
Most of these models are equipped with internal thermostats that enable them to reach the desired temperature without overheating or posing any hazard.
Additionally, towel warmers should include safety elements that force them to shut down in case they do overheat for whatever reason.
Users should, however, be informed that leaving their towel warmers on all the time may cause a substantial jump in the household energy bill.
Also, towels do dry out overnight meaning you can risk fire if they get too dried out. Therefore, you might want to set the towel warmer in use on a time to help preserve energy while still reaping the full benefits of your device.
So, how long can you leave a towel warmer on?
If you're going to turn the towel warmer on continuously with a towel, we recommend setting it no higher than level 7.
Still, any setting can be used if the towel warmer is on a programmable timer for only a couple of hours at a time.
It is recommended to turn the towel warmer off after a few hours and avoid leaving it on overnight. This will help prevent electrical hazards.
That said, some low-wattage models are designed to be left on indefinitely, just like radiant floor heating.
The majority of today's towel warmers are equipped with auto-shutoff components, automatically shutting down if the temperature reaches a certain degree.
How Long Does a Towel Warmer Take To Heat Up?
On average, a towel warmer can take 20-30 minutes to heat up fully.
However, they can take anywhere from 15 minutes to an hour to reach their desired temperature, depending on the size and make of the model.
Smaller and newer towel warmers tend to take less time to heat in comparison to large or older models. That means if you put a towel on the rail 15 minutes before your bath, it may not be sufficiently heated.
Are Towel Warmers Dangerous?
Towel warmers can be completely safe provided they're used properly. For example, power codes should be completely plugged in.
Besides, the surface temperature of an electric towel warmer is roughly 140-50 degrees Fahrenheit. Given that they are low-wattage appliances, a cold start can take 45 minutes or more.
Below are the various points to help keep your towel warmer from posing damage:
Inspect the outlets and make sure they are not getting too hot. The covers should be applied so that no liquids or debris can infiltrate the cords.
Be sure to check the power cords for any damages. Note that rip and tears can be particularly dangerous around water and damp conditions. Power cords should be carefully plugged in.
On the off chance that the cord is loose or the wire is getting out of the socket, a small accident, which could damage the towel warmer or make it catch fire.
Tower warmers should be installed by experts. Ground-fault circuit interrupter outlets should be applied to prevent water from coming into contact with the power cord.
Obviously, users should be careful at all times. Children should not be allowed to play near tower warmers.
Overall, as mentioned above, towel warmers are considered safe when proper care and common sense are utilized.
If you have the best towel warmer and the towel is already dried, avoid keeping it anymore on the table warmer as this can cause fire hazards.
It is best that you keep your towel warmer in good condition. This is especially recommended for hardwiring and plug-in towel warmers.
And as you probably know, anything reliant on electric supply should be shut off automatically to prevent overheating or short-circuiting.
Electric or Hydronic Towel Warmers?
In case the price of a towel warmer is more budget than you thought, then you might want to narrow down your choices. There are two types of heated towel racks: Electric and Hydronic.
Hydronic towel warmers depend on water to heat the rack. That means they must be connected to hot-water plumbing. While this option can be rather complex to install, it is generally best to install it during a remodel.
If you already own a Hydronic radiator, a straightforward way to install-mounted Hydronic towel warmer is to set it in place of your radiator. This will keep you from draining your system or tearing up your flooring.
Electric towel warmers meanwhile use an electric heating cable to warm up the rack. These models can be plugged into a standard outlet or hardwired to the home's circuit. While hardwiring towel warmers often involves some electrical work, you'll only need a three-prong outlet.
Hardwired Towel Warmers vs. Plug-in Towel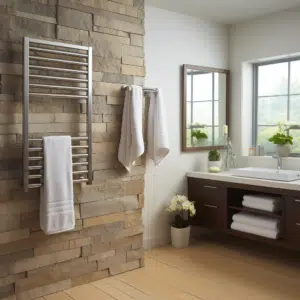 There're two things to consider when deciding between a hardwired towel warmer and a plug-in towel warmer; design and installation.
If you're looking for a clean, sleek design without any wiring showing, a hardwired towel warmer can be an excellent option for you.
The wiring featured by these models is tucked away entirely within the wall. On the other hand, plug-in towel warmers generally show the wire leading from the unit to the outlet.
That said, plug-in towel warmers are usually the easiest to install because they don't involve any electrical work. These models can be mounted on the wall and they only require a three-prong outlet to work.
Contrary, hardwired towel warmers must be connected to a junction box, which tends to involve some additional work- even though they might be the best for those looking for additional towel warmers.