Lazy Susan Cabinets, Hiding your dishes and kitchenware will make your kitchen more organized and give it a minimalistic look. But what is the best way to maximize space and create a better and cleaner environment?
Kitchen cabinets and storage drawers can be adapted and redesigned to optimize usability and provide more room.
A lazy Susan cabinet is the perfect way to store these items in a concealed manner.
Also, lazy Susan cabinets in bathrooms can help you turn your bathroom into a more comfortable and valuable space. Stocking this cabinet is also quick and easy with its revolving wheel on the middle section.
What is a lazy Susan cabinet?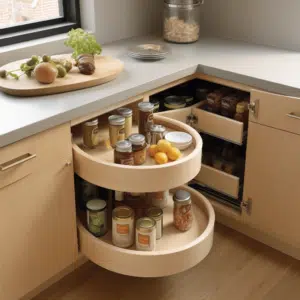 Lazy Susan's can be a lifesaver for those looking to save time and space. This convenient cabinet is designed to spin around the outer edge to offer easy access to whatever is stored inside.
There are many sizes and varieties of lazy Susan's on the market, so there is one to suit just about any style or design. Whether in your kitchen, bathroom, bedroom, or office, the lazy Susan is the perfect option for you.
Types of Lazy Susan Cabinets
The most popular kind of lazy Susan is the circular design. The full circle is perfect for any cabinet type – including corner cabinets with doors that open at a 45-degree angle. It has storage capacity for any kitchen situation, and the door design adds a touch of modernity to your home.
It has one side rounded, while the other side is flat. They are perfect for the pantry cabinet since the round shelves offer storage space, while the rounded side allows the pantry door to close.
D-shaped Susan's typically feature three to five rotating shelves. An attached hinge enables the cupboard doors to open, allowing for easy accessibility to the equipment.
This lazy Susan cabinet is cut in a triangular shape on one end to allow the 90-degree cabinet doors to open and shut smoothly. It is best suited for cabinets that are L-shaped.
What to Store in a Lazy Susan Cabinet
One thing that always makes cooking more enjoyable is the availability of spices, but finding a proper cabinet for this can be difficult. The lazy Susan cabinet is one way to have your favorite herbs close by, even if they are hidden at the back of the cupboard.
Vitamins, Supplements, and Pill Storage
If you're looking for a way to save space, keep your family healthy and organized, look no further than a lazy Susan cabinet! This piece is the perfect and easy way to store everything from vitamins to supplements. Even storing pills can be fun with a lazy Susan shelf!
Keeping your kitchen stocked with condiments can be hard to do without a bit of help. A lazy Susan cabinet offers an easy way to store these kitchen essentials. Cabinets and pantries are usually small, so taking up space by storing condiments on a rotating shelf is a great way to get more use out of this hard-to-reach storage space. Lazy Susan's can be sized for any cabinet.
Pots and pans stored in a lazy Susan can be a great space saver for a cluttered kitchen. You should consider a few factors when storing pots and pans on a rotating shelf. Determine the size of the pot or pan before purchasing a lazy Susan so that it will have enough room to rotate.
Cleaning supplies storage
Do you want to make your cleaning supplies more accessible while keeping them out of the way? You can use a lazy Susan cabinet for storing your items while making them easy to find.
Use a lazy Susan for your cleaning supplies such as Kitchen/Laundry detergent, dishwashing soap, bleach, vinegar, floor cleaner, oven cleaner, drain cleaner, and glass cleaner. You will find these items without having to pull everything out and rearrange them.
If your bathroom isn't big enough, you can use a smaller cabinet instead of an open countertop to store your beauty products. A lazy Susan cabinet can help you quickly locate your favorite skincare products or lipstick at a moment's notice.
Benefits of a Lazy Susan Corner Cabinet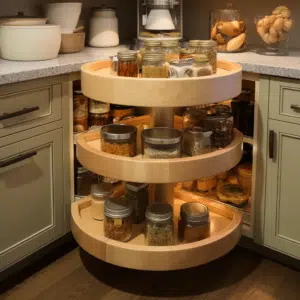 The name doesn't sound much like what it does, but a lazy Susan cabinet helps people find the things they are looking for much more effortlessly. Nobody wants to rummage through cabinets with items on top of each other.
One solution may be to make your life easier by using a lazy Susan cabinet. Placing the contents of your cabinets on a rotating shelf can make it much easier to find what you're looking for quickly. There's no need to dig through drawers again!
It makes it easy to Access Blind Corners.
Lazy Susan cabinets, also known as rotating corner cabinets, rotate to give access to products in the back of a higher-up cabinet. It is especially effective in kitchens and bathrooms because it eliminates the need to climb and stand on a stool to get food and medicine.
Minimizes clutter and Maximizes Space
With a Lazy Susan cabinet, you can store all of your household items without worrying about the clutter. The design of this cabinet is ideal for maximizing space, and it also helps to keep things organized and accessible.
It can spin 360 degrees, so there is easy access to items on all sides of the cabinet. It keeps food, toiletries, and any other necessities off the floor and countertops.
The lazy Susan cabinets are a great organizational tool for small kitchens and bathrooms. These cabinets provide storage without taking up floor space, unlike the more traditional cabinet on top of the counter or base cabinets on the wall.
Use a Lazy Susan cabinet to store items you don't use every day. These items remain out of the way, but can still be accessed quickly.