Maytag washer comparison in the market for a new washing machine, and you notice two washers that are very popular — model mvwp576kw and model mvwp575gw. If you're not an expert on washing machines, which one should you buy? Before you purchase, make a quick comparison here to see which of the two models is right for you.
mvwp576kw vs. mvwp575gw: Brand Overview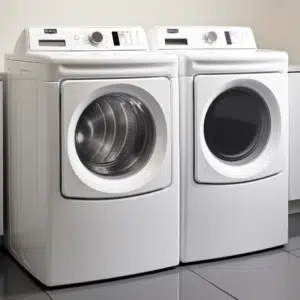 Maytag makes high-quality, durable appliances that outperform the industry. Since 1893, the family-owned brand has been trusted. Maytag washers meet the brand's high standards and cutting-edge technology. Some of their models are expensive, but others are affordable.
What is the difference between mvwp576kw vs. mvwp575gw?
When you're trying to decide between the Maytag MVWP576KW or the Maytag MVWP575GW, it's essential to know what makes them different. The two models are very similar, but there are a few key differences that might make your choice easier.
Features:
mvwp575gw
The mvwp575gw is a powerful, intuitive washing machine that's easy to use and easy to love. With 4 deep water wash cycles and PowerWash® Cycle with Deep Water, this washer gets your clothes clean without the hassle. Plus, its dual-action agitator does the work of two agitators—turning both ways for the best cleaning results.
Maytag washer comparison all great news for you because it means you can spend less time taking care of your laundry and more time doing the things you love. The washing machine also has 4 deep water wash cycles, so larger loads get the same effective cleaning as smaller loads.
Presoak and Extra Rinse: A presoak allows the cycle to start, followed by a five-minute presoak period. After that, the machine adds water to the fabric softener dispenser and starts the wash cycle. During this cycle, most of the water is drained, then more is added to complete the cycle.
During the Extra Rinse option, more water is added during the final rinse to remove detergent residue and fabric softener from clothes. This option should be used for washing items for babies or people with sensitive skin.
MVWP576KW
Quietness: The Maytag MVWP576KW has a stainless steel tub, which is more durable than plastic and conducts less noise from load movement. It also has a noise-reducing base.
Automatic bleach dispenser: The Maytag MVWP576KW has an auto bleach dispenser that will dispense the correct amount of bleach at the correct time in the wash cycle.
Automatic fabric softener dispenser: This feature dispenses fabric softener at the correct time in the wash cycle, saving you from having to measure out liquid and pour it into a cup or tray yourself.
Extra rinse cycle: This washer offers an extra rinse setting that can be used when you want to ensure all soap residue is removed from clothes (which can be handy for people who are sensitive to detergent).
Longevity:
There doesn't seem to be much difference in how long these two models will last. The older MVWP576KW has an estimated life expectancy of about 10 years, while the newer model is expected to last just over 11 years. If you plan on keeping your washer for more than a decade, you might want to consider springing for the newer model when you replace your old one—if it lasts the projected 11 years, you'll get another year out of it before needing to replace it again.
Warranty
mvwp575gw
Limited 5-Year Parts and Labor
Parts:

All parts are covered for the first five years of ownership. The parts included are functional parts of the dishwasher, including electronic components, racks, and spray arms.

Labor:

Labor is covered for the first year of ownership.
6th through 10th-year limited warranty:
If a service technician determines that the drive motor or stainless steel wash basket has failed due to a defect in materials or workmanship, Maytag will provide replacement parts necessary to repair your dishwasher.
mvwp576kw
Maytag warranties this product for one (1) year from the date of purchase. This warranty covers only defects in materials and workmanship.
This warranty extends only to the original purchaser. An original purchase receipt or other proof of the original purchase date will be required before warranty service can be rendered. Keep the original sales receipt, as it will be needed to obtain all warranty performance.
Functionality:
The mvwp576kw has a capacity of 4.5 cubic feet and can handle at least 18 towels in one load. It is also equipped with a deep clean cycle that gets rid of tough stains on your laundry and a sanitary wash cycle, which helps eliminate bacteria on your clothes. The mvwp575gw model has the same capacity, but it does not have the deep clean, and sanitary wash cycles.
Controls: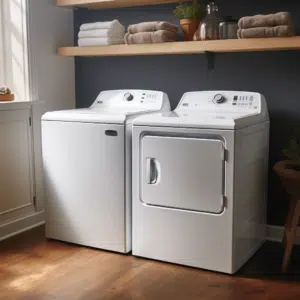 Both washing machines are electronic, but the mvwp576kw model has an LED display that lets you see your settings clearly. The mvwp575gw model only has a digital display.
RPMs:
The spin speed of the washer MVWP576KW is 800 RPMs, and the spin speed of the washer MVWP575GW is 810 RPMs. The higher an RPM rating, the faster your clothes will dry when they come out of the machine. The best feature of these machines is their motor.
Maytag washer comparison called the Direct Drive Motor, and it gives you better cleaning and longer life for your machine because it does not have any belts to break or any other mechanical parts that can wear out over time.
Conclusion
Who doesn't want a Maytag washer? They've been around for so long, and they've earned a reputation for being dependable and durable, which is just what you want in a washing machine.
The best thing about Maytag washers? They come in all different shapes and sizes, so you can use them to fit all of your family's demands. We hope this comparison helps you make an informed decision when choosing between mvwp576kw vs. mvwp575gw.