If you are looking for the perfect window choice for your home, then you might want to check out Pella Windows and Sierra Pacific Windows.
The comparison between these two companies is a decision that most homeowners have to face when purchasing replacement windows or installing new ones. They are both well-recognized in the industry, but which windows are better, Pella or Sierra Pacific?
Pella vs Sierra Pacific is two fairly popular window brands. They both offer high-quality windows, and while some people seem to prefer Sierra Pacific for excellent craftsmanship, Pella windows are as well durable, reasonably priced, and come in a wider variety of sizes and styles.
These two companies offer better warranties in comparison to other competitors out there, and it's hard to go wrong with either of them. That said, you should choose windows that suit your needs and budget, and there are several factors that go into determining the better choice for you.
Pella Windows Vs Sierra Pacific: Overview
Pella Windows Overview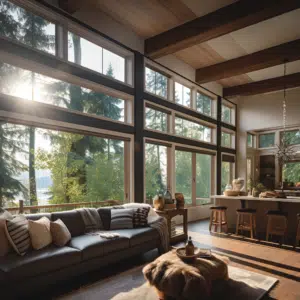 Since 1925, Pella has secured a long-standing reputation by offering sustainable products such as Pella windows and doors to its customers.
Reading on the company's website, Pella was firstly based on a novel idea of creating a window screen that rolled up and down like a shade. Down the line, the company invented the tilt, double-hung window, which is a consumer favorite for the ease it brings to window maintenance.
The company is currently among the largest window manufacturers in the country offering patio doors, storm doors, and entry doors. Pella has also developed a reputation for great quality, durable windows.
Pella offers eight different styles of windows that range from traditional casement windows to bay window designs. Moreover, all windows from Pella are energy efficient and include a low-emissivity upholster to block subsides the intensity of the sun's ultraviolet rays.
Sierra Pacific Windows Overviews
Sierra Pacific Windows is part of Sierra Pacific Industries, a popular western window and door manufacturer.
It has been making wood-clad windows and doors for over a century, but it also provides other great options that set it apart.
Sierra Pacific windows are known for its high-quality, durable wood, vinyl, aluminum-clad, and H3 Fusion tech windows. Their products are mostly custom-made for construction, replacement, coasters, and businesses.
Sierra Pacific distributes its products through over 600 US dealers for light and residential commercial windows.
Pella vs Sierra pacific: Product Design
Product is an essential factor when comparing these two major window brands. After all, the brand you choose should have a window design that matches your style and requirements.
The product design of both Pella and Sierra Pacific are rather comparable. They all produce the popular styles and window types that you'd expect, only that there are some differences worth noting.
While Pella windows are generally stylish and of high quality, the company seems to focus more on innovation rather than craftsmanship. That means most of their products have a top-notch design, much innovation, but standard quality.
Sierra Pacific on the other hand features color Stay Collection for their exterior and interior color options that utilize powder coating technology and Ultra Coat. This helps to enhance durability and color retention while ensuring protection against moisture, marring, and scratching.
Both their H3 Fusion tech and aluminum-clad windows feature concealed locking system and foam weather strops that endure water and air intrusion.
Pella vs Sierra Pacific: Material and Construction
The quality of the material is yet another important factor to consider when comparing these two brands. This should ultimately help you decide which brand to go with, as well as the design and overall cost.
Pella has a broad range of materials but its windows are normally made from fiberglass, vinyl, wood, aluminum, and composite. That being said, Pella is smaller, younger than Sierra Pacific and more effort is focused on innovation rather than overall quality.
On the other hand, Sierra Pacific windows are generally made of wood, materials which include exterior and interior wood, and are protected by CoreGuard Plus- a natural wood treatment or preservative that seeps inside the core of the wood to resist water. This makes the wood material resistant to moisture, warping, and swelling.
Sierra Pacific's material also contains insecticides and fungicides that help protect the wood against pests, insects, and wood rot. All Sierra pacific windows also feature performance glass with low-E coatings that support energy efficiency while reducing external noise.
They also include a non-metal foam spacer made with polymer structural foam and an acrylic barrier that makes the windows thermal efficiency while providing seal and comfort.
Pella vs Sierra Pacific Windows: Price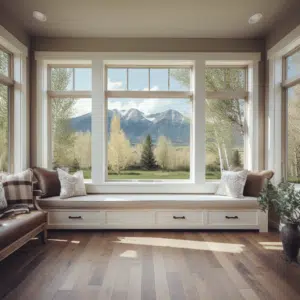 The pricing of the Pella windows and Sierra Pacific products may vary, depending on the selected application type, materials, window style, sizes, and colors. For the most accurate costs, buyers can get that from available distributors, dealers, and company stores.
On average, expect to spend about $600 to $1,000 for every Pella window. This, however, includes the installation costs; individual windows start at around $300 each and go upwards of $2,500. Pella windows prices vary subject to the style, material type, finish options, and level of energy efficiency.
Sierra Pacific windows, just like other leading window manufacturers prices tend to vary significantly based on the style and size of the window. That said though, you can expect to say somewhere between $400 and $800 for most of the Sierra Pacific windows.