It can be challenging to find the right replacement window for your home. After considering how you want your replacement window to look, how you would like them to function, and your budget, you're narrowing your alternatives to the final handful that meet the criteria.
So you're looking at Anlin and Pella windows to replace the windows in your home. Both firms are well-known in the sector. Both companies provide high-quality replacement windows meant to last in your home.
However, their popularity and the fact that they perform similarly are insufficient to persuade you one way or the other. You need to be able to compare details. This article will compare Anlin and Pella windows in terms of material, design, warranty, and more. But, before that, let's have a quick look at the background information of these two companies.
About Anlin Windows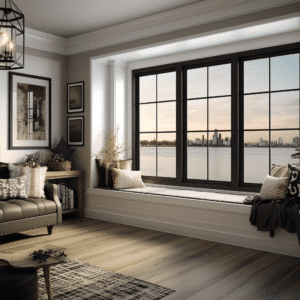 Anlin Windows and Doors, based in Clovis, California, was formed in 1990. They design vinyl goods that are long-lasting, energy-efficient, and the best available.
Anlin prioritizes product excellence and customer service, community involvement, and environmental stewardship. All manufacturing by-products, including glass, vinyl, and shipping materials, are reclaimed and reused.
Anlin is noted for its high-quality, energy-efficient products. If you're looking for a low-cost window that will last for years, Anlin has you covered.
About Pella Windows 
Pella is a door and window company based in Pella, Lowa, founded in 1925. The business was established on traditional American values such as honesty and integrity. They seek to improve the lives of homeowners by innovating and developing products.
Giving back to the communities around is essential to Pella. They have previously participated in several projects to provide resources to persons in need of housing. Some examples include aiding and restoring a boys and girls club in Harlem, New York, and collaborating with the Yale School of Architecture to construct homeless shelters.
Aside from their devotion to the community, they continue to lead the way in the door and window sector in terms of innovation and efficiency.

Anlin Windows vs. Pella Windows: Quick Comparison
Material, Durability, Maintenance, and Energy Efficiency
In terms of durability, maintenance, and energy efficiency, Anlin and Pella windows are identical.
Only vinyl windows are available from Anlin. On the other hand, Pella offers three types of windows: wood, vinyl, and fiberglass. As a result, think about how you want your windows to look and how you want them to perform based on their materials.
Anlin's vinyl windows and Pella's vinyl, wood, and fiberglass windows, on the other hand, perform similarly in terms of maintenance, durability, and energy efficiency, making it difficult to choose one over the other in this category.
Design
Anlin and Pella window collections both have a wide range of design and style possibilities.
Since Pella has various window types, they have numerous collections with design options for each window material. On the other hand, because Anlin only sells vinyl windows, you only have one material option.
If you're choosing between these two window lines based on their design, the material will almost certainly play a role. For example, if you want a wood window for a traditional interior style, you'll have to look at Pella instead of Anlin because Anlin doesn't make wood windows.
However, if you want a high-quality, long-lasting vinyl window in a non-traditional color, Anlin has more design alternatives than Pella because they provide more color finish options.
Look at the design outline for each window line on each manufacturer's website to better understand what design options they provide and whether you like the options.
Warranty
Anlin and Pella both provide lifetime warranties on their goods. Pella's warranty, however, is restricted to all parts except for the frame, whereas Anlin provides a lifetime warranty on all window components.
Anlin's warranty is fully transferable. However, Pella's warranty is only partially transferable. As a result, whether you are in a long-term home that is not your forever home, Anlin windows will ensure that your windows are taken care of for the rest of your life in your home and the life of the future owners.
Pella's warranty is transferable as well, though some components aren't protected for as long as others. Both warranties guarantee that your windows will be well-maintained for many years.
Anlin Windows vs. Pella Windows: Which One is Better?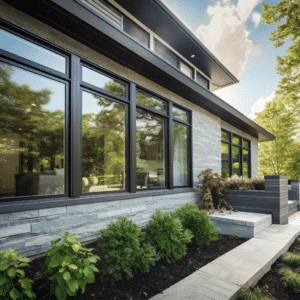 You can now determine which of these windows is ideal for you after seeing how Anlin Windows and Pella compare in terms of material, maintenance, design, energy efficiency, and warranty.
Pella and Anlin both make energy-efficient and long-lasting windows. Pella makes vinyl, fiberglass, and wood windows, while Anlin solely makes vinyl windows.
Both firms provide a wide range of design options in terms of window color, style, grille profiles, and glass.
It can be challenging to tell the difference between these two windows if you're thinking about replacing your windows. The window's material and design possibilities, on the other hand, will give you the best indication of which will best suit your demands.
Pella is the answer if you want long-lasting fiberglass or real-wood windows. If you're looking for a high-quality vinyl window, you'll want to compare the design possibilities offered by Anlin and Pella, as Anlin offers more color options than Pella.
Finding the best replacement for your window mainly depends on your goals. How long do you want your replacement windows to last? How do you want them to appear? What is the size of your budget? All of these considerations will assist you in narrowing your alternatives and selecting the best replacement window for your needs.