Double wide homes, colloquially known as "double wides" are the new normal for mobile homeowners these days.
As an industry, manufactured home installation has evolved through leaps and bounds since its first outset back in the 1930s. The modern-day double wides are just showcasing how much progress has been made.
As the name suggests, double wide mobile homes are twice the width of a single wide. A double wide mobile home is basically two single-wide homes seamed together into one complete structure.
These homes offer homeowners virtually everything that a single wide might be lacking, which is space. In this article, we'll discuss the benefits associated with a double wide, how they differ from single wides as well as what you may expect from upgrades to installation.
A manufactured home installation can be flawless right from the factory, but if it's not installed properly, none of the quality workmanship or premium upgrades will matter.
Indecent home installation can lead to leakages, wrapping, bowing, and other problems that can be costly to repair and can impact the integrity of your home.
How Long Does It Take To Set Up A Double Wide Mobile Home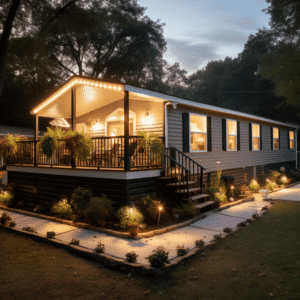 There're several factors that go into setting up a DW. But in most cases, it takes around 30 days to set up a double wide mobile home after the boxes arrive at the site.
Within this period, not only do the boxes need to be properly buttoned, but the roof should also be completed. The interior stuff like baseboards, heat, plumbing, final trim, and power should also be completed too.
The type of foundation you're going for is yet another factor to consider. Is it a permanent one or piers? The site preparation should be completed before the boxes arrive. Thus, it's great to make sure somebody has all those things covered.
Transporting and Installing a Double Mobile Home
With the extra space in a double wide mobile home, the construction, transport, and installation process will often cost more and take a little longer.

For instance, transporting a double wide home calls for two delivery trucks and drivers who coordinate together to deliver the home at the same time, making sure it's placed as close together as possible.
What follows after transportation is called "set-up". For a double wide mobile home, the crew will finish putting the home together, making sure every side is level and the end is lined up evenly.
The home will be set on its destined blocking and the tires/wheels on which the home was trap[sorted on will be removed.
After the set up, the mobile home will be ready for trim-out. This is the process where the home will be finished on the roof, interior seam, and end walls, making both sides of the property flow smoothly into the other as one.
The Cost of Installing A Manufactured Home
Usually, the price of mobile homes includes the installation cost. Make sure you're clear on this before signing the sales contract.
In case the installation is noted accounted for on the price, you will be responsible for getting the set-up crew and paying their fees.
The sort of costs involved here will often depend on the providers and the complexity of the installation.
For instance, if you're moving into a park homes community, you most likely won't get a great deal other than setting up your home and hooking up to the existing utilities. The community manager will probably be responsible for the site preparation.
However, if you're moving onto undeveloped land with no connection to city services, the whole thing is likely to be more complex.
For example, someone installing a new double-wide on an acre of semi-rural land will be looking at risks such as site excavation, laying foundations, designing and installing a septic system, well drilling, digging trenches, for utilities, etc.
Not forgetting that the project will probably involve dozens of people on site, all of whom will need pay.
Cost Savings of a Double Wide Mobile Home
If you compare the price per square foot of a new DW home versus a site-built home of similar size, the savings are incredible.
Double wide mobile homes offer more space compared to single wides in most cases- even though they also offer that space less than what you can find in a conventional site-built home.
While there are more expensive double wide mobile homes, which would potentially narrow the savings gap to some extent, the total still comes in far short of other site-built homes.
Upgrade & Options for Double Wides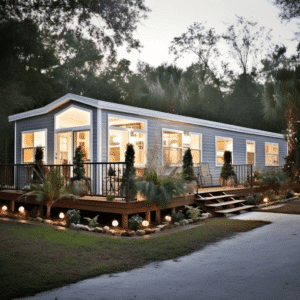 While double wide homes are usually listed with the base price, there're other homes that feature specific options (which you might call upgrades) at an affordable cost.
Some parts of a manufactured home come with factory standards, but there are common upgrades available to siding materials, flooring options, and even thermal and energy ratings.
Other upgrades on custom double wides include dishwasher and energy star package.
Depending on the size of the home, these upgrades range in cost from as low as $1,545 to $2,100. It's good to state that the additional upgrades are likely to influence the overall set up time of a double wide mobile home.