With the cold weather rolling in, it always happens you will need to put your stock of coats to good use while outdoors. However, after, you might need a convenient and attractive place to hang them for later use. An option that always comes in handy is wall hooks. Adhesive wall hooks especially offer plenty of advantages to provide damage-free removal being among the top.
But, self-adhesive wall hooks come in a wide variety of options to suit your needs. Still, there are self-adhesive wall hooks that will not live up to the expectation of playing an active duty in your home decor. Rather than try out these cheap knockoffs, we have sought out the best adhesive wall hooks money can buy. If you need proper adhesive wall hooks, here are some reliable models to pick.
Best Self Adhesive Wall Hooks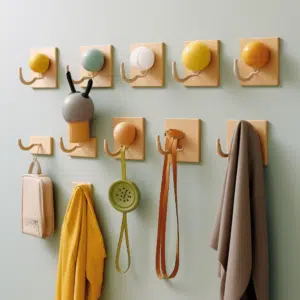 Ever wonder the best adhesive hooks to hang your coat, keys, and household items? Finding the best adhesive hooks may seem pretty straightforward, but there are plenty of options to choose from and buy. Let's learn the best adhesive hooks that allow your clothing, frames, wall art, and other household items to hang beautifully.
JINSHUNFA Wall Hooks
Make: Transparent Poly-carbonate with stainless steel hooks
Mounting type: Wall mount
Maximum weight: 13 lbs
There is little you can go wrong with these best adhesive hooks when it boils down to hanging items. For starters, the brand makes these hooks with a perfect stylish appearance combining a transparent Poly-carbonate construction with a solid stainless steel hook. The PC construction features a refined design to make it invisible and almost traceless while on the wall. That makes it quite suitable for home decoration due to its seamless integration with any wall design.
The design quality makes these hooks robust, stable, and exceptionally durable. Strong stainless steel and PC construction gives you extra quality and longevity than plastic adhesive hooks.
Lastly, the wide variety of applications gives these Jinshunfa wall hooks a great deal of multi-functionality. This means you can use the hooks on different surfaces such as wood, ceramic, metals, tile, and even plastic areas. Just be sure whatever you hang on these heavy-duty adhesive hooks is 13 lbs or less in weight.
FACTORY Large Adhesive Hooks
Make: Transparent Poly-carbonate construction with stainless steel hook
Mounting type: Wall mount, Ceiling mount, Door mount
Maximum weight: 22 lbs
As one of the best heavy-duty adhesive wall hooks, you can count on these Faculty adhesive hooks to get the job done in several ways. For example, these hooks are large and sturdy enough to hold heavyweight household articles weighing 22 lbs.
The study design also means these heavy-duty adhesive hooks have various utility uses, ranging from the kitchen, bathrooms, living rooms, and outdoors. All it takes is an easy installation process of wiping the surface and firmly sticking your wall hook in place. No drilling or tools are necessary. Once you stick your Facury heavy-duty self-adhesive wall hooks, you are good to go.
Even better, you can expect these hooks to last with their construction being waterproof and rustproof. The idea is to have them last even in wet conditions without rusting.
DDMY Adhesive Hooks For Kitchen Wall
Make: Transparent Poly-carbonate construction with stainless steel hook
Mounting type: Ceiling mount, wall mount
Maximum weight: 13.2 lbs
Another pick for heavy-duty self-adhesive hooks is these utility hooks from DDMY.
As per the brand, these strong adhesive hooks come with a great deal of utility, considering you can use them practically anywhere in the household. From hanging kitchen utensils, bathrooms items, living room frames to even outdoor decorations, these adhesive wall hooks are your go-to option. The hooks' design makes them easy to use and reusable without surface damage.
In short, the hooks' design allows you to reposition and reuse them again and again to achieve longevity.
Like most strong wall hooks without nails, these hooks also feature a perfect design that ensures proper functionality and longevity. For instance, PC construction gives you a small and lightweight design on various surfaces such as bricks, metal, glass, wood, or stainless steel.
In addition, the construction has a stylish transparent design which is almost invisible to seamlessly bond with your home decoration. Keep in mind; the PC make is also waterproof and oilproof, making it ideal for those wet and kitchen conditions.
Command Large Utility Wall Hooks
Make: White plastic material
Mounting type: Wall Mount
Maximum weight: 5 lbs
The Command brand has had an excellent reputation in producing some of the best adhesive hooks, which hold firmly, need no tools, and remove cleanly.
As the name implies, the Command large utility wall hooks come with various uses, including damage-free organization around the house. Indeed, you can count on these wall hooks to come in handy when hanging about everything from kitchen utensils, leashes, accessories, decorations to even your backpacks.
Not forgetting, the Command large utility wall hooks are solid and versatile enough for use on different smooth surfaces, including painted walls, glass, tiles, furnished wood, and even metal. All it takes is a no-tool installation. Once you feel unsatisfied, you can remove it cleanly without leaving any sticky adhesive behind.
Command Small Wire Hooks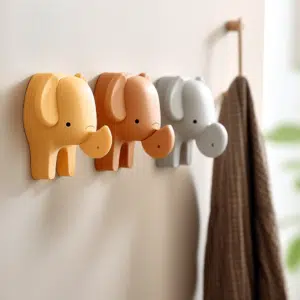 Make: White or clear plastic material with steel hooks
Mounting type: Wall mount
Maximum weight: 0.5 lb
Suppose you plan to medium or lightweight items. In that case, you can count on another of Command's impressive line of best adhesive wall hooks. The Command small wire hooks are handy in holding household items weighing 0.5 lb or less while offering damage-free removal on smooth and finished surfaces.
As such, you can use these adhesive hooks to hang items such as keys, calendars, kitchen utensils, belts, and even lightweight decorations. Once you are done, you can remove these hooks and leave your wall looking like before without sticky residue.
Do Adhesive Wall Hooks Work?
Without a doubt, adhesive wall hooks do work. However, to get your wall hooks to work as expected, you have to treat them right. That means even the best adhesive wall hooks should be applied on the appropriate surface and hold items of the designated weight. So, be sure to check the qualities of your adhesive wall hooks before using them in a general manner.