Ariens is a well-known manufacturer of quality engines and riding mowers. They have been manufacturing rotary mowers for over 30 years. The mowers are designed to provide the best quality, performance, and durability.
However, the Ariens Zero-Turn mower is not without its fair share of shortcomings. This article looks at some of the problems you might experience and solve them.
Ariens zero turn mower problems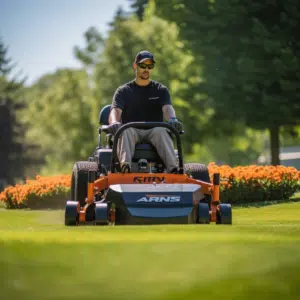 The problems below are not unique to Ariens mowers. The severity might differ, but they've also been reported in other mower brands.
Steering issues
Steering on Ariens Zero-Turn mowers should be the most hassle-free experience. However, in some mowers, it's hard to steer over bumpy surfaces.
Going through uneven terrain with them is a disaster. The wheels also sleep now and then on mushy grounds.
This is a common problem with many Ariens Zero-Turn mowers and makes them a nightmare to use.
Problematic decks
The decks of most Ariens Zero-Turn mowers are flawed. Sometimes there are issues with the placement, and other times there's a problem with sizes. For a major brand like Ariens, this is a very small issue that should not exist in its products.
Safety
When riding an Ariens Zero-Turn mower, you sit or stand at a high center of gravity. Unfortunately, this makes it more likely to tip over, which is an inherent hazard, according to the Consumer Product Safety Commission.
Although the company has recently moved the seats in riding mowers further back to right above the rear wheels, riders must remain cautious on uneven terrain.
Comfort
Many Reddit users complain about the comfort of this mower. The main concern is sitting or standing at a high center of gravity which is a peculiar position and causes discomfort. It gets even worse on stand-behind models because from that position, you get fatigued more quickly.
Not easy to use at the beginning
If you have never used a mower before, then the Ariens Zero-Turn mower will be a bit of a learning curve. The controls are placed in tight places, and they are hard to reach when you strap on the seatbelt located at the back of the mower. As a result, operating the machine can be very daunting before getting used to it.
Difficult to control
This might surprise many people, but the Ariens Zero-Turn mower can come with many maneuverability issues.
One of the main issues is its quick responsiveness and extra speed. Of course, this is a feature, not a bug for experienced users.
However, for inexperienced drivers, things can get out of hand. This is mostly caused by the hydrostatic technology used on the mower's wheels. Any slight touch to the controls and the wheels react, especially for the models you sit on.
The stand-behind mowers also have a serious control issue. Since the deck is just above the ground, you can have problems going through low-lying tree branches.
High maintenance costs
The Ariens Zero-Turn mower is not exactly economical. First of all, the mower can cost anywhere from $3000 to $10000 at initial purchase. Keep in mind that this is just for the mower. Adding fuel and maintenance costs greatly inflates these figures.
You will require at least 3 gallons of gas to operate the gas models. Then, depending on gas prices, you can calculate how costly it might get.
To avoid this, many people go for the electric versions. However, you'll still need a lead-acid battery to use the mower. Most batteries will serve you up to 200 charges, after which you'll need to replace them.
Additionally, many reviewers say that the mower's deck needs to be replaced several times over its lifetime.
How to get around these problems
While some of these problems require the manufacturer's intervention, there are some things you can do to make your experience with the mower smoother.
Reading the user manual
Reading the owner's manual will help you learn to operate and maintain your mower properly. This way, you can take full advantage of what your Zero-Turn mower can do for you. In addition, the booklet includes information on features, operation, and maintenance. Routine maintenance is vital to the life of your mower, so please familiarize yourself with this information and keep this guide handy.
Use the mower cautiously
This especially applies to the sit-on version. If the mower tips over with you on it, it could lead to serious injuries. As a result, you should use the mower carefully on uneven terrain.
Are Ariens Zero-Turn mowers worth it?
You might wonder if these mowers are still worth it with all the problems discussed above. This question is hard to answer and comes down to what you want from the mower.
Let's ignore the problems for a minute and look at some of the benefits you get from an Ariens Zero-Turn mower.
Quality build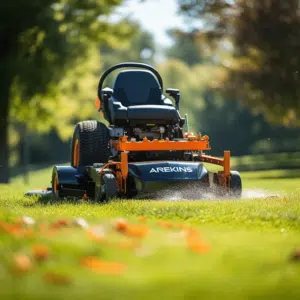 Ariens Zero-Turn mowers are not cheap. However, this means that they don't lack in performance and durability.
They have a quality build which means you don't need to worry about breaking or damaging them any time soon. This results from the high-quality parts and technologies the manufacturers use.
Additionally, the mowers are definitely in the top mower category when it comes to performance.
Fast mowing action
One of the best qualities of Ariens Zero-Turn mowers is the fast operation. You can easily more an acre of land within an hour.
Although this speed can inconvenience many people, it's a great tool in an expert's hand.
Compact
Many Ariens Zero-Turn models are compact and don't take up too much space in your garage. This leaves space for other equipment.
Made in the USA
With the industry flooded with foreign products, it's always good to see quality American products. Ariens makes the Zero-Turn mowers in their Brillion, Wisconsin manufacturing plant.
Final thoughts
Ariens makes some of the best garden tractors around, but their snowblowers and lawnmowers have always left something to be desired.
Ariens Zero-Turn mowers are quality products that will give you prolonged service if you're willing to look past some of the problems we lighted above.